Hello Folks,
I was unable to hit the river this past weekend, but my good friend and fishing partner, Josh Kreider, was able to get out on both Saturday (11/15/14) and Sunday (11/16/14). He got on the river at 8:30 a.m. Saturday with Nate Kepp and Nate's Duracraft Jet Rig. Nate is the young man who we ran into at the Steelton Launch a last weekend. Josh got on the water with John Williams on Sunday. John Williams may be purchasing Josh's G3 as soon as Josh puts it up for sale. John wanted to take a run in the G3 and Josh planned to take him out this past weekend.
Saturday seemed to be a bit tougher day on the water for Josh and Nate. Nate's equipment recorded the water temperature as 39-40 degrees. By Sunday, the water temperature ros overnight and was sitting at 42-43 degrees. It's better to hit the water in the Fall when it is on the rise rather than the drop.
Josh mentioned that the jerkbait seemed to be the most productive lure... Pointers and Megabass (John Williams). Josh also sent me several pictures... A couple of pictures from Sunday's outing was John William's 20.25" smallmouth off a Megabass. Good job, guys!
Saturday, November 15, 2014
Nate Kepp
Josh Kreider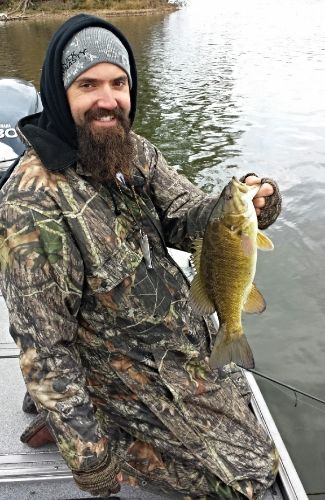 Sunday, November 16, 2014
John Williams
20.25" Smallmouth with the Megabass Jerkbait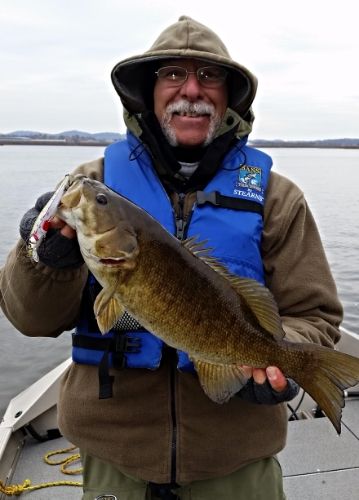 Black Lipstick Markings!
17.5" Smallmouth
Josh Kreider
17.5" Smallie
18.5" "Skinny Smallmouth"
Josh mentioned that the bigger smallmouth were caught behind ledges and in the troughs. As you can see, there are black markings on several of the above bass. Fall and colder water temperatures tend to bring on the markings. When we were fishing throughout the summer, we still caught some bass with the black markings, but not as many ratio-wise as we are now.
Thanks to Josh Kreider, Nate Kepp, and John Williams for allowing me to share pictures from their past weekend fishing adventures. This particular area where they were fishing does not hold as many wintering bass as Fort Hunter does and in my opinion, is bit more challenging for anglers to catch smallmouth in the 20+ inch range.
This area is also not as confined as Fort Hunter and is not as crowded. It's not that I don't like fishing "The Community Hole" at Fort Hunter among the masses. But I definitely enjoy the Fall and Winter challenges that certain areas provide. Despite what some may tell you, there ARE larger fish in those areas, but maybe not as plentiful.
For example, a few years ago, after spending two hours on Lake Aldred (Between Safe Harbor and Holtwood Dams) without a single bite, the bass started to turn on and I was able to pick up back-to-back 20+ inchers... Most Susquehanna River anglers will admit that Lake Aldred is definitely a challenging section of the Susquehanna River and not their #1 Choice of fishing spot... LOL!
Here is my first 20+ inch fish from Lake Aldred on 11/22/2010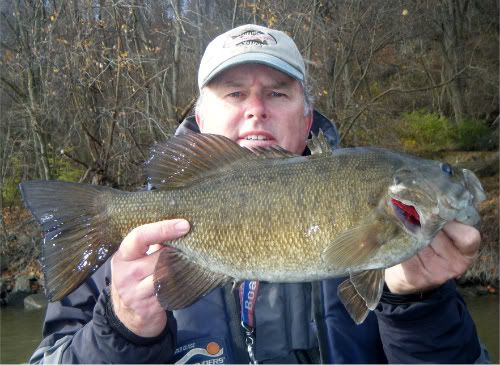 Here is the "Back-to_Back" 20.25 inch Smallmouth from Lake Aldred on 11/22/2010
This past week, while out fishing with Jeff B (CHRGD), he told me that he sometimes will go back over old pics that he has saved from our past fishing adventures. Penny asked him what he was laughing about and he told her "I was looking at some of the old pics Tommy and I took while out fishing". :)
I also get a kick out of those old pics and adventures. Some I will never forget... for sure!