Hello Folks...
Happy Veteran's Day (November 11, 2014) to all my "Fishing With Dad" friends who have served in the armed forces. My father was a WWII veteran and the recipient of the Bronze Star and was Jeff B's father. We both have lost our fathers over the years, but we will always remember the heroic acts of bravery they committed in serving our military.
Jeff and Penny have bought a new home this past year and have been extremely busy putting things in order. Their workload has increased tremendously since they bought the home. Jeff's mother has also passed away since we fished together. She had been cared for in an assisted living arrangement and Mom B has had numerous health issues over the past years... R.I.P. Mom B.
Jeff and I had been in touch over the past few months and last week, Jeff asked me if I could break free to fish on Tuesday... You're darn right I can be free. It ad been so long since we fished together that I was really excited about getting back on the water with him. So we decided to fish our favorite home waters, Lake Aldred. I met Jeff at the Pequea Launch at 8:00 a.m.
We stowed my tackle on board his Tracker IB jet and headed to our hole. This is one of my most productive spots on the river during Fall fishing. In fact, I have won several Lancaster County Hawg Hunter tournaments at this spot... Today, this spot was very unproductive. In fact we did not catch a single fish at my hot spot.
I wasn't surprised because I have seem to be in a bit of a "funk" during my last three trips on the river.
We ran the west shoreline and came across another boat near the hole we wanted to fish. So we decided to run into the rock garden just below the Safe Harbor Dam.
It took awhile until we connected with our first fish...Our first fish came off a shallow area using a KVD Sexy Shad crankbait. The weather was still rather chilly as you can tell by the jacket and gloves I was still wearing. The water temperature was a brisk 48.6 degrees.
Jeff on the bow of his Tracker 175 hp IB Jet...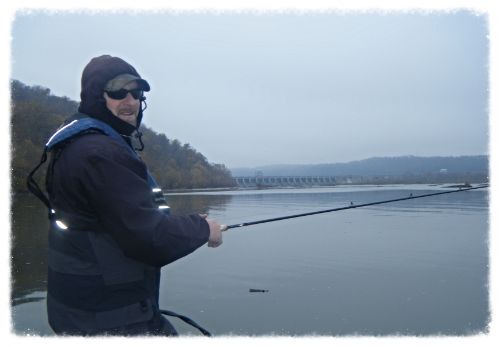 I chose to toss my Bill Dance Fat Free Shad in Tennessee Shad, a favorite Fall color of mine in water that ran deeper than 6'. Jeff tied on a Model A in FireTiger... "The Ugly Color" as we affectionately call it... LOL!
Jeff caught the biggest fish of the day which was a 17.75" smallmouth bass...
There was a slight southeast breeze blowing this morning and around 10:30 a.m., a foggy mist started to move in on us from the south. The river had a stained green to it or what I like to call a "Lake Aldred Green" look to it. Although they ran the warning siren from the dam several times today, the water appeared to be holding at around 165'. It definitely didn't seem to be the 167.4' that they had predicted on their web site.
Check out the fog that had rolled in before noon in the pictures below...
The sun eventually broke through after noontime. The breeze settled down for awhile and the air temperature started to rise to a comfortable mid-50+ degrees. We had both taken off our running overalls and enjoyed the warm air that was now settling in.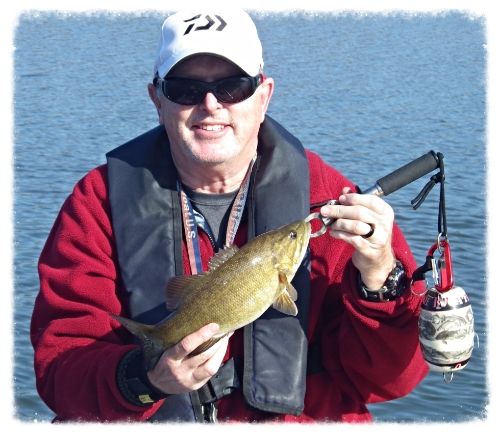 We came across a dead deer laying up against the Canal Wall on the York County side of the river. It was nearby that I caught my first "Lake Aldred Largemouth" of the 2014. It is a rare sight to land a largemouth in a lake that is controlled predominately by smallmouth bass. The Flathead Catfish has been growing in populations at Lake Aldred and many anglers are fishing at night for these beasts.
Dead Deer Laying Among the Rocks...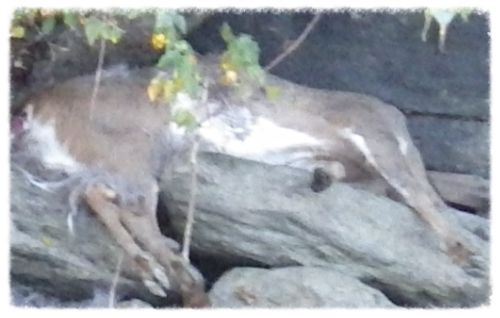 First Largemouth That I Caught on Lake Aldred This Season...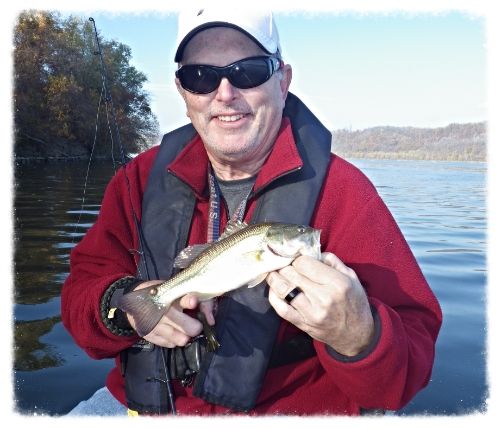 Jeff decided to put his bib overalls back on after the sun faded behind some clouds and the wind started to picked back up. I tried to brave it out with just my long sleeve shirt and my fleece... I was able to make it through the remaining trip and until we returned to the Pequea Boat Launch around 2:30 p.m.
We started the day out by tossing 1/2 oz War Eagle spinnerbaits down a 12' underwater wall. We changed over to crankbaits, tubes, and jerkbaits once we got ran into the rock garden just below the Safe Harbor Dam. All of my bass were caught using the two different diving depth crankbaits... The Fat Free Shad in Tennessee Shad and the KVD Square-Billed Crankbait in Sexy Shad.
I'd like to thank Jeff B (CHRGD) for taking me on our fishing trip today. It has been quite awhile since we were out fishing together and we had a lot to catch up on. It's amazing how much lifw passes us by over a year's time... New home, loss of a parent, health issues, etc. Life can change rather quickly!
Take Care and Be Safe,
Dad