Hello Folks,
It was only 19 degrees this past Saturday morning and my good fishing partner Josh Kreider decided it would be a great day to take his buddy "Squirrel" out onto the Susquehanna River for "Squirrel's" very first fishing adventure on the river... LOL! I can say one thing for "Squirrel"... He was absolutely smart enough to dress warm for such a very, very cold morning on the icy river.
There was a strong south breeze blowing across the water temperature causing the river water to be a cold 36-37 degrees! In fact, there were several launches that were totally frozen in and prevented Josh and "Squirrel" from launching further upriver. Josh and "Squirrel" finally found that the "Long Level Launch" on the York County side of the river was opened enough to launch from. The fish they caught came to hand from a short 50 - 100 yd stretch on the west shoreline.
Everything was slowed down... The best lure of the day was a "black and blue hair jig" tossed into an 11 to 12' channel. There was ice floats coming down the river throughout their outing...
Check out these fantastic smallmouth with all their beautiful markings. The first "picture" fish that "Squirrel " caught on this cold was a 19.25" and his second fish was 17.50". Josh's fish was a nice 18" fish and "Squirrel's" final fish pic is a 18" smallie...
"Squirrel's 19.25" Pig"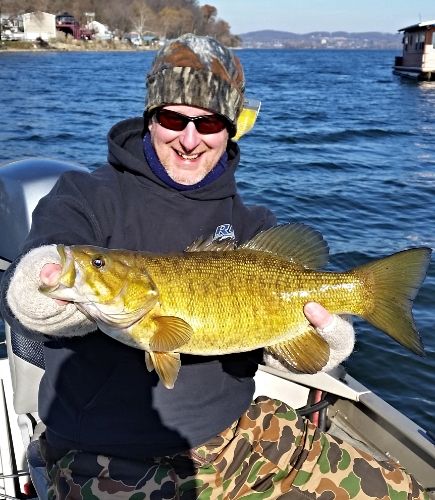 "Josh's 18 Momma"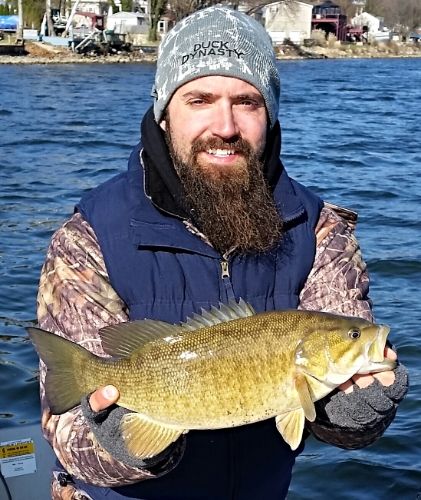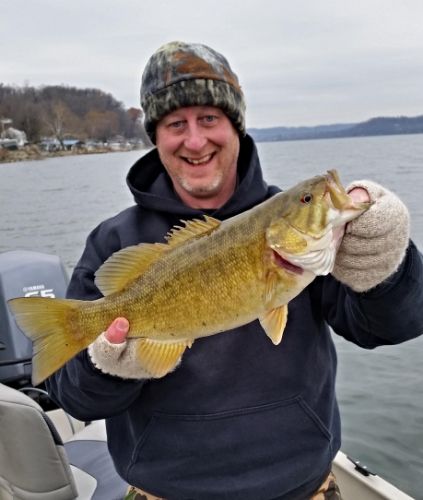 Despite the cold weather we've been having, the big fish were still cooperating in the deeper waters... Good job, guys!
Take Care and Be Safe
Dad
p.s. Today, Monday, November 24, 2014 the air temperature rose to 70 degrees. Compare that to a freezing 19 degrees we had here on Saturday. The National Weather Service is calling for Winter Snow Storm on Wednesday, November 26, 2014. There is a predicted 3" to 6" of snowfall on the day before Thanksgiving and the Number #1 traveling day of the entire year. I hope it is safe to drive.
Buffalo, N.Y. area had over 7' of snow last Monday (11/17/14) and Tuesday (11/18/14) from an unusual "Lake Effect" snow. The weather service was concerned that with today's warming trend that the general Buffalo. N.Y. area will be threatened with mass flooding. The Monday night football game between the Buffalo Bills and the N.Y. Jets for tonight has been moved to the Detroit Lion's stadium... I had a young adult friend of mine at church, who, by the way, is a Buffalo Bill's fan, that he was upset that the local Detroit Lions' fans encouraged attendees to wear Jet Green... This upset him because he said that when the Saints had their disaster from Hurricane Katrina, no one was encouraging other teams' fans to wear clothing against the Saints. What really upset him, by Saturday evening, there were 10 people who lost their lives during this terrible snow storm... No mention was made by those Detroit Fans to pray for the families of the lost loved ones. I told him that sports fans will do just about anything in the world to harass their competitors. They'll even stoop so low as to encourage others to cheer against the Buffalo Bills after a natural storm hit their home area.