Hello Folks,
I've been fishing since the age of seven. My family had moved out of the city of Lancaster, Pa and into Lancaster Township. We were about two blocks away from the Conestoga River. This is the famous river where Robert Fulton experimented with the paddle steamboat. In fact, just down the road from where we used to dig our own worms there stands a concrete block that used to have a bronze plague on it. The writing on that plaque announced the location where Robert Fulton held his "on the water" experiments... Pretty cool, huh?
The Conestoga River held plenty of catfish, carp, rock bass, muskies, bluegill, chubs, and of course, smallmouth bass to keep a young boy busy for hours and hours! We would target any of the above species that would bite our live bait. If we caught bluegills or bass, we would build a small pool with river rocks and place our catch inside. After a day of fun, river fishing, and exploring the shoreline, we would count our daily catch, brag a little, and then open the pool to release the fish back into the Conestoga River so we could catch them another day.
I can remember my first rod and reel. The rod was actually made from metal and the reel was a baitcaster without a drag system. My tackle box was also made from metal. I still have both my tackle box and reel. I doubt that either is worth much except for the sentimental value they hold for me. Mitchell Reels introduced spinning reels in 1948, but the Mitchell® 300 never made it into my hands until the 1970s. In fact, I still own a Mitchell® 300 more so for memory sake. It's amazing how far development in reels has come since the first patent was issued on March 23, 1875 to Thomas Winans and Thomas D. Whistler of Baltimore, Maryland.
My philosophy has always been buy what you can afford. I had never owned the "best" of anything related to fishing until I purchased two AllStar Titanium Rods approximately 12 years ago after receiving a promotion coupon that gave me a
huge
discount if I purchased two rods. These rods were retailed at $199.00, but I paid a lot less for my two rods. I still have one of those rods in use today. The other broke while I was kayak fishing. I very rarely break rods. But on that day, I made a serious mistake and got the rod stuck under my kayak in a very swift current... "SNAP!"
I had a life-time warranty when I bought it, but Shakespeare Fishing Tackle had bought AllStar Rods and I decided to toss the rod after several years of good use.
I used to play in several country, country/rock bands back in the 1980s. One of our guitar players was a fellow named Mike Mentzer. Mike and his wife lived in Pequea, Pa. and they owned an older tri-hull designed pleasure boat that Mike and I used to fish from.
In the later 1980s, I joined the Lancaster County Hawg Hunters, a B.A.S.S. Federation affiliated bass fishing club. I met many great bass anglers in the years following my membership. We fished in club, district, and state events throughout the state of Pennsylvania and Maryland. My knowledge of bass fishing grew immensely during these tournaments.
During those years, I also attended each and every "Bassmaster University and Bassmaster Fishing Techniques" seminars that were held in Harrisburg, Pa. through the Harrisburg Area Community College. In fact, I remember when Mike Iaconelli was an amateur angler sitting in the audience with us. And I also remember when he returned to the Harrisburg 4 Seasons Hotel as a guest speaker with Ray Scott!
I encourage all serious bass anglers to attend any seminar that may be available to you. I learned so much about not only fishing techniques, but also the bass life cycle and seasonal habits, electronics, boat positioning, etc. The list of topics goes on and on!
Fishing!
My good friends, Penny and Jeff, were out fishing yesterday and landed two beautiful smallmouth bass on live minnows. Check out the first fish that Penny is holding. It's a real 19" chunk!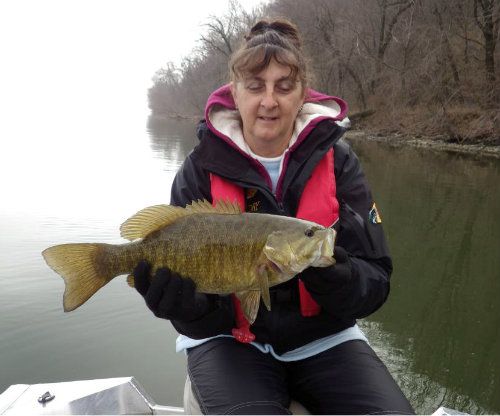 The second bass is a 19.5" pig. It didn't have the girth of the first smallmouth bass, but it sure was pretty.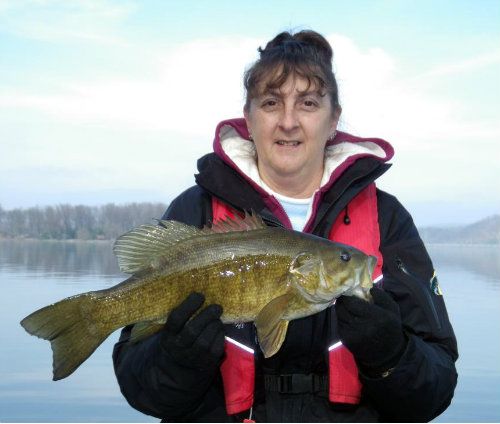 Two great looking winter smallmouth bass and the only two that they hooked into yesterday. Never give up!
Thanks for sharing these great photos, Jeff and Penny.
We were out fishing today on Lake Aldred (Pequea/York Furnace) and I will be posting a blog entry real soon. I have a ton of photos to share plus one short video. It was very foggy today and the fog never lifted throughout our entire fishing trip.
Take Care and Be Safe!
Dad