Hello Folks,
Happy New Year's Eve!
What a year this has been. Both Julie and I would like to wish you all a Happy New Year 2013!
We were both in the hospital for "repair work" to our aging bodies this past year. Julie had taken a fall at work way back in July of 2011 and her right arm is still causing problems. In fact, the work that was done back in July 2012 is not healing and she may need a bone graft in 2013 to repair the ulna bone that was cut. She has been in Physical Therapy for a year and a half.
My left knee is still not extending and I am currently scheduled for more repair work on February 11, 2013 at the Lancaster Regional Hospital by Dr. William Parrish. They will remove the top prosthetic of my replacement and reduce the femur bone to give me more room to straighten my knee even if adhesions grow.
Dr. Parrish will replace the top prosthetic section of my replaced knee and be aggressive in preventing scar tissue from hindering me from extending the knee by placing me in the Constant Passive Motion (CPM) machine. The same machines we used after the two manipulations.
I was unable to get on the water as much as I would have liked, but I did have plenty of days that I fished with Jeff, Penny, Dell, and Josh in 2012. Maybe if the repair work goes well in February, I'll be able to get out in my own boat more often... Let's hope!
The RiverSmallies.com Community lost a very good friend when Alvin (Al) Pugh passed away a few weeks ago. Al was a "gentle giant" and very down to earth man. He was also a moderator for the old RS.com and a representative for Gary Yamamoto Custom Baits.
Zach and I fished with Al back in 2002 on the Allegheny River during the Allegheny River Rodeo back in August of 2002. Check out the huge black bag that Al carried filled with Yamamoto products. Al was always offering free samples to everyone he came across. In fact, Zach still has a bag or two from the Allegheny River Rodeo trip.
We will miss this country gentleman. RIP Al Pugh!... dad and Zach
This past week, my coaching partner and good buddy, Don Martin, informed me that Ken Jewell had passed away. I met Ken while playing in the Lancaster Recreation Men's Basketball League and also in the Lancaster Rec's "Over 30" Basketball League over 25 years ago.
Ken was a local lawyer who did a lot of work in reconciliation programming. I knew him as one of the "Big Men" in our basketball league who had a drive for competition. He played both high school and college ball.
Ken Jewell Obituary
RIP Ken Jewell!
This past week, Jeff and Penny took a drive to the York Furnace Ramp. This ramp had been under repair by PPL/Holtwood over the past month. It appears that they utilized the same material that they used one the PPL Pequea Boat Ramp on the Lancaster County side of the river.
Jeff sent me some updated pictures to share here at "Fishing With Dad"...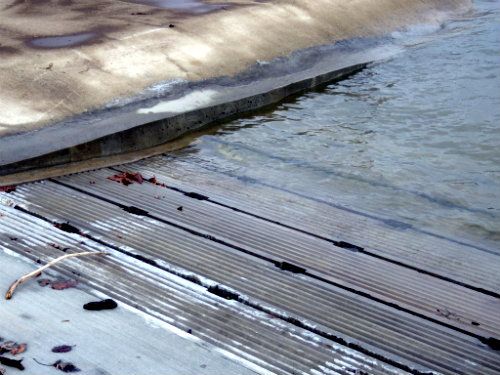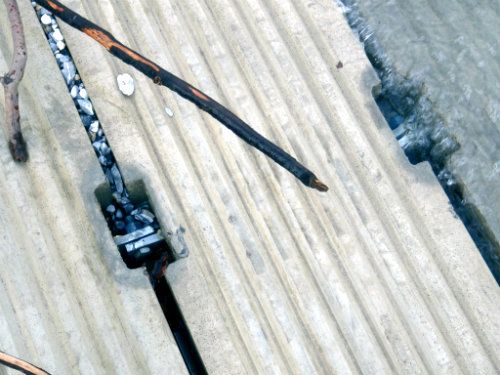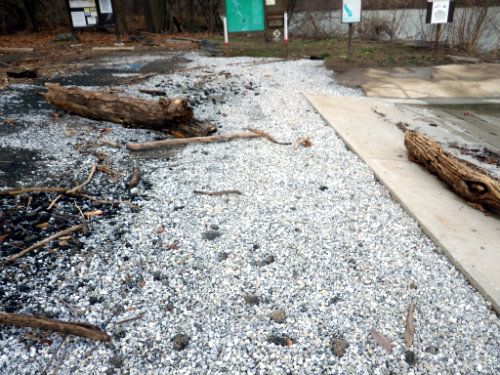 I'm not sure how the docks will be situated at this new ramp. We'll have to wait until springtime to see how they set them in the water.
There also seems to be a need for some more paving in front of the new ramp. Currently, there are stones placed in front of the new ramp (as seen in the pictures).
Jeff and Penny said that Lake Aldred had a nice green stain to it and the water level was good. As they drove north to Long Level, they noted that the river was slightly muddy along the shorelines with clearer water towards the middle.
We have had three snow storms in the past week. Not only have we had several inches of snow, but the wind has been blustery with gusts up to 45 mph! It has not been very good conditions for getting out on the river for some wintertime fishing.
I have been enjoying this holiday vacation away from assistant coaching. However, on the night before Christmas Eve, I was laying in bed on my back when I went to turn onto my left side, my replaced hip popped in and out. Although it hurt like the dickens, I made it through the night.
On Christmas Eve, Julie and I went out to eat at lunch at the local Red Lobster to celebrate my Christmas Birthday. As we were at the restaurant, I asked Julie to please call the doctor's office about my hip because I was still in pain. The doctor recommended that I go to the ER and have a series of x-rays done. So, after lunch, we headed immediately to the hospital and spent the next 2+ hrs. in the ER.
The results of the x-rays showed that my hip was in place. That was great news, but I still hurt a lot... even while on the pain meds for my knee! I had a muscle relaxant that they doctor had prescribed which helped me sleep the following two nights. With plenty of rest, I no longer need the relaxant to sleep and my hip area is feeling much better. I no longer need my cane to walk.
When we exited the hospital, it was dusk and a soft snow was falling. What a beautiful Christmas Eve!
Well the 2012 clock is winding down, folks, and I once again want to wish all of you a
"Happy New Year 2013!"
Take Care and Be Safe!
Dad