Hello Folks,
The warm weather approached the east coast last week and the air temperature soared into the upper 50's and pushing 60 degrees by Saturday, January 12, 2013. It was a great day to be on the water. In fact, the two 19"ers in the "Fishing With Dad" blog entry came on that Saturday.
I was in touch with my good friend and fishing buddy, Mike Burton, yesterday and he told me that several of his fishing club members claimed to have had a great fishing day on Lake Clarke last Saturday.
I knew that we were in for a foggy start on Sunday, January 13, 2013. The weatherman predicted that the air temperature would rise over 60 degrees by mid-Sunday afternoon and be even nicer than it was on Saturday. However, that prediction never came to be and the air temperature never even rose above 48 degrees. Plus, the fog remained throughout the entire day kept a soft cool mist in the air.
This was a solo trip in my G3 1860 DLX. I have only used my boat approximately six times since I had my knee replacement surgery back in July, 2011. I had spoken to Julie last week about getting my jet rig out one more time before I had to go back in the hospital for more knee surgery on February 11, 2013. This surgery will be done in an attempt to straighten my left knee.
Jeff B. (CHRGD) and I were in touch on Saturday and he said that he and Penny would meet up with me after noontime on Lake Aldred.
I made it to the Pequea Boat Launch by 10:15 am and ran to my first fishing hole by 10:30 am.
I started out by tossing a 1/8th oz. 2.5 inch plastic tube in Green Pumpkin with Orange Flakes. After fishing about a half hour with this lure, I switched to a Winco Chillee Willee with a 1/8th oz. jig head. (More about lures below)
Below are the hard baits that I tossed throughout the day...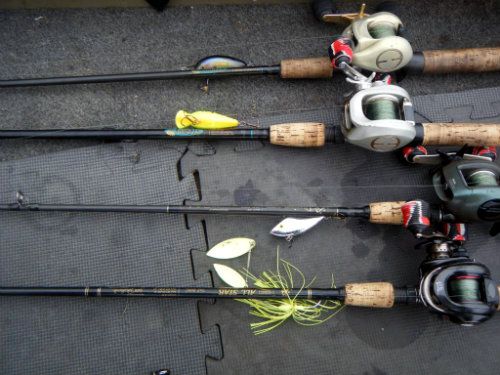 Jeff and Penny arrived at the fishing spot a little past noon. Check out how foggy the river was while viewing the video.
We also had a slight breeze blowing which you can hear in the video. That breeze held off the denser fogthat kept trying to creep in on us. But by mid-afternoon, the breeze began to die down and the fog started to roll back in.
Foggy River Pic..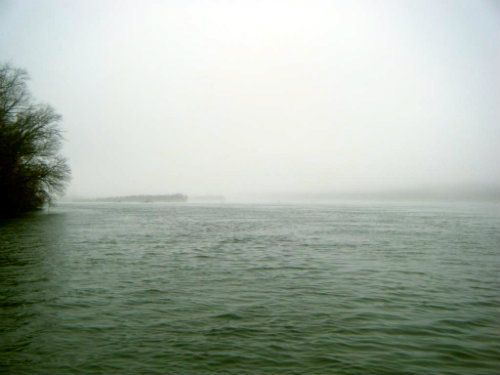 I will often pinpoint shoreline points that fall into deeper waters (8-12') to fish during the winter months.
The water temperature ranged from 34.3 degrees to 34.7 degrees as seen on the Lowrance depth finder.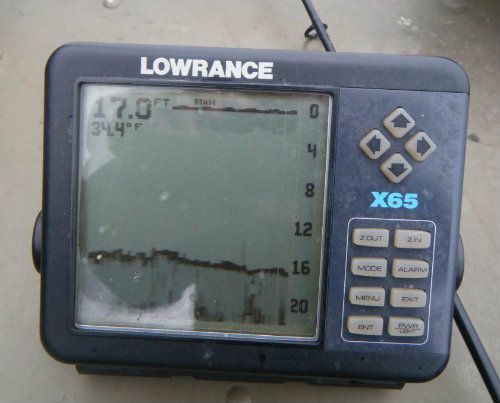 Despite the prediction for a warm day, I made sure that I had dressed warm...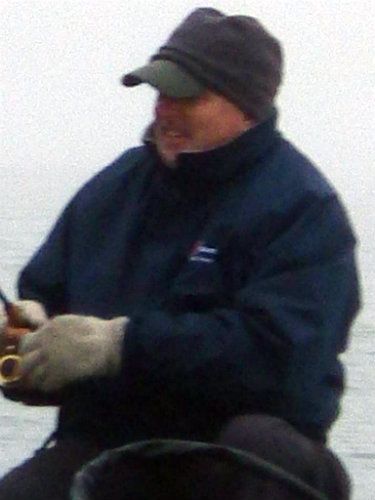 I would have also been wearing my green fleece had I not gotten it wet before leaving the launch in the morning. I had moved my hat off my head in order to talk with a fellow I met at the launch. He was with his young son and they were walking their dog. I forgot that I had my prescription sunglasses on top of my head and they slipped off and fell into the Pequea Creek. Without a second thought, I reached in and quickly grabbed them. Saving them from falling to the bottom of the creek bed... Thank goodness! I was so happy to have saved my glasses that it didn't bother me that my fleece's right sleeve was soaking wet and useless for the day.
Here's a pic of my green fleece laid out across my driver seat...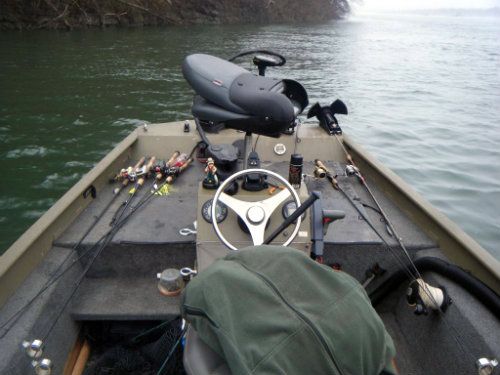 There were three of us fishing last Sunday and none of us had even the slightest nibble. Jeff and I were throwing artificial lures and Penny was tossing live minnows... Not a single bite!
I started my day out by tossing the 2.5" plastic tube and switched to the Winco Chillee Willee. I stayed with the Chillee Willee for well over two hours before switching to a deeper diving (7-9') crankbait... Fat Free Shad in the Tennessee Shad color. When I hit shallower water (3-4'), I switched to the "Ugly Bait"... a 3/8th oz. Big O in a Firetiger color.
I ended my fishing day by returning to the 2.5" soft plastic tube with a 1/8th oz. jig head and slowing my presentation to a crawl.
We did get a several nice close-up pics of a mature bald eagle. I had seen another bald eagle flying low as I rounded Weise Island earlier in the day and headed up the York County shoreline of the Susquehanna River.
Here is a picture taken by Jeff of the bald eagle...
... The fog gave the distance pictures a "grainy" look.
We ended our day at 3:00 pm. Jeff and Penny followed me to the Pequea boat launch and helped me trailer my G3. A big thank you to Jeff for backing my trailer down the PPL Pequea Boat ramp which allowed me to stay high and dry. I still have some problems after I trailer my boat. When I go to get out of my boat, I have to step off my wheel well and into the cold water. It's not bad when the water is warm. But the water is awfully cold in the middle of January... LOL!
As we were entering the Pequea Creek, there was a man and woman on the southern shoreline taking pictures. When we got to the launch, they drove over to us and told us that they had taken some very nice pictures of us as we were returning to the ramp. "Pequea Bob" emailed those pictures to Jeff, who in turn, emailed them to me...
Penny and Jeff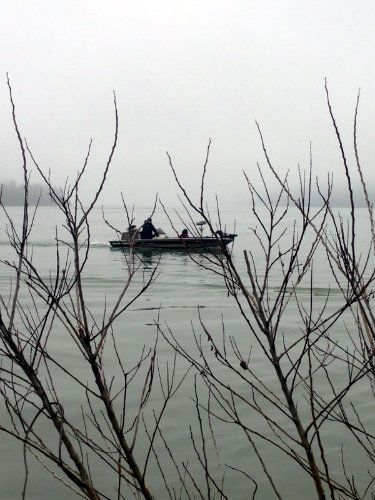 Dad returning to the PPL Pequea Boat Launch with Weise Island in the background...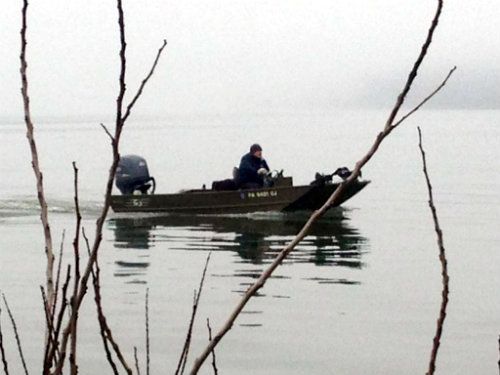 A big thanks to "Pequea Bob" for sharing these great photos with us. I had to laugh when he said that he thought Jeff had a child with him... He had seen Penny sitting low and avoiding the cold wind and thought she was a child. Of course we had to tease Penny about that one! :)
Before closing out this blog entry, I want to share some comparison pictures with you so that you can see why we often get upset at the two power plant dams and how they raise and lower the water level on Lake Aldred.
This past Sunday, the water level was great. We had plenty of water to launch the trailer our boats. But, as I have shown before, this is not always the case.
Here is a picture of how the launch looked this past Sunday...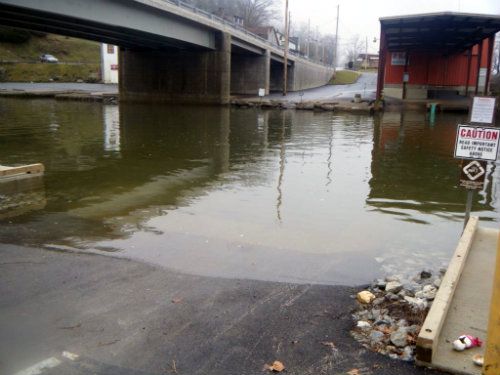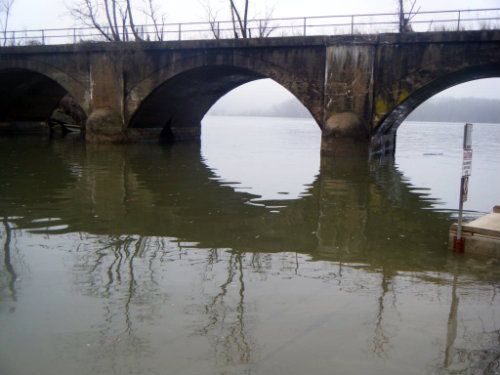 Now, let's go back a few weeks and look at this same ramp...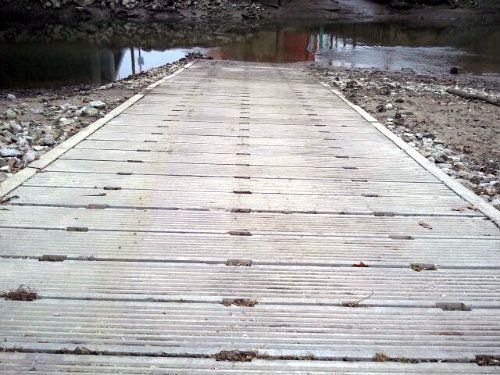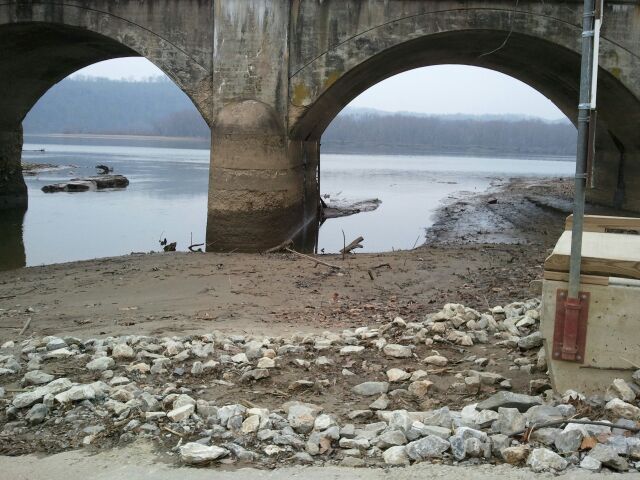 The difference is like night and day!
The Pennsylvania Fish and Boat Commission do electric shocking for Young of Year reports and usually find that this area of the river has the worst recruitment out of all areas studied. I have been at meetings and suggest that they come to our home waters and see how the Safe Harbor and Holtwood Dams "play" with the water levels. These drops and rises can happen within minutes... Yes, minutes!
I remember one day when I was out fishing in the late spring of 2011 with the water level up. I was in and along the mid-river islands just below Safe Harbor and I could hear the big ole' carp back in the grasses "doing their thing".
The next day, I returned to this same area with the water dropped and that entire area was high and dry. All the spawning that had laid thousands of eggs back in the reeds and high grasses were now dead. What a shame. This happens throughout the spawning seasons for all species.
Take Care and Be Safe!
Dad