Hello Folks,
Sorry it has taken me so long to write another entry but life has been extremely busy lately with four 9th grade basketball games in the past seven days. It's almost like following an NBA schedule without the extensive traveling. Of those four games, we only were able to win one. It has been a difficult season so far!
The same holds true for the Penn Manor Varsity squad. They have only won one game in five so far despite the fact that we have seven seniors on the team.
The "Mayan Calendar" has now officially ended and the word did not cease to exist. The "Doomsday" prediction failed to come true which makes all those who had a firm belief that it would look a bit foolish. But life goes on for all of us, including them. "No harm, no foul!"
December 2012 has been relatively warm until a day ago. We had a storm front come through that had delivered snow and damaging tornadoes across the nation. We are now experiencing cold weather (35 degree for the high today) and strong winds.
Christmas is only three days away and winter arrived yesterday. I guess this cold weather is expected.
My good friends and fellow anglers, Jeff and Penny, were able to get out on the water twice since my last post. They sent me several pics of their first adventure and I made time last evening to edit them so I could show them here today. They also went out fishing in the cold and wind of yesterday... Or as I like to call those of us who do fish in such weather,
"The Crazies"
!
Check out this 13" smallmouth that weighed over two pounds.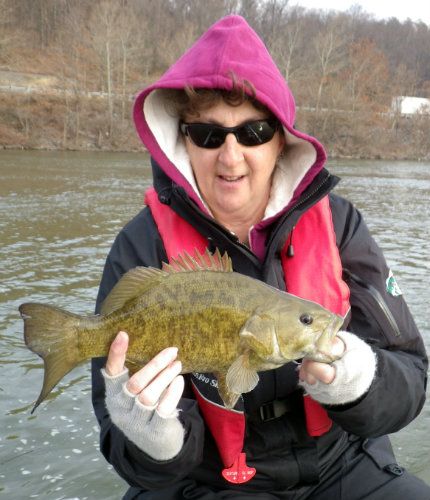 There's one thing about catching winter smallmouth, you will usually see some good size and weight.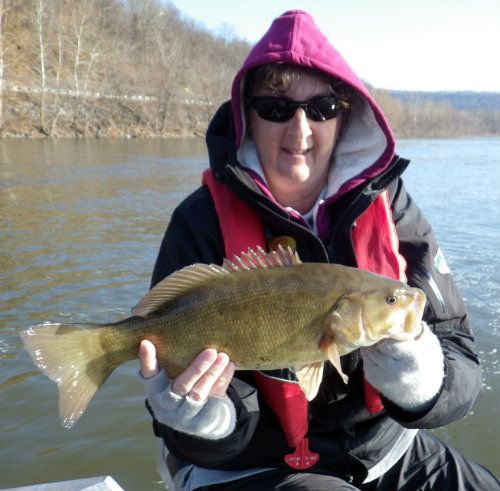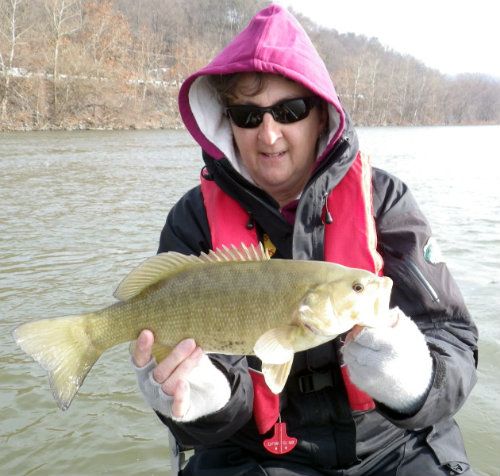 What great looking Susquehanna River smallmouth!
Plastics and live minnows were used for baits to bring the above fish to hand.
Sandy Hook Elementary, Connecticut
My thoughts and prayers go out to all those who lost loved ones in this tragic event. I especially grieve over the lost of children who died while attending school. As a past middle school counselor, I must say that most of the professional staff I knew in my tenure would have laid their lives down to rescue their classroom children.
I have worked in many, many jobs in my lifetime and I can say for a fact that teachers are some of the most dedicated to their profession.
Why Bassmaster Magazine?
What is this? " So-and-So is Better Than You". For example, I just received the January 2013 BASSMASTER Magazine today and the headline reads: "
Arron Martens Drop Shots Better Than You
, A lot better than you. Here's why (and how).
Excuse me... Yes, Aaron Martens is a great Professional Bass Angler, but how can one tell me that any angler, whether they be a bass pro or not, is a better angler than any other angler, professional or not?
Just saying.
Most anglers who I know that are serious about fishing pride themselves in their abilities to locate and catch bass. I have met some pretty darn good bass anglers who have never ever fished in a tournament in their entire lives. Yet, I would consider them outstanding anglers with great skills.
Just saying.
Approaching Holidays
I wish that all of my blog visitors have a joyous and blessed holiday season. Christmas is right around the corner. It has always been my favorite time of the year. I love the atmosphere that Christmas brings and I definitely enjoy listening to the music. I grew up listening to Bing Crosby, Frank Sinatra, Ray Charles, Andy Williams, Perry Como, The Carpenters, and many, many more... What a joy!
To those who are not aware, Christmas Day is also my birthday. That's right, folks, I'll be turning a cool 58 years old this coming Tuesday. That means I have completed my 51st year of fishing! Holy Mackerel, that's hard for me to believe.
In case I do not write another entry before Christmas Day,
Luke 2:9-12
"And an angel of the Lord appeared to them, and the glory of the Lord shone around them, and they were filled with fear. (10) And the angel said to them, "Fear not, for behold, I bring you good news of a great joy that will be for all the people. (11) For unto you is born this day in the city of David a Savior, who is Christ the Lord. (12) And this will be a sign for you: you will find a baby wrapped in swaddling cloths and lying in a manger."
Take Care and Be Safe!
Dad