Hello Folks,
It certainly has been a long time since Dad took a fishing trip. It may be the longest hiatus since my surgery last July and of course, the winter months! The last time Jeff and I hit the river was on April 28, 2012. It was our last trip together before the 98 mile stretch of the Susuqehanna River closed down to bass fishing. We still have twelve more days of closure before we can once again fish for smallmouth and largemouth on my home waters.
Penny has been off on vacation this past week and Jeff invited me to join them on an outing this past Thursday. We chose to fish a "legal" smallmouth and largemouth section of the river for our outing. Penny is not a fan of rising too early especially on her vacation days so we decided to meet at the ramp at 8:00 am.
The air temp was 63 degrees when I left home and 66 degrees at the ramp. It was a beautiful morning with a 5-10 mph wind blowing... It has been windy since April 1, 2012!!! In fact, it is windy today as I write this report.
The sky was mostly sunny with a few passing clouds. A definite day for sun block... several times!
I arrived early at the ramp, unloaded my gear, and parked my truck. As I was geting out of my truck, I took notice to a red-winged blackbird sitting on a Md. truck's mirror and attacking "itself" in the reflection of the window! Pretty funny stuff to watch as it fluttered between mirrors and continued it's personal assault...
As Jeff and Penny pulled into the driveway, I waved them down in their vehicle and showed them "the entertainment". We both pulled out our cameras and started filming the action.
The river had a greenish tint to it and progressively dirtied as the day progressed. I know that the North Branch of the Susquehanna River was muddy earlier in the week. This was the remnants of that mud spread out over miles and miles of river.
The water temperature was between 77 and 78 degrees. A bit cooler from last week when we had 90 degree days.
I notice that whenever I go south of my home waters, the wildlife changes. Not only did we get to se the red-winged blackbird, but I also saw a beautifully marked oriole. It is rare to see these birds in the Harrisburg, Pa. area.
I started out the day tossing a KVD crankbait, but caught my first smallmouth on a 3/8th oz. chartreuse bladed spinnerbait.
As I mentioned before, we have to show these little ones all the loving we can... Note the kiss!
Jeff and Penny were also tossing the chartreuse bladed spinnerbait. But Penny pulled out a Gulp Twister Tail Grub in chartreuse. That ugly looking grub caught a good number of fish throughout the day. In fact, Penny jumped out to a slight lead on us in the early going.
We caught a good number of smallmouth in the 13-15" range.
Another kiss for a juvenile bass...
There are those of you who follow the local fishing boards that will be able to relate to the next two pictures of Jeff and me... All in Fun!
Penny's first attempt...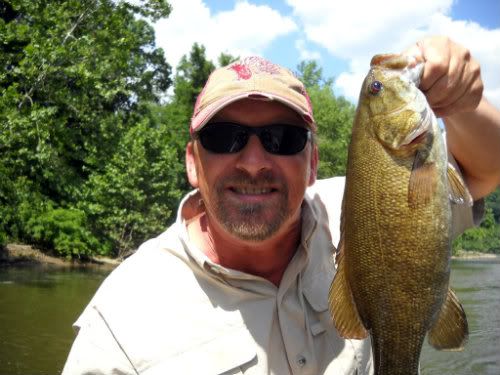 No, No, No Penny... It has to be a close up of the face and only the dorsal fin of the "huge" fish... Like This! I mean... What's more important? The Fish or The Face?
Sorry, Penny! The little boy in me couldn't resist the temptation to do something stupid behind you each time Jeff took your picture... LOL!
Our biggest fish of the day was a 17" healthy smallmouth caught by Jeff on the spinnerbait. Good job, buddy!
The area we were fishing provides outstanding scenery. We also caught sight of numerous eagles. In the one picture below, there are two eagles sitting in the tree... One on a branch over top the other... Cool Beans!
We had a great day of fishing and the sights were outstanding. The post spawn is definitely on because we worked hard for every smallie we caught. There were no "hawgs" caught today... only healthy and young smallmouth.
A big thanks to Jeff and Penny for "dragging" me aong for another great and enjoyable day on the water. I'm not sure whether we solved any of life mysteries on this trip but Mother Nature treated us to some great sights.
Take Care and Be Safe!
Dad