Hello Folks,
It has been over a week since I was last on the water and fishing with my good buddy, Josh Kreider. We had fished just below Harrisburg, Pa. and didn't have a very good day at all. It was really windy outside and Josh just hates the wind! Most of the time we were on the water last Wednesday, I was blindly fishing with a Rat'l Trap while Josh was resting on the front deck. He mentioned that he wasn't feeling himself. No problem, there are many more days that we will be fishing together. :)
This past Thursday was a different story all together. Jeff and I were determined to catch some bass and catch some bass we did!
I arrived at the ramp around 8:30 am and walked the shoreline with my rod and spinnerbait in hand tossing at submerged rocks in search of a lucky strike... Which, of course, never came.
Tackle and Gear Awaiting Jeff's Arrival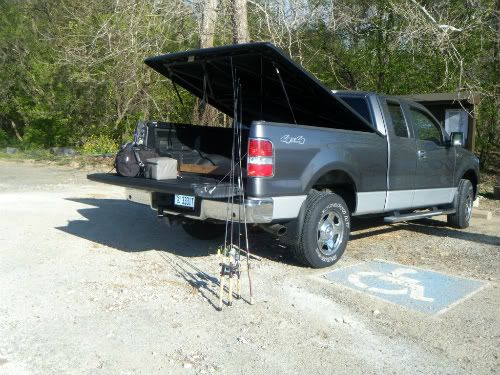 Jeff arrived at the launch around 8:50 am. We immediately go to work preparing the boat to launch. We both got into our cold weather gear for the cold run to our first spot. Although it was a nice day, the water temperature was only 54 degree and the wind was blowing between 10-15 mph with even greater gusts.
The river water level was down below normal so we weren't able to hit our favorite hot spots right off the bat. We changed our plans and headed up the west shoreline.
When we arrived at our first spot, we tossed a spinnerbait and a crankbait in "search" of a strike. Our first hit surprisingly was this 18 1/4" big ole' largemouth on a KVD Chartreuse Gizzard Shad. This was my first time using the KVD model and it produced... impressed.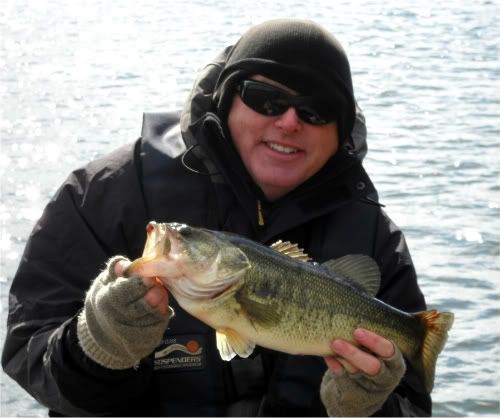 Hmmm.... a largemouth in "Smallieville"! If you remember, in a previous post, Jeff had landed a nice 19" largemouth.
Just off the west shoreline, Jeff added to the fun by nailing a few smallies with his favorite Chartreuse bladed spinnerbait. That spinnerbait has been bringing fish into the boat all week for Jeff. "Lucky Bait!"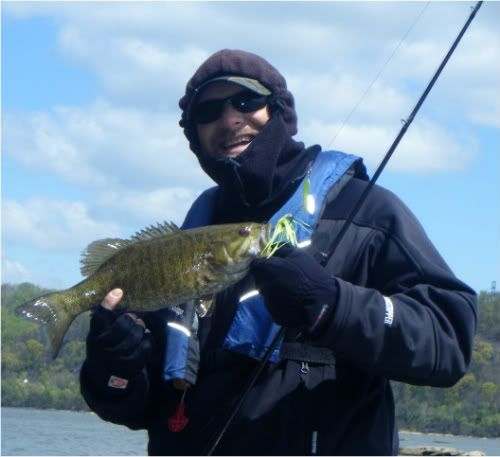 Around noontime, we anchored Jeff's jet rig off the west bank, out of the wind, and ate our lunches.
During our morning fishing, we had heard the "Warning" sirens blow twice indicating that the Safe Harbor Dam had dumped more water into the lake. So, our afternoon game plan was to run the east shoreline to see whether we could get into some of our "hot spots" on that side of the river. Spots that weren't available to us when the water was lower.
We were so happy to find that we were able to negotiate the rocky river and get into the areas that we were hoping to fish. These areas were very productive. Not only did we catch smallmouth using soft plastic tubes , but we also had success fishing with spinnerbaits.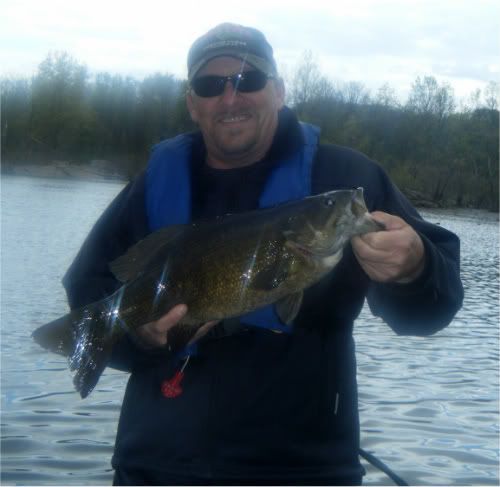 Jeff's PFD vest has reflective tape that shines when my flash would go off...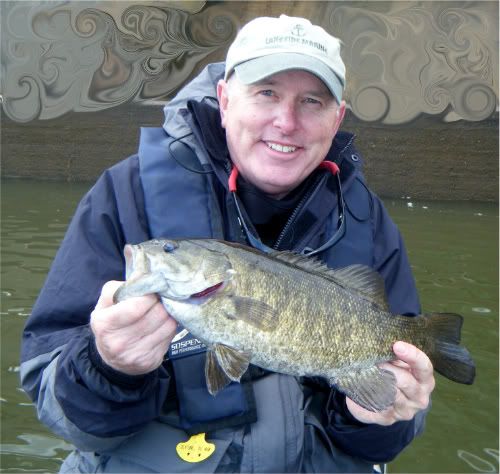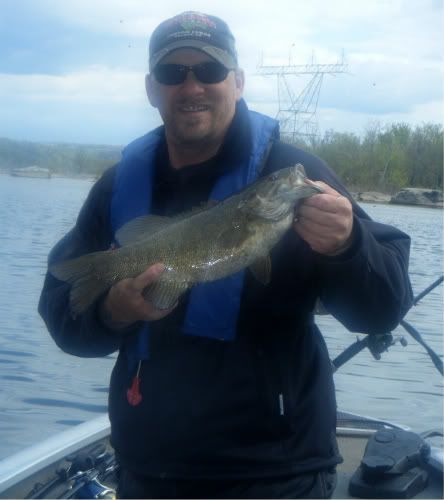 Look at this monster!
Jeff caught this 20 3/4". 4 lb. 12 oz. smallmouth using a Tsunami Plastic Tube from Wacky Worm... What a Hawg! This was Jeff's third C-class smallmouth in less than two weeks, folks. Great job, Jeff!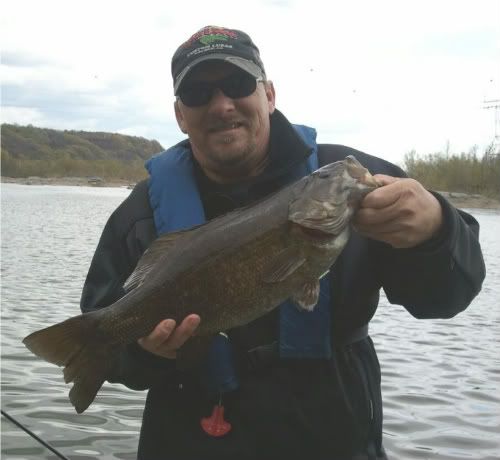 Of course, Jeff catches an awesome smallie and here is my next catch... LOL!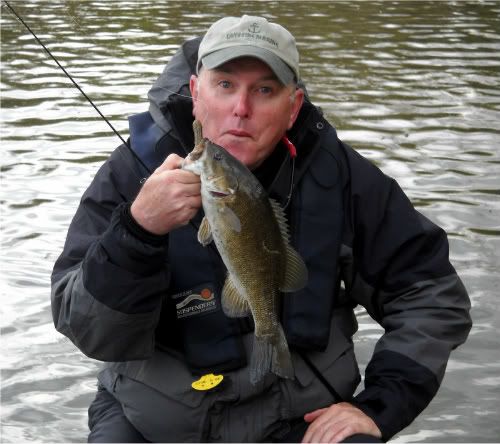 Oh well... I'll have my days! :)
Jeff and Penny hit the same area on "Friday The 13th" and found a whole together different situation. The dams (Safe Harbor and Holtwood Dams) had the river water level pulled so far down that it was extremely hard for them to navigate safely.
Many of the rocks that you see in the following pictures are generally under the water.
Fish Ladder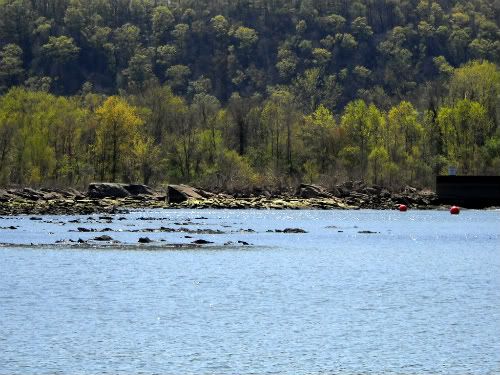 Confluence Of The Conestoga River and The Susquehanna River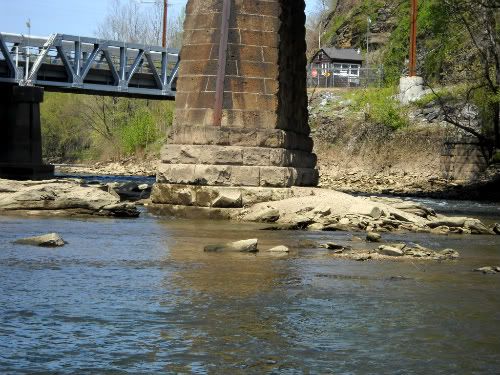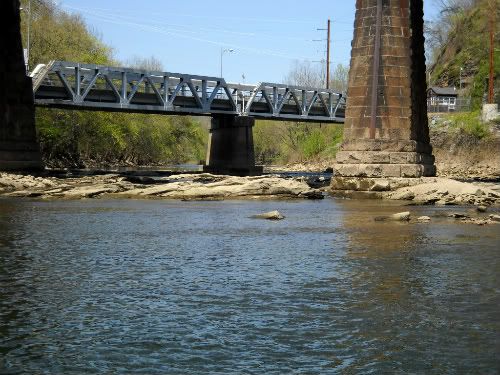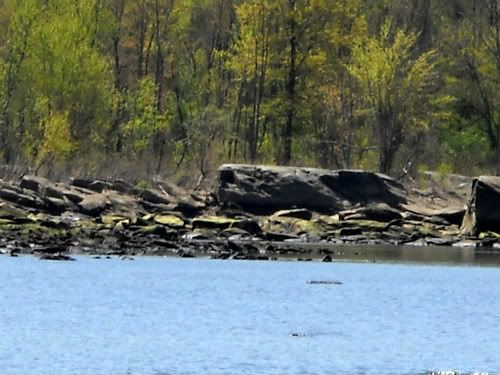 Despite the water being pulled down so low, Jeff was able to save the day with a few decent smallies. Maybe not as large as we caught the day before, but nice and healthy ones.
Rain moved in overnight as a front moved across the state. We could really use a lot more rain than we actually got last night. Today's air temperature has risen into the 70's and we are suppose to have air temperatures rising into the 80s by tomorrow... Summer-like temperatures!
Jeff and Penny were on the river again today but did not get a single bite. It's simply amazing how fickle the Susquehanna River can be.
Take Care and Be Safe!
Dad