Hello Folks,
I've been rather fortunate to have been able to get out on the water these past two days. This is the first time I've done that this season. I was invited by Joe (Rooster) the day after I fished with Jeff last week and I just felt too worn out with my swollen left knee to give it a try. But this week, I decided to push myself and things went well.
My buddy and fellow basketball coach, Dell Jackson, asked me to help him get his boat on the water and running for it's initial 2012 outing. I must say that his motor ran quite well last night. We were both quite pleased with it's performance.
We chose to launch from a nearby ramp and brought along a few fishing rods to spend a couple of evening hours on the river. The water temperature was in the low 60s and the air temp was around 65 degrees. The previous day, the air temperature had risen into the upper 80s!! So, as you can figure, a major front past through Monday night.
The winds were now blowing out of the NW and were definitely cooling things down from the hot day before.
We met at Dell's home around 3:30 pm, placed my gear and tackle into his boat, and headed off for the ramp. We arrived around 4:00 pm and readied his boat to launch.
As I mentioned earlier, Dell's boat ran like a charm. The river was low (3.9' at the Harrisburg, Pa. gauge) and we had to be very careful where we ran.
As usual, when we reached our first destination, I jumped on the front deck and took control of the trolling motor. This was my very first attempt at running a trolling motor since my knee replacement surgery back in July, 2011. Dell said that I did a great job... I'm pleased to hear that. It wasn't easy running the TM last evening because the NW winds were blowing around 15 mph. and the water level was so low.
I picked up a spinnerbait and started tossing that and Dell tried his hand at a jerkbait. It didn't take long before the jerkbait got hung in the shallow water. Before we could get to it, Dell snapped it off... Dang! It was stuck in a submerged laydown and there was no way it was coming loose.
I was lucky to put the first fish in the boat with the spinnerbait and then, this monster hit...
Get a load of this beautiful 21", 5 lb smallmouth and my first C-class of 2012!
Dell wanted to hold the "pigbeast" for a quick snapshot to send to his brother...
We were able to catch around ten bass over a two and a half hour period of time. The catch was evenly spread between the spinnerbaits and the tubes.
Here's a little guy that Dell gave some "lovins" to before releasing. Folks, we got to take care of these little guys!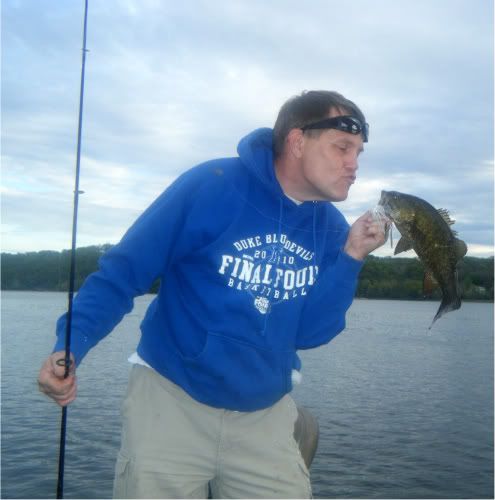 As we were working our way down the shoreline, we came across a rare sight, a Peregrine Falcon. She was just sitting peacefully in the tree and didn't seem to be bothered by the two of us just below her.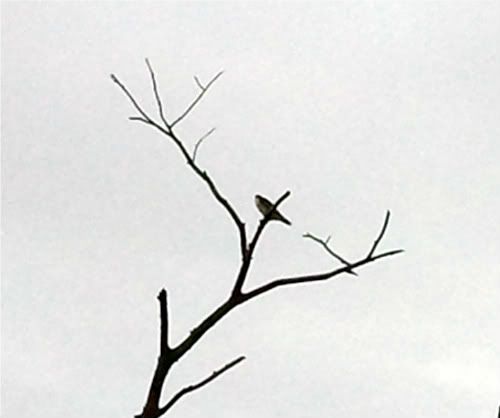 When I got home, I made sure that I iced my knee down. It was pretty darn swollen after my first time on the trolling motor. I was also tired and knew I needed to be up at 5:30 am the next morning to go on my weekly "Fishing With Dad" outing with Josh (smallieman).
It's a quick night of sleep when you have to get up at 5:30 am. after fishing the evening before. I had packed my lunch the night before and had just left my gear and tackle in the truck overnight. So, I didn't have much to get ready when I awoke.
However, I did awaken to a unexpected forecast of "off and on showers"... Wait, that wasn't the forecast that I went to bed with! Oh well... Now I'll have to drag my rain gear along. No problem.
I met Josh at the ramp at 7:00 am and we ran in his truck to a nearby restaurant for a quick breakfast. AT breakfast, we planned our day on the water and I got to show Josh the pic of that 21 inch smallie I caught the night before... And we were fishing from the same ramp. We were stoked.
We got back to the ramp and on the water by 8:30 am. It was already showering and we both had our rain gear on.
The fishing was slow, but we did manage about a dozen smallies of various sizes. We also caught a double at one point of the day... Pretty cool, huh!
Guess which one is Dad's? :)
I was also lucky enough to catch a fatty 16.5" largemouth on a spinnerbait.
A largemouth in "Smallieville".
Josh and I located quite a few beds today that were abandoned. I was assuming that the bass had already spawned on these locations and moved on.
We also spied a mature bald eagle flying close to the water in search of a meal. I always enjoy seeing eagles while on the river with my friends... Neat stuff!
Take Care and Be Safe,
Dad