Hello Folks,
It was "Wednesday Fishing With Dad" day. I was in touch with Josh yesterday afternoon and we decided to met at 6:00 am at his home and then head to Gus's Family Restaurant in Mt. Joy, Pa for breakfast. The weather report mentioned a front was coming through last night with strong winds today. Not our favorite forecast, for sure. Josh just hates wind!
I got up at 4:30 am, washed and shaved, packed my gear into the truck and was on the road to Josh's place. I arrived at Josh's home around 5:40 am and noticed that there were no lights on... Okay. I sent a text message and told him I was waiting outside for him... The text most likely woke him and he texted back claiming that I was "always early". I admit I was 20 minutes early... LOL!
So, I put my chair back in my truck and took a short nap while waiting. I woke up in 15 minutes and saw that Josh's upstairs light was now lit... He's alive and moving.
Once outside and after hooking up his jet rig, loading my tackle and gear into his boat, we were finally on the road to a much needed breakfast.
Poor Heather... She's our waitress each morning we stop at Gus's, she has to put up with the two of us.
We decided to fish below Harrisburg, Pa. while munching on breakfast. Although we knew that some big fish were being caught above Harrisburg in the past weeks (Anthony Cicero had over 19 lbs in four smallies, all over 20"), we decided to throw that information to the wind and try something totally different. Of course, it didn't pay off and we only landed one 16" smallie on a spinnerbait. So much for trying something different... LOL!
I could tell Josh wasn't on his A-Game today. He seemed out-of-it and lethargic. I think he was feeling the effects of not enough sleep. We only stayed on the river for about 3.5 hours and half that time we were drifting in "No-Man's Land" as Josh was snoozing on the front deck.
These are the times I just sit back and toss either a Rat'L Trap or 1/2 oz. spinnerbait. Chances diminish greatly for catching bass under these conditions... Free floating with a 20 mph wind pushing us down river. :)
We did get to see a bald Eagle near the state capital. I took a few pics from afar with my cell phone camera. Sorry for the quality of the pic. It was the best I could do with the equipment I had...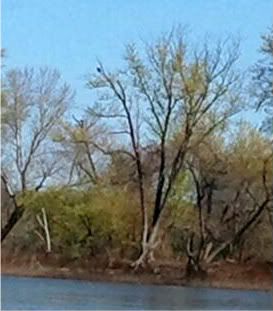 The water temperature was 53.6 degrees. The air temperature was 51 degrees when we arrived and 54 degrees when we came off the water. The wind was blowing out of the North West at 8 mph when we arrived and most likely hit ~20 mph by the time we departed. There were developing white caps on our way back to the ramp.
With overcast skies and the wind blowing over 53 degree water made for quite a cool morning. I was glad I wore my fleece and an extra jacket for the runs.
The temperature actually rose to 64 degrees as we returned to Josh's home. That was a ten degree difference from the river to inland... Wow!
We saw no evidence today of smallies spawning.
The front had brought scatter showers throughout the region and overcast skies. It definitely had a negative effect on our fishing today nor were wet focused in on any staging areas.
Live and Learn! :)
Take Care and Be Safe!
Dad