Hello Folks,
April arrived here in South Central Pennsylvania with off-and-on showers. Just like the saying "April Showers Bring May Flowers", it looks like we were right on schedule... at least with the showers part. :)
Jeff braved the weather and hit Lake Aldred despite a two day catching drought... What's the saying? "Threes a Charm!" It certainly was because Jeff caught three smallies on the third day of fishing... LOL!
Two made it into the boat and the third was "long-armed released" by the side of the boat... a term we lovingly use when a fish comes unbuttoned.
"You look a bit chilly there, Jeff." It looks like there is a slight chop on the water behind Jeff from the spring winds that are still blowing today.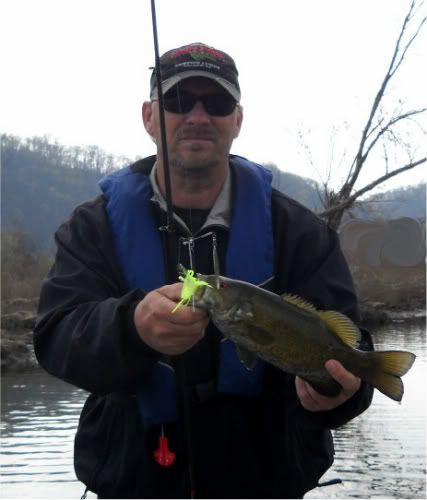 Ahhhhh... looks like a more protective area of the river and the hoodie is now down. Jeff has been hooking into some nice spinnerbait smallies the past couple of weeks.
Water temp on Saturday was 51.7 and Sunday's water temp was 53.4 degrees. Just that slight difference in water temperature can make a world of difference between catching and "skunking".
Jeff was tossing a white and chartreuse painted bladed spinnerbait when he nailed the above bass.
Keep those great pics coming in Jeff and Penny.
Take Care and Be Safe
Dad