Hello Folks,
I received a text on Tuesday evening from my Wednesdays fishing partner, Josh Kreider, asking me if I wanted to go fishing yesterday. I would have loved to have gone fishing with him, but my wife had a surgeon's follow-up appointment and a PCP appointment on Wednesday that took precedence over anything else.
Josh then contacted Steve Halbleib (Steveinpa) who was free to go. This was both of theirs first fishing trip of 2012.
Although I couldn't join Josh and Steve, I did, however, follow their progress throughout the day with text messaging.
Steve let me know that they both caught a 2012 smallie using jerkbaits and tubes. Check out these two beauties...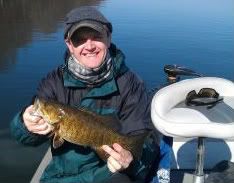 ...and I don't mean Josh and Steve! :)
Another good buddy of mine to hit the water on Wednesday was Jeff (CHRGD). Jeff made a rare solo fishing trip on the Lower Susquehanna River.
Once he caught his first smallie, he was presented with a new challenge... Figuring out how to use the "Self-Timer" on his camera.
I know that when I'm fishing solo, I always need to figure and re-figure the distance I need to be from the camera to get a decent shot of the fish I catch. I think Jeff did a great job on this outing...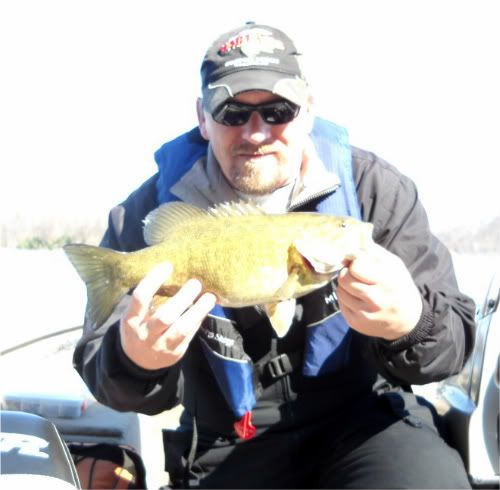 Thumbs up on such a gorgeous day!
The air temperature reached 60 degrees yesterday with a warm SW breeze blowing across the cold water. Josh had text me early and let me know that he had a water temperature reading of 41 degrees on the main stem. Although cold, this river water temperature is warmer than normal winters.
Today's wind is blowing in from WNW and there is a chance of showers tonight and rain tomorrow. We are most likely going to see a drop in temperatures to the 40's with a smattering of 50s over the next week. We have had an extremely warm winter this year... But I'm not complaining one bit!
Take Care and Be Safe!
Dad