Hello Folks,
I am sorry for taking so long to write another blog entry. However, Julie and I have had eight doctor appointments in the past ten days. We have driven all the way to Baltimore, Md. and back, as well as, driven many miles in and around Lancaster County. From specialists to the family physician, we've seen them all.
I also visited my orthopedic surgeon for my left knee yesterday and we have once again scheduled a "manipulation" for March 13, 2012. That's right, we are going to try once more to bend this frozen knee of mine. The "Frequency Specific Microcurrent" (FSM) treatment failed to loosen my knee. Yes, I was disappointed. But I went into the FSM treatment with "guarded optimism". I must say, though I told myself not to get my hopes up too high, I was more depressed about it's failure than I thought I would be.
I have also been dealing with a serious sinus infection which I now have a Z-pack for... Ugh!.
Tomorrow morning, I'll be attending a free coaches' clinic (7:00 am to 12:00 noon) offered by Lancaster General Health (LGH). I noticed this free clinic was being offered to area coaches about a month ago and decided to register. I'm not sure if any other Penn Manor School District coaches will be in attendance. Butch Hobson, ex-professional baseball player and local "Barnstormers" baseball team coach, will be the keynote speaker... Pretty cool, huh.
So, as you can see, I haven't had too much time to write any new fishing entries. But that doesn't mean I don't have any material... On the contrary, I have some pretty fish to share...
I have been so lucky to have friends who like to fish just as much as I do. Jeff and Penny were once again out on the water this past Sunday and nailed a bunch of beautiful fish. In fact, Penny, "The Queen Of The Susquehanna", put a
C-class Smallmouth
in the boat!! "Good job, Penny!"
The water that is usually influenced by a local power plant has cooled down quite a bit since the power plant has been off line for the past week or so. The water temp checked in at 42 degrees and the air temperature was in the upper 40s.
The water clarity was clear on Sunday, but we have had rain since and currently, the water has muddied.
Jeff said that he tried to catch the smallmouth on artificial lures in the cooled waters, but had no luck. So, he switch to live minnows along with Penny and caught some very nice smallies.
Penny's five largest fish measured in at 20 1/8", a 18 1/2", a 17 3/4", 17", and 16". There were three more that never made it into the boat. Jeff added four more bass on live minnies... 18" down to about 16" with one lost smallmouth.
Not bad for a few hours of fishing on a Sunday. Check out these smallies, folks...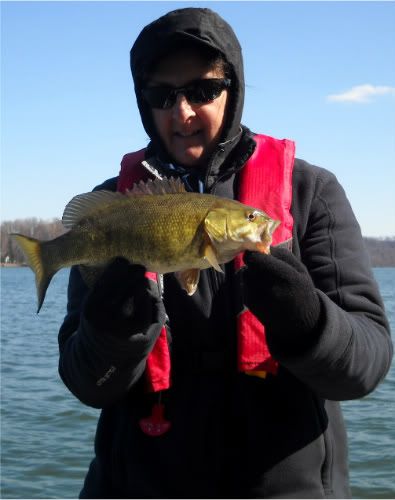 What beautiful fish, Penny!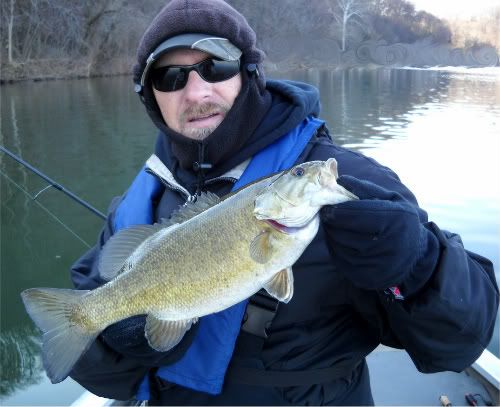 Another beauty!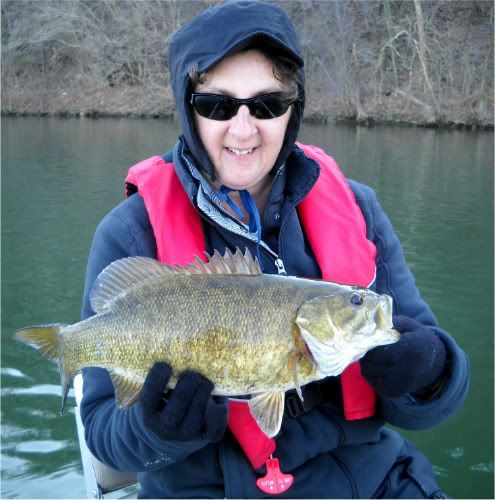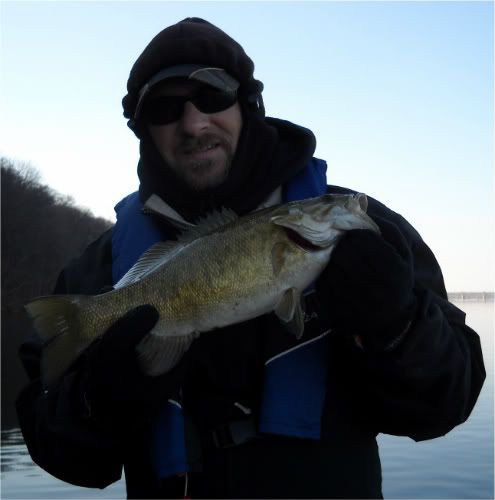 A Real Fatty, Jeff.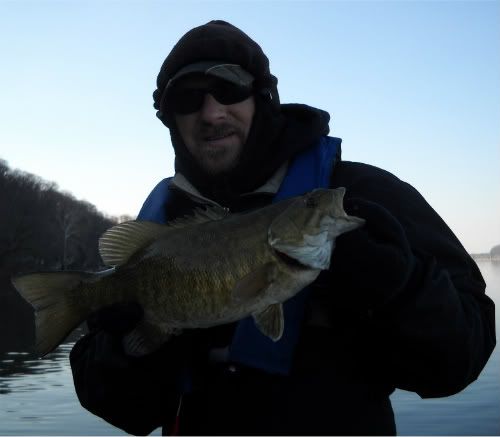 It looks like we're going to be getting even more rain tomorrow since the drizzle has already begun tonight. The air temperature will be rising to 60 degrees by tomorrow afternoon with the potential of a thunderstorm. By Monday night, the temperature is suppose to drop to 18 degrees... What strange weather we've been having this "Winter of 2011-2012"!
The river level at the Harrisburg, Pa. gauge is currently showing 5.29'. A rise is expected to 6.7' by Sunday morning. That will mean that even more muddy water is expected to dump into the main stem through it's tributaries. This is a typical springtime weather pattern. However, we have had very little snow up north of us and the typical springtime thaw will not bring much in the way of additional water to the river.
Take Care and Be Safe!
Dad