Hello Folks,
This coming week will be a very busy week for my Julie and me. We will be traveling to Baltimore, Maryland tomorrow morning for my bi-yearly appointment with my liver specialist, Dr. Anurug Maheshwari, M.D. At Mercy Hospital.
Mercy Hospital Physician Directory: Gastroenterology
On Wednesday, my wife will have a post-operative visit with her wrist surgeon, R. Peart at Lancaster Orthopedic Group (LOG). This is actually her fifth visit since the surgery. She is still attending PT twice a week with slow progress.
Dr. Peart was the same surgeon who repaired my right elbow . He operated on me twice in a matter of six months to remove bone spurs and cartilage. He also had to re-attach a torn tendon by anchoring it to my forearm. I have high respect for his work and my arm has been doing well. I was so concerned before going into these surgeries because this is my casting and shooting arm. But things have turned out rather well.
I am looking forward to Thursday and have been for about two months. This is the day I will be treated with the "Frequency Specific Microcurrents" (FSM) by Dr. West., D.O.
Dr. William West
practices anesthesiology and pain management at Heart Of Lancaster Regional Medical Center in Lititz Pa.
Frequency Specific Microcurrents
And finally, a good ole' fashion Family Physician appointment on Friday. I visit my PCP once every three months due to my health issues. These check-in appointments have been crucial for my continued good health during these past six years since I was diagnosed with cirrhosis from N.A.S.H.
N.A.S.H.
I was actually diagnosed with N.A.S.H. when I was in my later 20's. I was told that everyone has some fatty infiltration into their organs and not to worry too much about it. Once I was diagnosed with the cirrhosis, I did a little research and found that only 3% of those with N.A.S.H. move into cirrhosis. Wow! Why can't I be that lucky when I play the Powerball!?
Now, on to fishing...
My good friends, Jeff and Penny, hit the Susquehanna River once again on Saturday (02/18/12). They were able to land twelve bass, including one healthy 12" smallie. Seven smallmouth came on "The Queen's" live minnows and the remaining five were caught on jerkbait, crankbait (2), and tubes thrown by Jeff... Good job, guys!
Update (02/20/12) - Jeff wrote to me and said he got into two fish, back-to-back, on a crankbait. He thought he was onto something, but they were the only two that he caught on the crankbait. This is very typical of winter fishing.
"Mini-Smallie"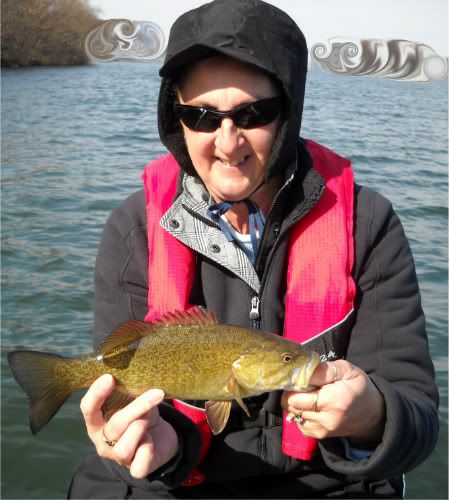 The largest bass measure in at 18 7/8th inch on the board. This one came on an artificial yesterday!
The water has been very clear and holding along the west bank at 42+ degrees F, influenced from Brunner Island which is several miles upriver. The air temperature hit near 50 degrees and the skies were partly cloudy with a wind blowing from 15 -20 mph. Jeff sent me some updated data regarding the winds and said that the wind was suppose to be from the Northeast, but was blowing upriver from the South... Go figure! (Updated 02/20/12)
The fish have been holding in water depths b/w 8' and 12'. We would consider this "deeper" water relative to the water levels surrounding this particular area. The bottom is hard rock with an occasional lay down that will eat a jig head or grab onto a treble hook or two... Prime wintering location for smallmouth bass.
Smile, Penny! I know your bass wasn't as big as Jeff's, but that's no reason not to show us those dimples.
Much Better!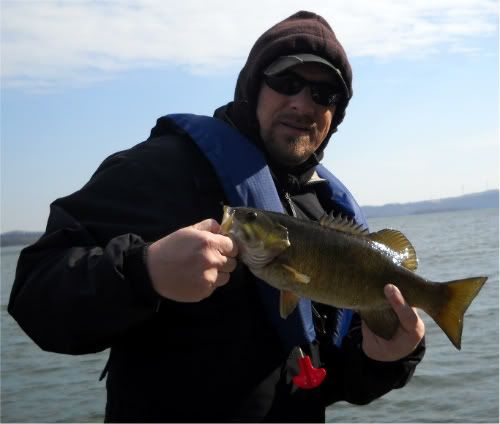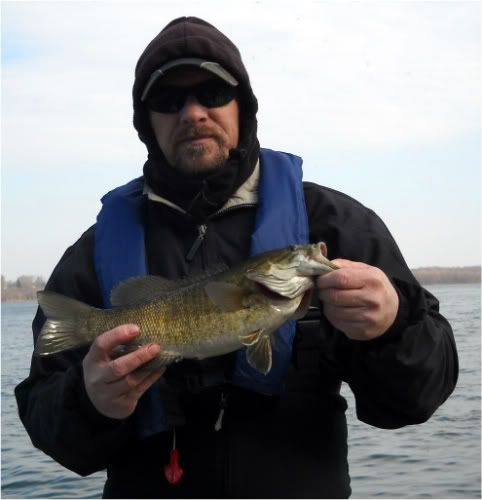 This bass' tail fin looks like it was clipped. Damage from a past spawn?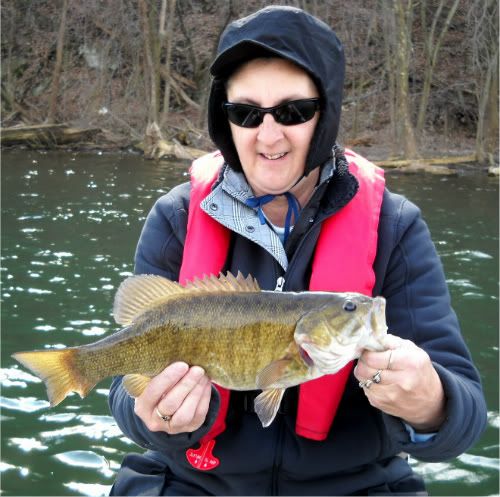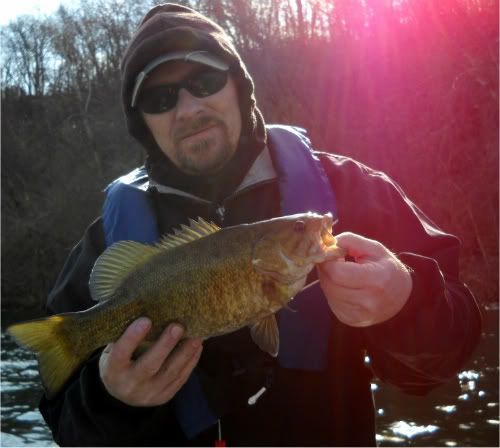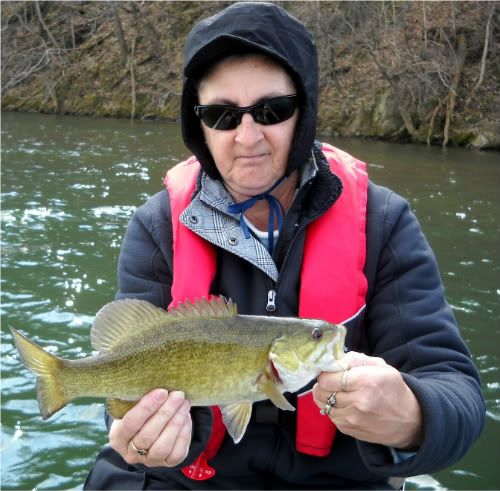 Another great outing by the "Dynamic Duo"! I remember a time when Jeff told me that he and Penny were having a hard time catching quality bass on a consistent basis. I think you two have figured out the "Secret Code"... LOL!
I believe that the more time spent on the water by an individual gives him the knowledge needed to stay in touch with smallmouth seasonal patterns. For example, I just read a report from a smallmouth angler I know from Indiana. He mentioned that the smallmouth were on the move and the reason he knew this was his past experience and current time on the water.
Once one has this knowledge, he needs to use it to figure out what will attract a smallmouth into taking a lure. Sounds easy, but as we all know, this is far from the truth. Small nuances may be the difference between catching bass and going home "skunked".
Take Care and Be Safe!
Dad