Hello Folks,
This past Wednesday, Jeff B. (CHRGD) and I decided to take a mid-December fishing adventure on the Lower Susquehanna River. We had seen a recent post showing some smallies being caught on crankbaits and decided to give it a try.
It was a beautiful and mild morning when we met at 8:00 am at the ramp. I was dressed for cold and wet weather because the local weatherman called for the possibilities of a few showers passing through before the heavier afternoon rain sets in.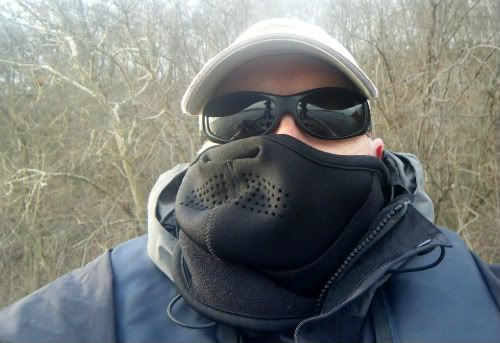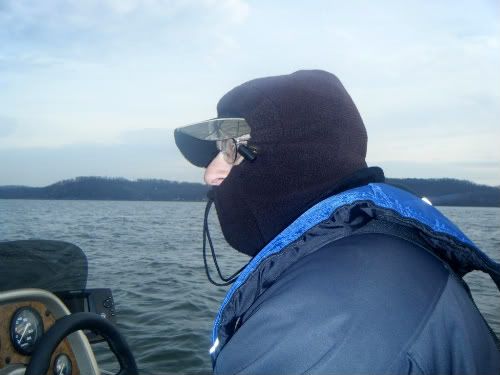 The sky was slightly overcast but the sun popped out off and on and helped to warm the air temperature into the mid-40s by late morning. The winds were building out of the Southwest. At first they started quietly, but by afternoon, they built substantially as the sun went behind some very ominous clouds.
The water clarity was an emerald green which is most common for this section of the river when the reading in Harrisburg, Pa. is 5.6' and slowly dropping. The water temperature at the ramp was a chilly 36 degrees. We found mid-40 temps water that was being influenced by the Brunner Island power plant which is several miles upriver.
I started my fishing adventure off by tossing a god cold water lure, the Winco Chillie Willie. Jeff chose a jerkbait. We were sitting in water that varied from 8' up to 10'.
Here's a pic of Jeff working his jerkbait under the chilled water.
On our first pass, I was able to bring this beautiful 18.5" into the boat on a Bill Dance Fat Free Shad. She wasn't hooked very well, in fact, she only had one hook from the back treble still attached. I was lucky that she stayed buttoned long enough for me to get her on board.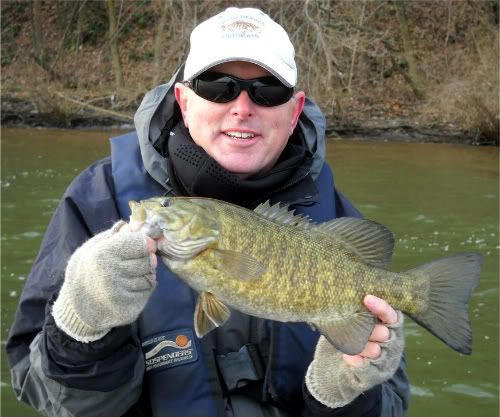 There were several duck hunters at the very end of our float and we didn't want to disturb their hunt. So we ended our first pass early. This area of water fell off a drop that settled into 8.5' -11'. We ended our first pass and ran the Inboard Tracker 175 hp upriver to make a second pass. Brrrrrrrrrr!
You can tell from the video that we had an overcast sky moving over us.
On our second float, Jeff nailed this healthy 17.75" smallmouth on a smaller version of the Bill Dance Fat Free Shad.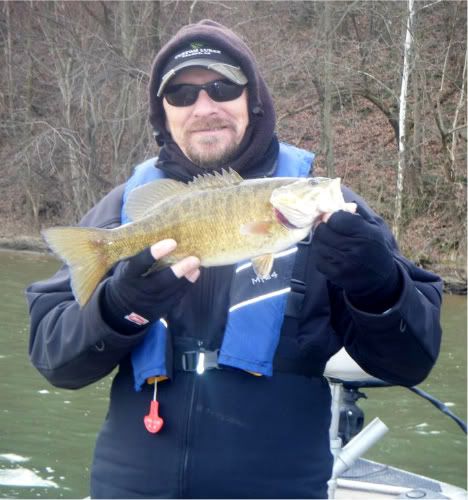 During one of our many discussions that cover a myriad of items, Jeff showed me this sickle shaped jighead hook that he recently poured. We know that Chris Gorsuch (OBjet) really likes this shaped hook. I've used some that I bought from Chris, but have returned to the old Eagle Claws when we pour lead.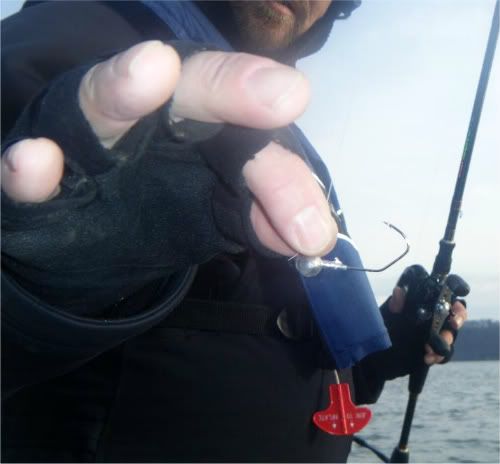 On our second pass, I was lucky enough to nail this gorgeous19" smallie that was pushing close to 4 lbs. on my Boga Scale... Cool Beans!
As the time approached 11:30 am., the winds really started to pick up which made it difficult for Jeff to keep the boat steady and moving on a down river course. Then a few drizzles began to drop and we decided to call it a day before the rains moved in a drenched us completely.
It wasn't too bad outside on Thursday. The outdoor temperature slowly rose throughout the day and by evening, the air temp reached 58 degrees here in Lancaster, Pa. Pretty nice weather for December!
A big thank you to Jeff for taking this ole' crippled guy back out on his great boat. We always have a lot of fun just talking about life matters. In the past, I think we may have even solved a few of life's mysteries while on the water... But I'll never tell. :)
Take Care and Be Safe!
Dad