Hello Folks,
Despite the awfully bitter cold weather we've been facing since Saturday, Josh and I decided to brave the 24 degree morning temperature to go fishing on the last day of the Oktoberfest, 2011.
The temperature was only 24 degrees at my home in Willow Street, Pa. when I left for Josh's apartment at 7:15 am. We decided to meet at 8:00 am and headed to Gus's Family Restaurant in Mt. Joy, Pa. for a warm breakfast and great some piping hot coffee.
We arrived at the river ramp just above Harrisburg, Pa. around 10:15 am. and headed to the opposite shoreline. Although it didn't seem like there was much of a breeze blowing, when we turned and headed west, I felt a cold stiff wind hit me on the left side of my face... Brrrr. I pulled my winter hat and face mask tighter and closer to my skin to keep it from freezing.
Josh started his day out by tossing a 4" mudpie tube with a 1/8th oz. jig head and I tossed a K&W Krinkle-Cut Worm with a 1/8th oz. jig head and later, used a 2.5" tube. It took us an hour and forty-five minutes to catch our very first smallmouth of the trip and boy was it a bruiser...
Check out this 20" Pigbeast! It was Josh's third lifetime 20" smallie. Way to go, buddy!
Another angle of Josh's 20" Toad.
We nailed two more big fish within the next twenty minutes from this general location.
This was my first smallie of the day... a 19" Pig.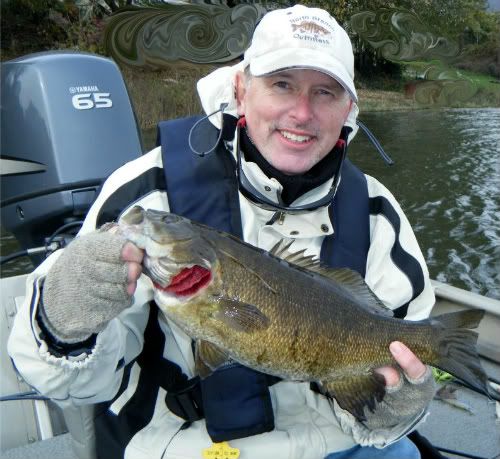 A second pic of my slender 19". This is the opposite side which had large black freckles on it... check 'em out! These markings remind me of Steve's fish from his last report.
My second large fish was an 18.5" Hawg.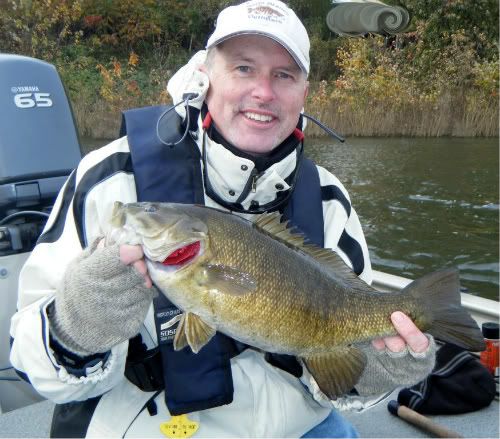 18" Smallie Chunk!
What a great day this was turning into!
The water was a cool 44 degrees when we arrived and it only rose one degree to 45 degrees in the entire four hours we were on the water. The air temperature rose from 27 degrees to 44 degrees by 2:15 pm. under overcast skies.
The water clarity on the river was stained green and clear. It was that great coloration that we all find very productive on the Susquehanna River.
We found most of our bass hanging in about 5' to 6' of water. The smallies have started to school up as they prepare for the upcoming winter months. We found them in small pockets scattered along the western shoreline.
Josh caught this beautiful 17.75" smallie in a shoreline pocket just along a major grass bed. This pocket produced at least five bass for us including...
...this very healthy 17.5" Football taken on a 4" tube.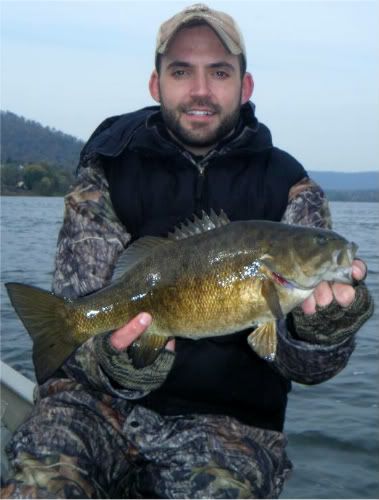 We have had two very good Fall outings over the past two weeks. I can't say that the fish have been always easy to locate yet, but when we do find them, there are usually several same size bass hanging together.
Thanks to Josh for helping me once again during this trying time I'm expereincing. He has certainly helped me a lot. Not only does he help me get in and out of the jet rig, but he also helps me net the larger bass. I know it hasn't been too easy for him either since he hurt his right knee a couple of weeks ago.
We both started the day out feeling pretty good. But after four hours of cold weather and moving about the boat, our knees were feeling tight and sore. It was time to call it a day and head back to a nice warm truck.
One of the funniest moments we had on Monday was immediately after I caught the 18.5" (see pic) smallie. Josh helped me not only net it, but he took it for a walk! I had grabbed the bass by the lip and removed it from the net. I picked it up and began to unhook the 2.5" tube from it's jaw when I realized that not only was my rod moving away from me, but my fish was also slowly moving away from me. I looked up to notice that Josh had my fishing line wrapped around a metal snap attached to his one piece hunting suit. He was taking my 18.5" toad for a walk on the boat.
"Whoa, whoa, whoa, Josh! You got my line wrapped on you and you're taking my fish for a walk!" LOL! :)
Watching two partially handicapped anglers gimping about the boat chasing a rod and fish was pretty darn funny.
Until our next trip...
Take Care and Be Safe!
Dad