Hello Folks,
Jeff B. (CHRGD) sent me a text message asking me if I wanted to go fishing with him today. I first had to take my wife to the eye doctor at 10:00 am and then would be free the remaining afternoon.
We met at the river ramp around 1:00 pm and fished until 4:15 pm.
We found the water to be a nice stain green and the water temperature was holding around 47 degrees. There were passing clouds overhead and we had a strong breeze blowing in from the South. The breeze was strong enough at times to hold our position against the current.
The air temperature was holding in the mid-50's. Along with the southerly breeze, we had a beautiful day on hand.
Fishing was slow for the three hours we were out. We only had three bass hit our lures all afternoon... Not much size to write home about, either. Here was the largest smallmouth we had take a 2.5" tube...
Tap, tap... "Set the Hook!"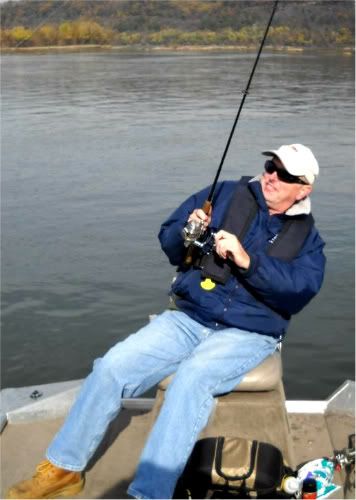 A good hook set resulted in catching this 17.75" smallie.
As we were drifting along the western shoreline, Jeff and I saw a mature bald eagle fly out from the tree tops. A few minutes later, we both heard the loud screech of the mature eagle...
We were surprised that this eagle allowed us to creep up so close while perched atop this tree. What a majestic sight!
We had tried jerkbaits, spinnerbaits, Chilly Willies, and tubes today. Th tube was the only lure that attracted a bite.
A "thank you" goes out to my good buddy, Jeff, for asking me to go fishing with him and for helping me on and off his jet rig today. Without his assistance, I definitely would not have been able to enjoy this day on the water... "Thanks, Jeff!"
Take Care and Be Safe!
Dad