Hello Folks,
Did you ever have a computer keyboard that gave you problems? Well, my current keyboard seems to be messing with a lot me recently and not giving me every key that I tap on. It's actually getting better right now. More notes are showing than there were two weeks ago. So, the last blog entry I wrote to you took me about twice the length of time because I was either correcting all the misspelled words or hitting the keyboard numerous times to give me just one dang character. What a PITA!
Oktoberfest is in full swing!
I've been following Lance Dunham's reports ( guide on the North Branch of the Susquehanna River) which are recording 100+ fish days with three anglers in his boat. Here locally, I have friends who have nailed twenty "inch" smallies that are weighing in at 5 or more pounds range. Not only are they long, but stocky, too.
You all know Josh, my fishing buddy. Well Josh and I had plans to go to the NB the first week of Novemeber this year, but we had to postpone this much anticipated fishing trip due to my knee's slow recovery process. Thank goodness... Why? You may ask. Well, yesterday while replacing the brake pads on his Dodge Ram, Josh's truck slipped and fell, trapping him underneath the wheel. Luckily (strange word to use under these circumstances), he had his cell phone nearby and called out to his landlord for assistance. The landlord made it quickly to Josh's apartment(an old farmhouse)and, as most of us would likely do, attempted to free him by cranking the handle to the jack. But the truck slipped and fell a second time onto Josh's leg. Imagine that!!
The ambulance arrived and extricated Josh from under his truck and rushed him to LGH (Lancaster General Health Hospital). At first, Josh thought he had totally crushed his right leg. In fact, that was the first text message he sent me. But as luck would have it, he had no broken bones. Phew! That is crazy stuff right there... That truck fell twice onto his right leg and did not break a single bone in his lower leg or knee. What a lucky young man he was!
Josh is now walking with the aid of crutches and will not be collecting milk for quite some time. Sometimes soft tissue damage takes a bit longer to heal than a actual broken bone (usually 6 - 8 weeks).
I woke up this morning and immediately texted him. I told him just how happy I was that he, "my fishing buddy", was still here with us. Heaven knows what could have happened to him had that truck slipped a foot or two in another direction.
Josh wrote back that he was glad we had decided to postpone our NB trip until next Spring or we would have been calling the hotel once again to cancel our reservations as we did in the past Spring when the rains hit. He told me that our new team fishing name will now be called "Cripple Creek Fishing Team". LOL!
So while Josh was trying to kill himself yesterday, my other fishing buddy, Jeff, was out fishing in a very exclusive "hot spot" on the river. He had gotten access to an area of the river that we both had wanted to fish for the past month and were unable to. Boy did it pay off for him and Penny, too.
They nailed over 20 bass with two going over 20 inches!! "There ain't no fish in that section of the river!" :) A lot of folks tell us that and we just go along with them and agree... Knowing a lot different from our past and present experiences.
Jeff and Penny sent me a set of pics to share with all of you. The tube and spinnerbait was working well in the 60 degree water. Not only was the water prime for spinnerbaits, but the wind was blowing which is every spinnerbait anglers dream. In fact, the one twenty inch smallie came off a spinnerbait.
This area is usually pretty busy with duck hunters (Oct. 15 - 22), but Jeff and Penny saw no other boaters or heard a single shot all day. Did I say this was our secret "hot spot" for Fall fishing? :)
Check out these smallies...
Penny the "Queen of the Susquehanna River"
Getting closer to the twenty inch mark...
20.75" Smallie on a spinnerbait. What a hawg!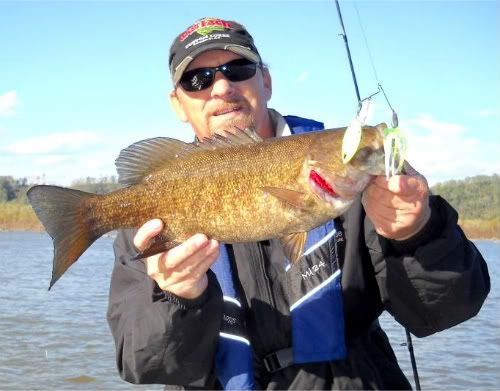 A second twenty incher that measured in at 20 1/8th inch.
Did anyone lose a sailboat?
I would say that the "2011 Flood" was definitely the "Turning Point" for this particular vessel.
I am hoping that Jeff and I can hit this section sometime this coming week. When? We'll have to see what Mother Nature has in store for us and compare the prime days with PT and doctor appointments I have scheduled.
My weekday life seems to be ruled by medical appointments... Last week, it started out with my wife's surgery! This week, I have four PT appointments, a dermatologist appointment, a family physician's appointment, and my wife's surgery follow-up appointment... I can't see how anyone could do all this and have a full-time job.
I can't wait to get out with Jeff. My new knee has been gradually allowing me to sleep at night. However, when the rain last week set me back a couple of days and the pain was terrible on Wednesday and Friday.
My Friday's PT and I discussed this pain. They are firm believers that the barometric pressure plays a major role in how our joints feel. She reminded me that a second low pressure had moved across our state late Thursday evening which may have been the reason for the pain on Friday.
I'm hoping that as my knee heals, this type of "Mother Nature" pain lessens for me. I certainly can handle most pain, but there are some days that it drives me to tears. I believe that my high activity level also has a role in it all. It's like a "Catch 22"... Stay active and you'll regain the bending and straightening of the knee quicker. But by being so active, you will also bring on more overall knee pain.
Congratulations to Jeff and Penny for nailing those two hawgs this weekend. What an accomplishment on one outing!
Take Care and Be Safe!
Dad