Hello Folks,
We've had several days of some very awesome weather (48 degrees in the morning rising to the low -70's by the afternoon) after a couple of weeks of an ugly stalled Low Pressure that brought extremely wet weather. Not only that, but we had just come off the "2011 Flood" which had the Susquehanna River a total mess.
Penny and Jeff (CHRGD) took a fishing trip yesterday just below Harrisburg and caught over 15+ smallmouths. They made their way out of the dirty and challenging river water and into some cleaner creeks and streams.
The river water temperature was holding around 58 degrees which is nearly perfect for spinnerbait bites. But the bites didn't happen right away until Jeff tossed his green bladed spinnerbait... Eureka!
Not only were the smallies hitting the spinnerbaits, but so were certain plastics.
Here are some beautiful smallmouth pics that Jeff and Penny brought to hand...
The "Queen Of The Susquehanna"
I think Jeff blurred this photo on purpose because Penny caught the very first bass and he was actually jealous... Don't tell him I said so because I'll just deny it anyway. :)
Jeff popped a couple of great looking creek smallies. Penny took perfect photos... Apparently, she doesn't hold grudges... LOL!
Here's evidence that smallmouth do love painted blades. KVD will attest to that fact in almost every article he mentions blades in. When you are faced with stained water from Spring through Fall, don't hesitate to pick up a 3/8th to 1/2 oz. green bladed spinnerbait and go after 'em.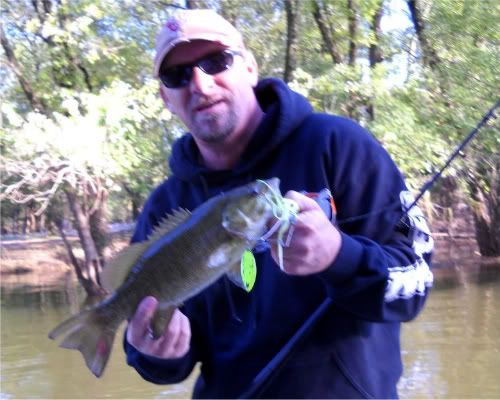 Another great looking smallmouth for Penny. Penny has a secret lure that only a few of her loyal "river subjects" are aware of. When I found out what that lure was, I was immediately sworn to secrecy or face instant death. As you can see, I chose life!
"Long Live The Queen!"
This was the "Lunker Of the Day"... An 18.5" beauty from one of the "hottest spots" that Jeff and I fished all year. Great job, Jeff. LOL! :)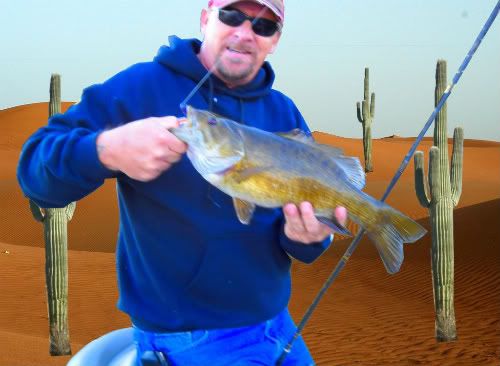 I must admit that Penny and Jeff have been developing into very versatile anglers. Jeff told me that there was a time that Penny would only toss a grub. He can no longer make that claim. She is throwing several different lures with great efficiency. The pictures we have seen over the past few months have proven just how good she has become by spending time on the water with Jeff and being willing to step outside her comfort zone and persevere by tossing a variety of new lures for her... Good job, Penny!
This coming Monday, my wife will be having arthroscopic surgery on her ailing right wrist. She had fallen on the job back in early July and injured it. Not only did she injure her wrist, but she also had a black eye and a cut upper lip. She was cared for at the hospital and given a CAT scan and x-rays to be sure she didn't have a concussion or any broken facial bones. Both tests came out negative.
A couple of weeks later, the surgeon ordered an MRI of her right wrist and noticed a few abnormalities. He treated her with rest, brace at bedtime, and later, gave her a cortisone shot for inflammation.
During this time, Julie was caring for me with my knee replacement surgery and doing the best she could. She also remained on light-duty at work until about two weeks ago when she was told to stay home on workman's comp.
Julie's arthroscopic surgery on Monday will be at 7:30 am. We need to be at the surgical center by 6:00 am. for pre-op... An early day, for sure! Hopefully, the surgeon will locate what it is that has been causing Julie such pain and discomfort and repair it. She will then be on the road to healing.
Next Tuesday after my morning PT session, Jeff and I are planning to go fishing. This will be my first trip on the water since my surgery on July 26, 2011. It will actually be my second attempt to get back out on the water. The first attempt was with Josh, but we got hit with such terrible rainy weather created by that "Low Pressure" system. This coming Tuesday, we will be facing a cold front after a long stretch of beautiful stable weather... Maybe we'll get lucky and have the perfect "pre-front" trip chasing smallies. We definitely have one particular site we are planning to hit... Right, Jeff!?
Thanks to Jeff and Penny for the great pics and fishing tale.
Take Care and Be Safe!
Dad