Hello Folks,
We've had some more rain in Central Pennsylvania this week that has help raise the river level once again. On Friday (09/30/11), the river level in Harrisburg, Pa. was standing at 13.32'. It was slowly dropping, but will rise once again when the rains return tonight and tomorrow. The predicted level in Harrisburg, Pa. by Tuesday (10/04/11) is 12.8'.
Jeff (CHRGD) and Penny traveled to York Furnace yesterday to see what work has been done to clean up the launch. If you go back several blog posts, you will see just how muddy the launch was. Here are the update photos that they sent me yesterday.
Entrance To Launch
Parking Lot Work and Dock Damage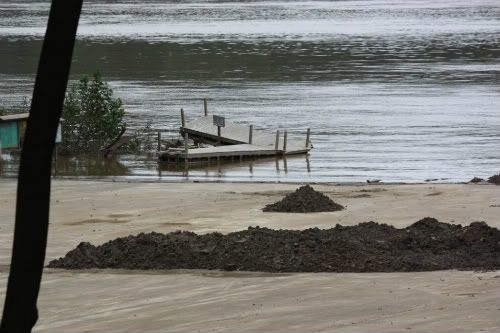 Raised Water Level
As you can see in the second photo, there is evidence that workers were on site scrapping the mud off the pavement.
The docks are still askewed in the water just as they were a couple of weeks ago.
One can tell that the water level is still up on the lake. The PPL sign in the third photo is normally high and dry is shown surrounded by river water.
Duck Season will soon be upon us and the duck hunters have not been able to get out to their blinds to prepare. I'm sure that they are not happy with the present situation!
Take Care and Be Safe!
Dad