Hello Folks,
Jeff and Penny were able to get out yesterday on a very cold day (50+ degrees) to do some "so-so fishing". Jeff claimed there was nothing much to talk about, yet none of their fish were under 16"... Not bad, Jeff and Penny! In fact, three of the fish were 17"ers and one was over 18". I would say that was a pretty darn good outing despite the low numbers. In this case, size does matter!
They tossed a combination of lures covering the middle and bottom columns of the river - Tubes, Big O, Spinnerbait, Clown-colored Rapala, and Al Winco's Undulator.
The Safe Harbor Dam were pumping "Big Times" once again. At the back of "The Dam", the level was close to 175', but at the end of the rock garden, maybe 165'. That is a heck of a drop off! The current was "Fast as Hell"... and everywhere! They both claimed it was some of the swiftest and most dangerous moving water they have ever seen on this section of the river.
Just after noon today, Jeff gave me another phone call and said that he and Penny were up at the Safe Harbor Dam. The power plant was once again generating a ton of water. Only two of the four orange buoys were visible and the water had risen well above the front entrance gate to the fish ladder.
They may make a trip back over that way before heading back to the ramp to take a video or two so we can see what they were talking about. "Just be careful you two!"
I personally cannot remember the last time I have seen the water above the fish ladder gate. The Safe Harbor Dam must be generating a lot of electricity to have the turbines moving and pushing that much water... They may also just be passing the water through since the river is sitting at 7.05' at the Harrisburg's river level gauge.
Jeff stated that there must be at least a 5' drop in water level as you approach the islands just below Safe Harbor Dam. His Tracker IB 175 HP had a hard time keeping steady in that hard driving current. No fishing in this area today!
They were heading to the west shoreline as we spoke where they had at least a foot and a half visibility. Plus, the sun was shining some this afternoon. Yesterday, they had no sunshine to assist them in their quest for smallies.
The sun can work to their advantage in several ways. First, it can make their lures a bit easier (visible) for the fish to see. Bass use sight as their primary sense to feed. And second, with the sun shining, bass will often concentrate in shadier areas helping the angler determine where best to toss a lure. The bass chose these spots for two main reasons. It's safer overall for them in the eat or be eaten world they live in and shade provides an ambush point for them to feed from.
Let's hope this pays off for Jeff and Penny today.
Let's move on to some of the pics that Jeff and Penny took on their outing yesterday. You can see that they were both dressed well for the cold weather.
Many folks are fair weather anglers. But folks like Jeff, Penny, Josh, Chris Gorsuch, Blaine Mengel, Jr., Al Winco, Mike Burton, myself, and many more of our friends are "year-round smallmouth bass anglers". As long as the Susquehanna and Juniata Rivers aren't iced over, we will dress in warm gear and head out to the river for some cold water smallie fishing.
Penny has a lot to smile about with this beauty of a smallie!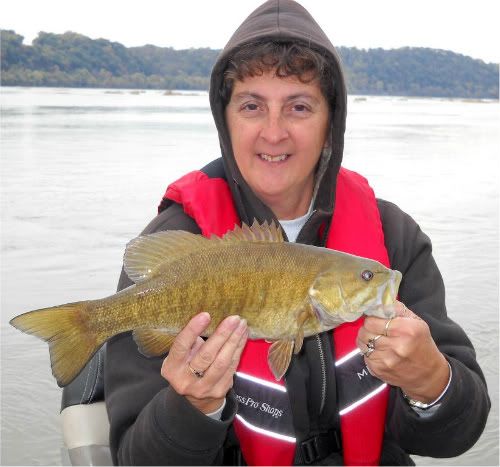 Jeff nailed a couple again on the chartreuse bladed spinnerbait. This is one of our favorite colors in dingy/dirty water.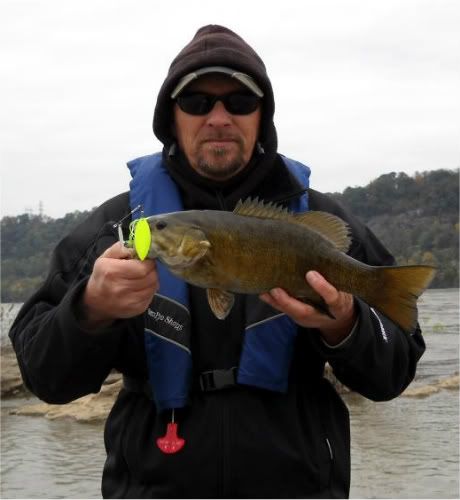 Chunky smallie there, Penny. No wonder you have a huge grin on your face. "The Queen Of The Susquehanna" comes through again!
Smallies remind me of chameleons. The light coloration of the bass is often common in such chocolate milk color water.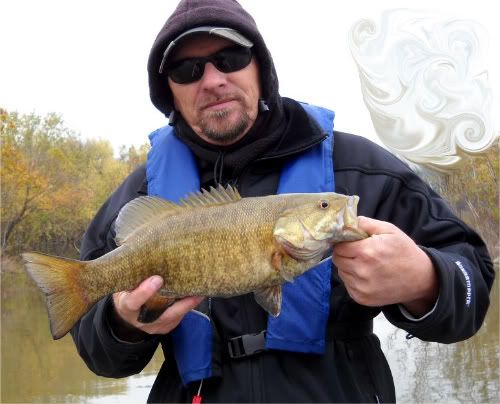 Take Care and Be Careful,
Dad