Hello Folks,
On Sunday evening, my good buddy and fishing partner, Josh Kreider, called me and asked if I wanted to go fishing on Monday. "Sorry Josh, I have PT at 10:30 am." *sniff*
Josh thought that he may be able to find someone else, like Steve, to go fishing with him. But alas, Steve had already made plans to fish with a fellow co-worker which left Josh all alone. He thought he may not go out if he had to go alone.
Early Monday morning, I received a second call from Josh. "Hello, Tom?" I overslept on my couch and I'm going to finish my milk haul a little later than I expected. Do you want to go fishing later today with me?"
"Heck, yea!"
I headed to breakfast around 9:00 am and then on to PT at 10:30. My God, my PT worked my knee so hard yesterday that I started having doubts that I would make it through an afternoon of smallmouth fishing. But I bared down and took the "Pain and Torture" (PT) that she inflicted on me for entire full hour and was ready and eager to go once finished.
After PT, I gave Josh a call. He was still on the road with his milk truck which meant I had time to head home, change clothing, and pack my truck up with all my gear before he arrived back at his apartment.
While driving home from PT, I overheard the weatherman calling for afternoon showers. Say what!? His prediction caused me to change my clothing plans. I grabbed a pair of waterproof "duck boots" and my warm rain gear once I arrived home, although it was still sunny outside.
Around 1:00 p.m., Josh called and said he had finally returned back to Mt. Joy, Pa. with his milk truck and was wrapping things up for the day. By the time I got to his apartment, he would be ready with his boat hooked up and ready to head to the river.
On my way up Rt. 283, it began to shower a bit... Oh no! It wasn't too bad and it actually stopped before I got to Josh's place.
We loaded my gear over into his boat and truck and were off and running. We gave Steve a call to see if he was still out fishing, which he was. He was below Harrisburg and having a decent day on the water.
With the overcast skies and chance of rain in the forecast, Josh and I decided to fish closer to home. We had been thinking of heading to Fort Hunter, but changed our minds and stayed below Harrisburg, Pa.
The Susquehanna River level was at 6.06' at the Harrisburg gauge and was on the fall. The water temperature was 54 degrees when we arrived around 2:00 pm. The river was dingy on the east shoreline and towards the middle, but the west was a nicer stained color. There was only one other truck and boat trailer in the parking lot... Good!
As we were preparing to launch, the rain moved in once again and we needed to run wearing our rain. We are not fair weather anglers! :)
Dad finally back on the water after a four month hiatus.
When we reached our first fishing hole, the rain had subsided and we were able to strip off our rain jackets. Within the first 20 minutes, Josh nailed his first 16.5" bass on a 4" "mud pie" tube.
That was our only bass in this location and we moved on to our second hole. Josh picked up two more bass before I eventually lured my first smallie to hit. Ahhhhh.... my first smallmouth bass since my total knee replacement back on July 26!
Boy, did that 15.5" smallmouth feel really good after such a long break. "So that's what it feels like!"
We had a great evening of fishing. The rains moved through for about a two hour period and then picked up towards nightfall. But that didn't stop us from catching some "pigbeasts" that weighed in the 3 to 4 pound range.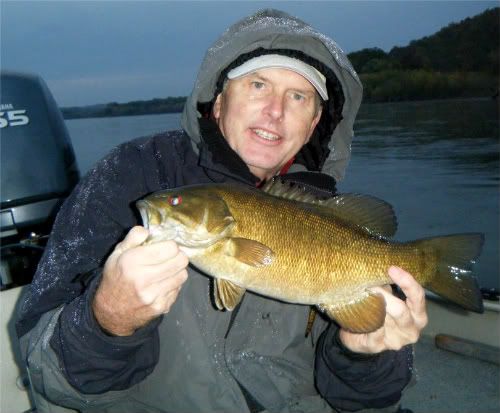 Josh caught this humongous Fall crawdad. This huge crustacean wrapped itself around Josh's line and both claws had a hold of Josh's tube. We didn't want to harm this monster,so we cut the line and let it go free. Josh said that it should provide some smallie with a great evening meal and a side of plastic!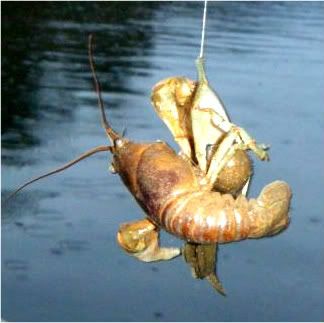 The biggest "Hawg" of the evening. She measured in at just over 19" and weighed a whopping 4.5 lbs!
We only tossed three different lures on Monday. Josh was using a 4" "mud Pie" tube and I tried a 3/8th oz. chartreuse bladed spinnerbait without luck and a 2.5" "mud pie/orange flake" tube. Slow working of the tubes was the ticket all afternoon and evening. The bass were holding very tight to the bottom and several had very dark and beautiful coloration.
After our night on the water, we stopped at a local burger joint and relaxed and talked about our great evening on the water. When we arrived back at Josh's apartment, I realized that I had left my G3 jacket back at the restaurant.
Well, I sure wasn't going to leave that nice jacket sitting there. So, I gave them a call and they located my jacket and kept it for me until I made the 30 minute trip back to get it... Thanks to the restaurant for holding it for me. I had won that G3 jacket last year at the Lakeside Open House and surely didn't want to lose it.
On the way back home on Rt. 441 near TMI, a six point buck came walking out onto the roadway. Luckily, I was far enough away from the buck not to him him. AS he entered the roadway, he stuck his head down and proceeded across the road no doubt on the scent of a doe that may have crossed just before I got there.
A "BIG THANKS" to Josh for assisting me throughout my "return" trip. Josh has banged his right leg up a week ago and was taking it easy. We were "Gimpy and Limpy" from the Cripple Creek Bass Fishing Team... LOL!
Take Care and Be Safe!
Dad