Hello Folks,
Last evening, I had the opportunity to speak with Seth S. from Eastern Pa. Fishing Reports (EPFR). Seth was planning a day trip to the Conowingo Pond and wanted some details on the upper section of the lake. It was going to be his first trip to that section of the river. He had spoken earlier with Mike Phillips at Phillips Bait and Tackle regarding the Lock 12 area. My name came up in their conversation and Seth decide to get in touch with me by phone.
I hope he did well today!
I had my annual eye doctor appointment today at 8:45 am. and had absolutely no intention of hitting the water with dilated pupils. My plans more or less involved hitting my pool to stay cool on such a hot day. However, Josh gave sent me a text at 7:30 am. saying that Steve (Ifishblades) had family obligations and couldn't make it on the water with him today.
"Hmmmmmmmm... Maybe I can get in and out of the doc appointment quickly... Just maybe I can go fishing."
Josh was all for it and I quickly readied my gear and lunch and headed out the door to the eye doctor appointment.
Luck was definitely on my side today. I was the doctor's first morning patient and got in and out very quickly. Eyes fully dilated... sunglasses on... I hit the road to meet Josh at the Columbia, Pa. ramp.
Josh was fish-less when I text him that I was on my way. However, only a few seconds passed and I got another text with this pic attached...
A nice big cattie hammered Josh's spinnerbait. The catfish did a number on his spinnerbait by giving it a good twisting! That War Eagle took a beating, but was salvageable.
Josh soon arrived at the ramp and picked me and my gear up... "Boy, it was hot outside!"
We hit the general area where Josh caught his big cattie but we only connected with a pipsqueak of a smallmouth bass on a spinnerbait. A lot of smaller bass were chasing and hitting our lures, but no we had no other hookups..." Boy, it was hot outside!"
After about an hour or so of fishing, we headed to the west shoreline to find some much needed shade and to eat a lite lunch... "Boy, it was hot outside!"
After lunch, we decided, "The heck with this fishing stuff" and we headed into the "big waters" to take a beautiful afternoon boat ride to the Safe Harbor Dam and back, stopping along the way for some pics and to dip our toes in the water.
Josh giving the "Thumbs Up" sign as we head down river and into Lake Clarke...
You can tell by the pictures just how hazy it was today. The heat and humidity were unbearable. There was a warm southwest breeze that kicked up around 10:00 am. That breeze was not a cool breeze, but it gave some relief to an already hot and sticky day.
Can you name the hillside on the right of this pic?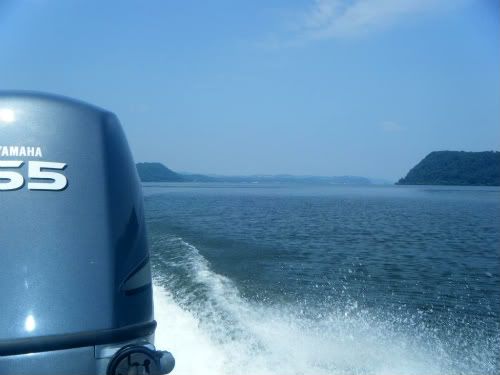 Safe Harbor Dam from the Lake Clarke side. You are used to seeing it from the Lake Aldred side on many of my blog entries...
The RR built these aqueducts to prevent the tracks from being washed out by springs. There are several of these situated along the Lancaster County shoreline.
This particular waterfall cascades into about 9 feet of water.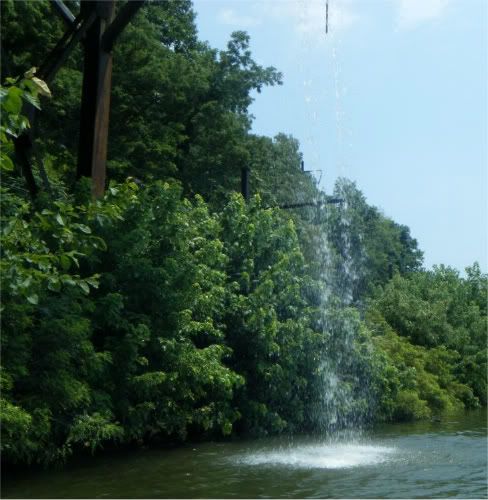 These two windmills were built by Turkey Hill Dairy to provide power. They only went into operation this past year...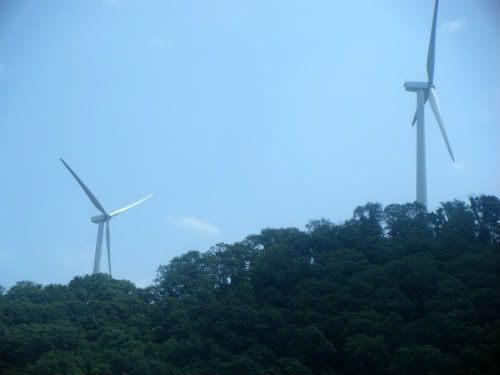 Cooling off the feet after standing on a hot boat all morning long!
By the way, did I mention "Boy, it was hot outside!"?
The temperature hit 92 degrees!
Take Care and Be Safe!
Dad
p.s. I forgot to mention that we saw three mature American Bald Eagles today. Two were hanging together in the rock gaden below Columbia and the other was down by the Safe Harbor Dam. I thought the one by the dam may have been one of the eagles we see down at Lake Aldred during our fishing trips.