Hello Folks,
CHRGD (Jeff) emailed me some great smallmouth pictures from his Easter Sunday trip on the river with his wife. In the email, he asked me what I was doing Tuesday... "Uh, fishing with you!" :)
On my way to the ramp, I got hung up behind a school bus and then at a construction site. So I decided to give Jeff a call to tell him I was running a few minutes behind schedule. We were suppose to meet at 7:15 am. and it was already 7:05 am... Arrrgggghhhh! Jeff was up early and had launched around 6:30 am. and already had three fish in the boat. "Say what!?"
I was really eager now to get there ASAP and get in on the hot action. But when I arrived at the ramp and gave Jeff a call, he said that the area he was fishing had basically shut down. He was near a power plan that had decided to start pushing water and a lot of debris started heading down river. Not only that, but the turbulence made it very hard for him to stay safely on his spot.
Oh, well! Another good thing had come to an end... at least for now.
Once we got my gear loaded onto his jet rig, we were off to explore a few small tributaries. The first one we came to was pushing muddy water. We tried our best by throwing chartreuse colored spinnerbaits and tubes, but failed to hook up with any smallies.
The second creek was running a lot cleaner and I was able to catch a nice 14.5" on a 4" tube.
Both creeks were holding temperatures in the low 60s (62-64 degrees). The main river water temperature was still at 57 degrees.
The weather report for the day called for air temps to be rising into the low 80s with a strong SSW wind blowing 15-20 mph with even stronger gusts. (They weren't kidding!) The only benefit we received from this strong wind was that the humidity stayed low which made it quite comfortable outside. We had a ton of sun and definitely needed to use suntan lotion on our lily white bodies several times throughout the day.
While settled in the second creek, Jeff yelled out,
"THONG! A thong on the river!"
What! I turned around only to see this...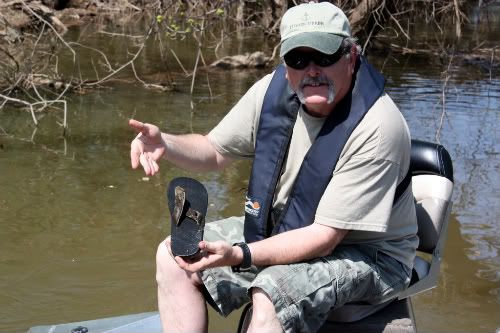 "Gotcha!"... Stupid Flip-Flop!
We had spent the majority of the morning hours exploring these two tribs. At the mouth of the second creek, we took a much needed lunch break around 11:00 am. As we were sitting and resting, we noticed a unique diving bird that looked like a Tern. It had a white body, gray undersides to it's wings, and a black head. At first I thought it resembled a Gull-Billed Tern, but they aren't diving birds and normally dine on insects.
I thought maybe one of you could identify this beautiful bird for us(?)...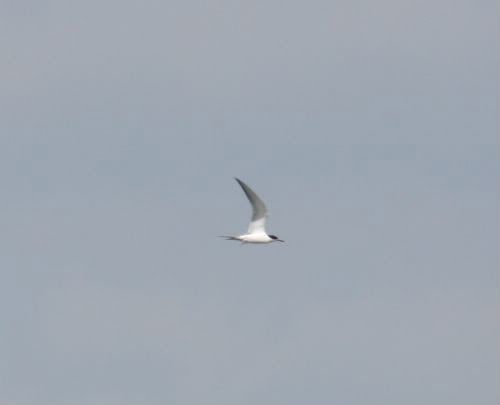 After lunch, we decided to head back to Jeff's morning fishing hole. We were in luck! The power plant had stopped pumping water and Jeff's productive morning hole was once again open to fish. Now let's see if the fish will cooperate.
We put several smallmouth bass into the boat withing minutes before this pigbeast nailed my tube... Let the games begin!
A quick second pic...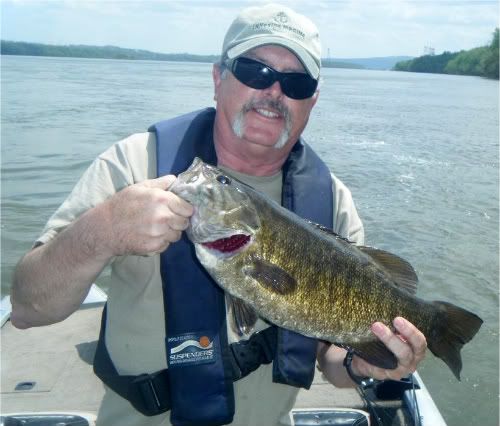 This fantastic fish was my first C-Class smallie of the 2011 season. I was definitely psyched!
From what we could tell, these fish were hanging in 10-12' of water and staging to spawn. These pre-spawn bass had moved out of the 57 degree river water and were staging in warmer waters outside of shallow areas.
We had hit it just right.
Jeff's 17" smallie... The DRY1 look!
17.5" smallie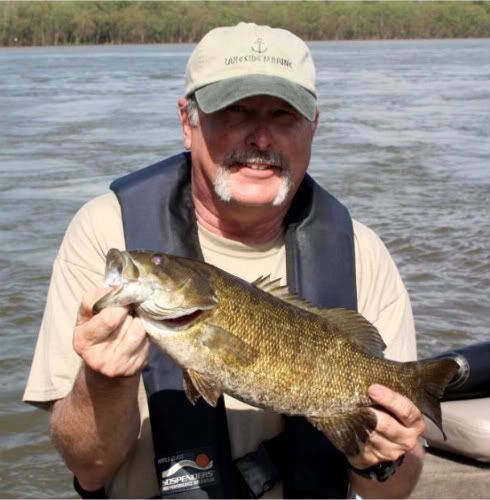 What a beautiful 19" smallie!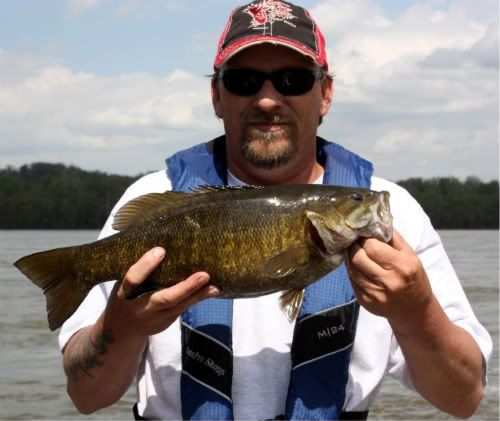 Guess who!?
I was screwing around with Jeff's 19.25" after I landed it for him. I told him that all he had to do was Photoshop his head where mine was... LOL!
Just shy of 20"... A 19 7/8th inch smallie!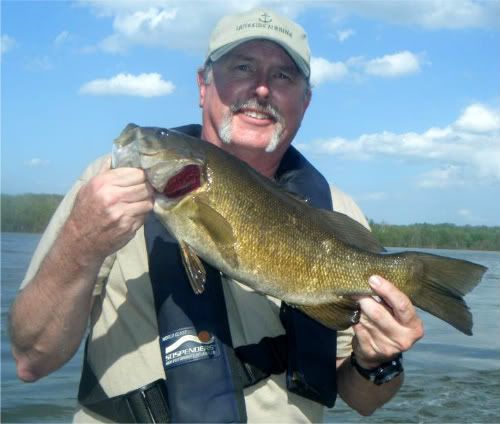 Another slab for Jeff!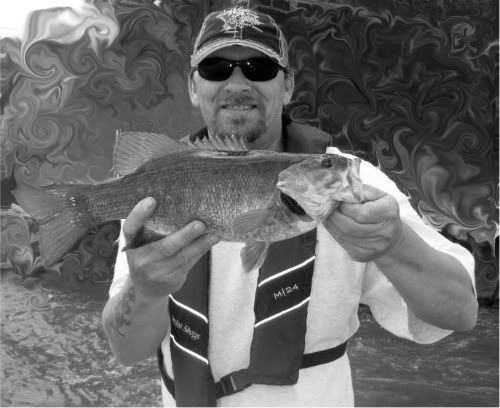 An 18" comes to hand.
After such a great day of catching fish, we had to show our appreciation with a little
Bass Lovin'
!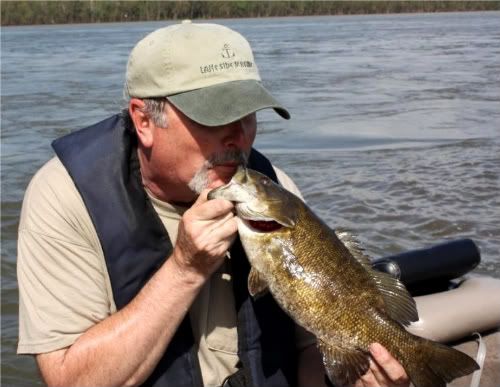 Still working on the I-Kam video glasses. Here is a short video I took of Jeff catching a smallie. What timing! I had just placed them on my head when he hooked into this one. Listen to Jeff telling me to "Turn it on! Turn it on!" I assured him that the video camera was definitely rolling. :)
A big thanks goes out to my guide today, CHRGD (Jeff). Without his assistance and knowledge, we would have been struggling today, for sure. Good job, Jeff!
Take Care and Be Safe,
Dad