What a way to end the month, a Daiwa Sale at SFT!
They had some very nice Daiwa gear on sale at ridiculously low prices. For example, they had 2 piece Daiwa rods and reels on sale... BOGO! That's right! Buy one and get one free. None of this Buy One Get One 50% Off... Nope. FREE!
I may have considered this deal if I still had young children or my granddaughter were old enough to fish. I personally am a one piece rod man and wasn't interested in what I saw for myself. But if I had children at home, I could have purchased a $40 combo and gotten the second one for free. Can't beat that!
I actually wanted to take a good hard look at the new River2Sea Dahlberg Diver Frog ($11.99)
and the
Dahlberg Clackin' Crayfish ($12.99).

After inspecting both, I decided to purchase the Dahlberg Diver Frog in Black and wait on the Clackin' Crayfish for later.
I have a feeling that whatever Larry Dahlberg puts his name behind that it will be a good product. SFT actually had a Diver Frog out on the counter and available for closer inspection. Pretty cool stuff! The legs are made of the really stretchable soft plastic. It also comes with an extra pair of legs and a tool to thread them onto the lure. I asked why one would need additional legs with this very stretchable plastic and Mike said that sometimes a fish may pull the legs through. There's a better chance of that happening then tearing a pair of legs with this innovative plastic material.
I have had success with other frogs and I liked what I saw on the promotional video with this Diver Frog and Clackin Craw.
I also picked up another Daiwa Sweepfire spinning reel to use when my main reels are out for maintenance. I bought one of these Sweepfires about a year or so ago for around $15.00 and I thought that was a steal for a decent backup spinning reel by reputable reel company. Well today, I bought a second backup Sweepfire for, get this, only $11.99!!
How can you beat that!? Heck, if the thing craps out after a few years, you just toss it in the trash and buy another at whatever low price they are offering it for.
Along with the reel, the Daiwa Rep gave me a spool of 330 yd of 10 lb. Megaforce Premium Grade Monofilament and a cool New Logo Daiwa hat.
Check out this new Daiwa Logo. The Rep told us they spent a lot of $$$ in developing it. I liked the old one and I guess I'll have to get used to something new representing one of my favorite reels on the market.
New Daiwa Logo
New Daiwa Logo D

Here's the New Daiwa Logo D Hat... 100% Polyester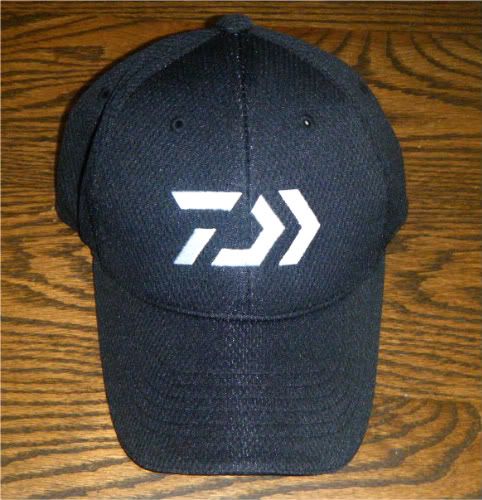 Thanks to my wife for allowing me to indulge today in a few purchases. She is always a 100% behind my fishing and always has been. She grew up with four brothers who loved the outdoors and understands what fishing means to the well-being of a man's soul.

Thank you, Julie! I love you.
Take Care and Be Safe!
Dad