Hello Folks,
I've been on the run this week since my wife had her second cataract surgery on Wednesday. I am her "designated driver" until she can get enough vision back into her eye to see.
For some "unknown" operating room (OR) issue, several patients have gotten inflamed eyes. Despite the fact that all the equipment is sterilized, there may have been something in the tubing that has caused several patients, including my wife, to get inflamed eyes after their cataract surgery.
Now the OR must track down the culprit and removed the problem. Everything is suspect when something like this happens. Of course, my wife is pretty angry about it since the OR staff knew that several patients from the day before had inflamed eyes and they failed to take corrective action.
She is now on an additional steroid eye drop every hour on the hour until Monday. She has a special gel that she uses during the night so that she can sleep.
This issue has caused her to have two additional eye medications on top of the others she is routinely taking for the surgery and three additional eye doctor appointments.
Her appointment today went well. Her vision improved from 20/70 to 20/40 in her right eye. Her left eye is reading at 20/20! Pretty good. I think once this inflammation issue clears up that she'll be pleased with the results.
Now to fishing... or the lack of it!
I got a call yesterday from my good fishing buddy, Josh Kreider, as he was driving home along Rt. 322. This particular highway takes him right along the Juniata River and over the mighty Susquehanna River. He was going to take a good hard look at both rivers to see if we could make it on the water today.
But alas, his report wasn't good and he felt that the rivers were running a bit too high for a decent fishing trip... Shucks! We were going to meet after I took my wife to the eye doctor this morning.
Get this... It's raining once again! Yepper... Another predicted 1.07" is predicted from tonight through Easter Sunday. The Susquehanna River predictor gauge is calling for the river to rise once again into "Action Stage" by Monday. Action Stage in Harrisburg, Pa. begins at 11 feet... Flood Stage is 17'. Here we go again!
Another one of my fishing buds, Jeff, was out fishing for several hours with his wife, Penny, on Lake Aldred which is just below the Safe Harbor Dam. They were able to catch one small smallmouth and lose a nice smallie along side the boat.
Jeff sent me some pretty awesome pictures of the Safe Harbor Dam dumping water through one of it's western flood gates. Jeff told me it was okay to print the pics here for you all to see.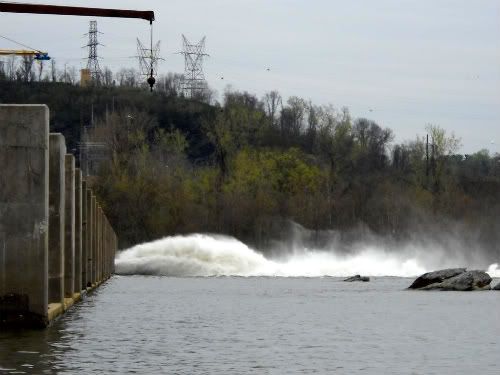 You can just imagine the shear power of that amount of water dumping into the river. Jeff warned that there was a very strong current below the dam and one can see why.
A big thanks goes out to Jeff and Penny for helping enhance my blog today with some pretty cool and exciting pictures of an area that we often fish during the season.
I am not sure when I can get back on the river with all this rain coming our way. But you can be sure that I will get out there as soon as possible.
I was also thinking of taking a little drive to our local Pequea Silver Mine Park that has a nice size bass pond to see if I can bring a few "greenies" to hand.
I hope that you all have a
Happy Easter
. We have invited my middle brother to our home for dinner this year. My oldest son and his family will also be visiting right after their morning church service for a short visit before heading to our daughter-in-law's home for Easter dinner with her family.
We may go see our granddaughters at their church's annual Easter Egg hunt tomorrow, if the weather holds up.
Here's a pic I took this past week of my beautiful wife, Julie, and our youngest granddaughter.
In Loving Arms
Take Care and Be Safe,
Dad