Hello Folks,
Winter does not want to leave go of her grip. We had snow and sleet last evening and more is expected before this rain departs. Yesterday was a precursor to the next few days of weather predicted for South Central Pennsylvania.
My day didn't start out all to well. The night before, we had decided to take my boat for it's maiden 2011 voyage. My Yamaha motor had a lot of maintenance done over the long, cold winter. All the gas filters (2 external and 2 internal)and hoses were replaced due to problems associated with ethanol.
I was eager to get her back on the water and see what, if any, difference I would have in performance.
I hooked my trailer up in the dark as I have a thousand times before. I was ready to roll out of the driveway and to the local greasy spoon for a hearty breakfast. I slowly pulled my rig out of the garage and
"BANG!"
I had mistakenly thought my hitch was done up right and it slipped off the ball hitch... Dang! >:( I am so grateful this happened as soon as I pulled the trailer and not somewhere on the roadway!
I called for my son, Zach, to come out to help me. Together, we could not lift this beast high enough to get the trailer jack locked into place. After a few feeble attempts, we gave in and I broke out the truck's jack to crank her up. It worked out fine, but I was a sweaty mess!
I was wearing my warm silks and had to go back into the house, wash up, and change my shirts. I was soaked to the bone and couldn't head out into the 36 degree air temps like that. Hypothermia would be a threat at those air temperatures.
About 40 minutes later after eating breakfast at home, I was finally on the road. This incident was only the second time in over 20 years of boating that I ever made such a stupid mistake. Hopefully, I won't ever make it again.
I met Steve at the Canal Lock Access along Rt. 441 at 8:00 a.m. We ran north towards our launch destination. Along the way, we made a quick stop at Lakeside Marine, Harrisburg, Pa. in order to pick up a door prize I had won during their "Open House" last week. I was very lucky to win a great looking G3 jacket (XL)... Cool beans!
So, if you see me wearing a G3 jacket this Spring, you'll know how I acquired it... Pure, Dumb Luck!
During our drive, we made plans to mainly throw hair jigs (1/8 oz), tubes, and Chillee Willees.
We launched the boat around 9:30 am. and ran up river to our first fishing hole. It wasn't too long until I hooked into a healthy 16.5" smallie on one of "Steve's Specials: (hair jig). Steve quickly followed up with this cool looking Quillback.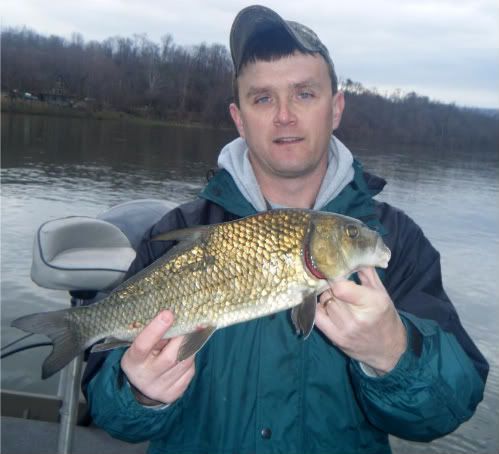 Wrong species, Steve, but very cool, none the less!
It wasn't too long after the Quillback that Steve followed with this beautiful 17.5" smallmouth.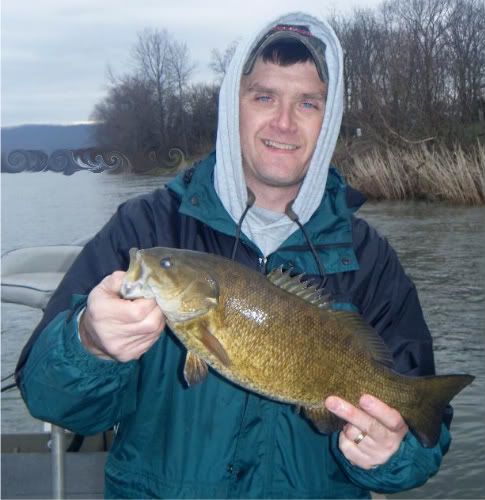 We were now both "on the board"... Nothing big, but not bad.
We both caught a couple of 16 inch smallies and then finally this 18.5" smallmouth "thunked" my hair jig.
If you were wondering when and if the crayfish have emerged from their muddy wintering homes, the answer is YES! Both Steve and I had crayfish grab our hair jigs yesterday. Check out these pics...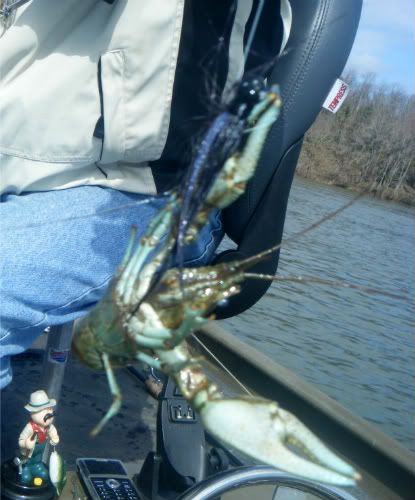 Take note to the coloration on this crayfish and try to imitate it on your next Spring outing.
Around 10:00 am., the wind kicked up and was blowing 20 mph with greater gusts. "Who turned the fan on!?" Not only that, but we had a extremely heavy cloud cover that keep the warming sun's rays from breaking out and heating the river. The intense wind made it difficult in controlling the boat. The MK Maxxum 101 definitely got a major work out yesterday. In fact, took my batteries several hours to recharge last evening.
Steve and I kept pace with one another throughout the morning. As afternoon approached, the sun began finally broke through. The water temp was still hanging at 44.1 degrees on the Lowrance and hadn't budged in several hours. But after the sun exposed itself from behind the clouds, the big mommas decided to come out and play and the temperature rose to 45.1 degrees. It's amazing how the fish responded to these changes. I believe that this is the most important time of the year to keep watch on your temperature gauge. Even one silly degree can effect the bite.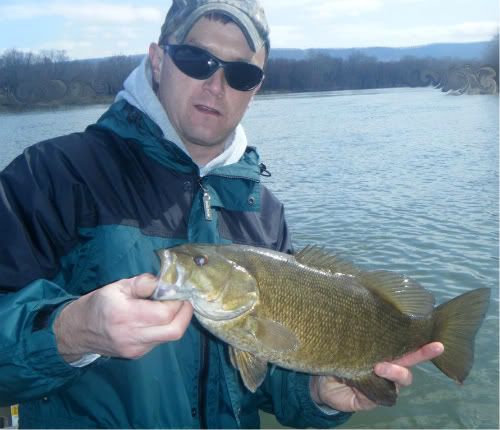 Check out this fatty 3+ lber. Great catch, Steve!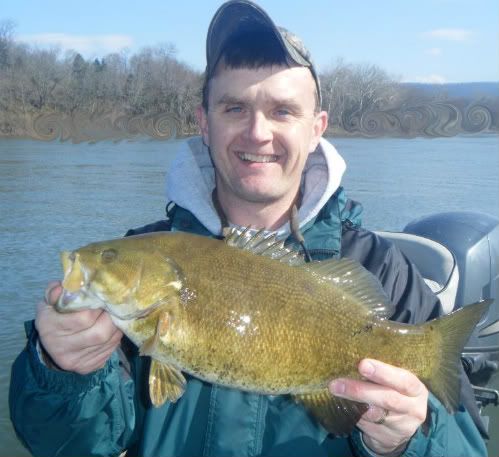 Here's a 19", 4 lb. smallie that took my hair jig offering!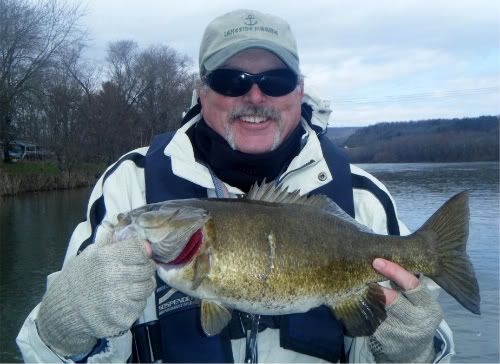 Here's a second picture of the same hawg...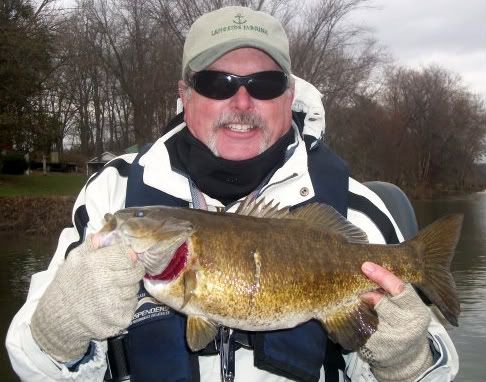 Check out the big scar that momma. She's certainly a survivor. She deserves to live on and to grow bigger and stronger each day.
As you could see, the quality of the bite got a lot better as the day wore on and the weather improved. Not only did the sun come out, but the terrible winds began to die down to a more manageable 5-10 mph out of the NNW.
It was our first outing together this year. I am sure there will be a "Steveinpa Family Smackdown" later on this Spring with Kayla and Tyler joining us. Last year's "Smackdown" ended in a tie. Kayla took the honors of "most fish" in the first and Tyler redeemed himself in the second. "Kids, 2011 is a whole new year!" :)
Steve, I'm looking forward to fishing together in the near future. Great job, buddy!
Take Care and Be Safe,
Dad