Hello Folks,
Happy Valentine's Day to all you "lovers" out there! Be sure to take extra care of those that you love today and everyday.
In the past four segments of "Kayak and Raft Fishing Dad" we covered many of my kayak fishing adventures that started in and around 2003. In the last segment, I showed pictures of my friends and me in ODC(s) and rafts.
In this installment of "Kayak and Raft Fishing Dad", we'll travel through time by pictures of camping outings on the east coast river systems. I listed the many rivers we floated in Part 1. This was some of my best times on the river with the many friends and acquaintances I made over the past decade. Come along with me as I revisit those good times.
Here is a pic of Daryl Richer (susqyman) and the Hanford Brothers in the background. This float took place on June 28, 2004. It wasn't uncommon for us to have a combination of ODCs and kayaks on the river at the same time.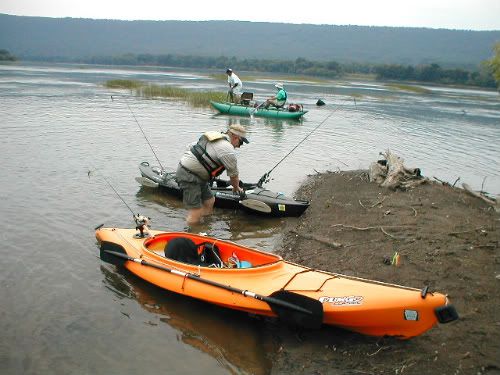 New River, Balcony Falls, Va.
This was the very first Cap'n Jack Memorial Rodeo and I had the pleasure of riding front seat with Dan (Small Hands) Shauble at the paddles. What a memorable trip!
It was Dan's first Class 3 rapids at the helm of a large ODC and he was , should I say, a bit nervous. Every sound of moving water brought a "That must be the Falls" from him... LOL! It was hard to calm him down not knowing what laid ahead for us.
Dan is taking photos of Heff and Joe navigating Balcony Falls.
There they go!
Here I am deciding the route for Dan and me to "attempt"... Sure!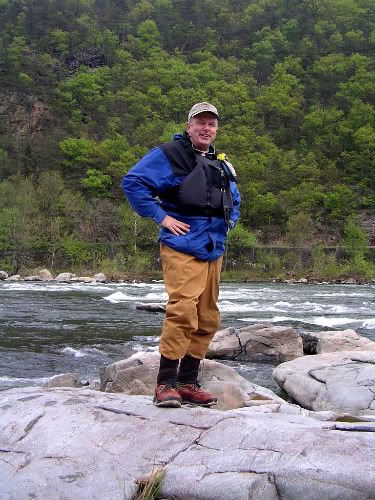 Well, to make a long story short... Dan and I jumped into the ODC and started to make our descent through the rapids. Dan was doing pretty good with his paddling skills until he laid us flat on a boulder... Stuck!
I moved as far forward as possible and tried to rock us free, but Dan stayed in his seat. Ron (RonVa) Evans and Tim Freese arrived and tried to talk Dan through this predicament, but Dan was hesitant. He kept calling to them, "You don't understand!"
Finally , Tim and Ron made their way to our ODC and convinced Dan that he had to rise up off his seat and move forward. This would allow the ODC's weight to come forward and with the force of the current, push us off the boulder. Once Dan let go, moved forward, and we got a bump from Ron and Tim's ODC, we were off the boulder in a second and on our way no worse for the wear.
I don't remember too much about the fishing that day. But I do know that I will never forget that adventure as long as I live and I'm sure Dan feels the same way. :) I still laugh about it when it crosses my mind. Thanks, Dan, you were a good sport!
Dirty Ed and Al Pugh on September 13, 2003 after coming through Big Fall on the New River.
Camping on the river was always a treat. Overnight floats were even a bigger treat. The next series of pictures were taken on a Susquehanna River overnight camping adventure.
The trip started out in early morning with drizzle and rain upon us. We fished much of the morning in the rain. I can remember one island that we all stopped at for a short break and strategy meeting. What I can recall about this island was the tremendous amount of crayfish shells scatter on the upriver shoal. There must have been thousands of dead crayfish. This is not an uncommon occurrence on the river in the Spring. In fact, there have been many years when I have witnessed similar situations at river launches, especially Canal Lock off of Rt. 441 near Royalton, Pa.
We had an armada of kayaks and ODCs on this overnight camping trip. We stopped at one of the Susquehanna River Trail sites marked on islands throughout the river.
Tim Hanford at his larger ODC on the island that we made camp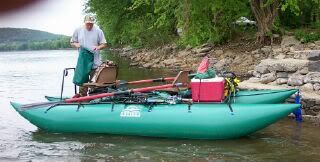 I was Pete Hanford's partner on the trip. Here is Pete in his ODC all loaded down with our gear.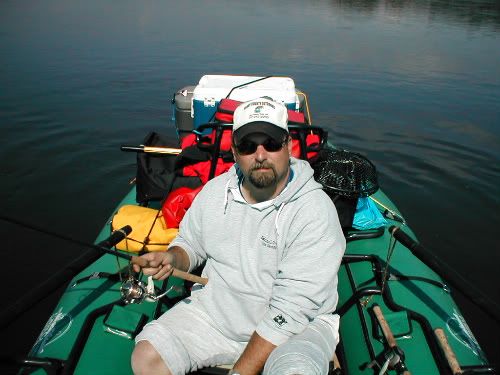 Ron (RonVa) Evans drying out after a wet day of rowing his ODC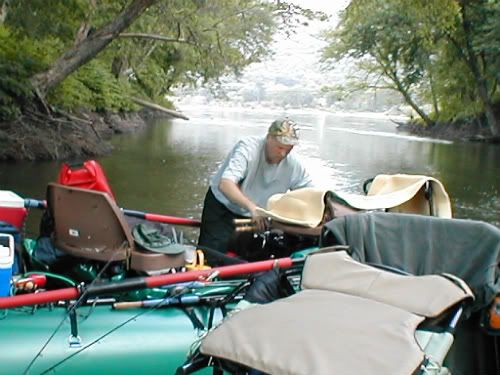 After setting up camp and eating supper, several of us decided to wade fish the river between the islands. I came upon Tim Hanford who pointed out a unique site of a double rainbow... It was a beautiful natural phenomenon in one of the most serene places I have been. Thanks, Tim, for pointing it out to me.
The next morning, Pete and I loaded up our gear and headed out. Not knowing what to expect in post-front conditions, we were on fish within minutes at the end of the island. It was a good sign for things yet to come.
Just below this spot, we came across spawning carp. I have seen carp spawning before and making a terrible racket, but this was beyond my wildest imagination. There must have been up to a hundred or more spawning carp thrashing about and making a tremendous amount of noise in a very small area. I have never seen anything like it before or since.
As we were approaching "The Susquehanna River Lady Liberty" we pulled up on several mid-river grass island. Taking only a spinnerbait along to fish, Petey and I caught several nice smallmouth. Here is a feisty 16" smallie that was laying in a small eddy below a ledge.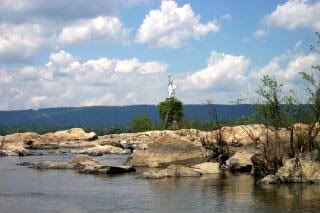 There you have it, folks. What great fun it is to kayak and raft fish on the river. These adventures took me on many new and exciting river systems. It put me in contact with fishing enthusiasts from all over the East Coast. Some remain friends 'til this very day. I cherish these memories.
I would also like to thank all those who helped me through some of the toughest times of my life. I had my hips replaced over seven years ago. Many of these photos were post-op. As you can guess, I needed a lot of physical assistance in lugging my kayak and gear around. Those who I call friends and many others didn't hesitate to lend me a hand when I needed help. I appreciate to this day all of you tremendously!
Take care and be safe!
Dad