Hello Folks,
Today was our annual "Pouring Of The Lead" in Mike Burton's garage. We had an added treat today because my 22 yr. old son, Zach, asked if he could join us. I was thrilled that he wanted to come along for the day and learn about the process of pouring lead jig heads.
Usually, it is quite cold outside when we gather. In fact, I am usually dressed in a winter coat and wool cap as we work in the garage. But it was already 57 degrees at 9:00 a.m. and rose to 71 degrees by 2:30 p.m. It actually felt more like mid-Spring than late Winter.
I stopped for gasoline on the way to Mike's home and spotted my fishing buddy, John Williams, leaving the gas station's parking lot and towing his Roughneck jet rig. I gave him a quick call. He was heading upriver to see if he could catch a few walleye on such a beautiful day.
Mike had the work table and chairs all set up for us when we arrived. He even had Mr. Heater hooked up to his propane tank and running. It was a bit cooler in the garage than it was outside. Mr. Heater took the edge off the dampness.
Mike had just made a fresh pot of coffee and before we sat down to begin, Zach and I grabbed a cup and filled up.
We had two stations set up. Mike began by pouring and Zach and I trimmed the excess lead off the jig heads. Since it was our jig heads, Mike turned the pouring task over to me and he assisted Zach with the trimming process. I forgot to bring our safety glasses along and made sure that we were extremely careful.
Zach trimming newly poured tube head jigs.
Once I made about 100 jig heads, I turned the pouring duties over to our apprentice.
Mike reviews the safety procedures with Zach before he began to pour.
Here is Zach completing his first pour.
Zach was doing a great job. Mike and I were pleased with his "stick-to-it" attitude and desire to do a good job.
We poured two hook sizes today... 2/0 and 3/0 Eagle Claw 570's. They are 90 degree Aberdeen Hooks. We chose to pour two different styles of jig heads - Tube head Jigs and Ball Head Jigs.
We also did a third pour for Drop Shot weights.
Around 12:00 noon, we took a much needed lunch break and chowed down on Ham and Cheese subs and chips that Zach and I brought along.
After lunch, Mike showed us his 7'2" Skeet Reese Drop Shot rod. He also had a "Flathead" fishing rod that was rigged with 60 lbs. braided line. The cool thing about this fiberglass "Flathead" rod was that it lit up with LED lights. He explained that at night the two sets of LED lights makes the entire rod light up... Cool!
We poured lead until 2:30 p.m. Mike was just about out of the lead ingots and wanted to practice pour some Wacky Jigs before he put everything away. His Wacky Jig Head mold requires a certain style of hook and a small metal weed guard.
So, before packing up to go, Zach and I observed him pouring a few to see how they turned out. The Wacky Rig hooks come in two sizes... #2 and #6.
Zach poured a couple hundred jigs today...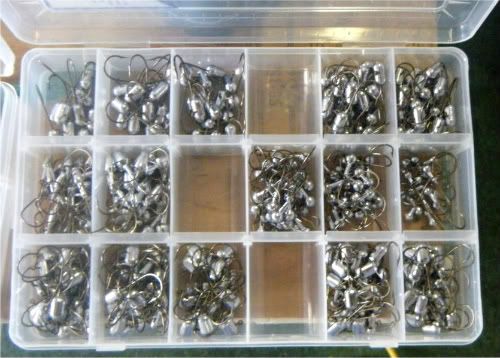 ..and Drop Shot weights.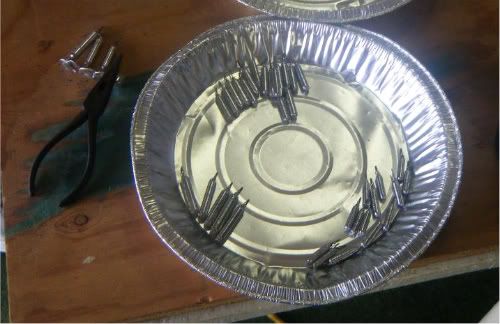 Here's a short video of Zach pouring ball head jigs
A big thank you goes out to Mike Burton for sharing his equipment and training Zach in the finer points of pouring lead jig heads.
Thank you, Mike!
Dad