Hello Folks,
Now that I blogged about my kayak fishing adventures, it's time to move on to the ODC and rafting portion of "Kayak and Raft Fishing Dad".
Here is a typical ODC... Two pontoons and an aluminum frame:
Rafts are self-bailing units that also use frames. Take note of the drag chain system that is controlled from the rower's seat. This system enabled the rafter to control the speed of the drift. It can also can be extended to a point that it would anchor the raft: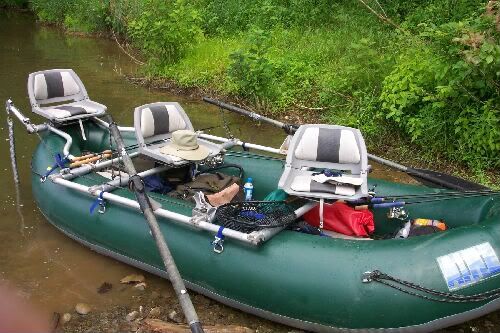 The AIRE raft above was owned by Ron Evans (RonVa). It made many fishing trips before Ron sold it. I had fished from it several times and it is an excellent and enjoyable ride!
Many of my friends had either an ODC or a raft. We used them on big and small water floats. They are excellent for carrying overnight camping equipment.
However, if Mother Nature throws an upriver wind at you or a long slow moving pool, these fishing vessels will take a lot of hard work to move along or maneuver into position.
I have only personally paddled an ODC once in my entire life and by no means am I an expert. I have never even rowed the larger rafts. During my time in rafts, I was recovering from my bilateral hip replacements and was not in any shape to consider even trying.
Friends - Past and Present:
One of my favorite people I met during the RiverSmallies.com Rodeos was Charlie Case of "Case Plastics". Here is a picture of Charlie on his own ODC while attending a Rodeo on the Susquehanna River.
There's a funny story behind this picture. I was running north on the river with Joe Hepp and we were stopping and talking to folks along the way. When we saw Charlie fishing a mid-river island, we headed over to say good morning to him. He thought we were PFBC Water Conservation Officers heading over to check his license and equipment. "Guilty As Charged!"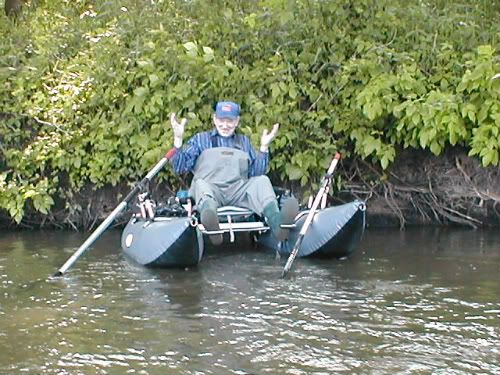 Tim Fehr loves to hunt and fish, especially at JetboatGreg's cabin in Bradford County.
2004
On the Susquehanna River near Fort Hunter
Tim and Pete Hanford (Yes, they're brothers!) were the responsible parties for getting me involved in kayak fishing. They both owned larger ODC's for several years and we did a heck of a lot of fishing and camping from them.
Tim Hanford displaying a beautiful 17" Shenandoah River smallmouth
Pete and Tim Hanford with Petey's large ODC, June 28, 2004
Petey on a Susquehanna River float at McKees Half Fall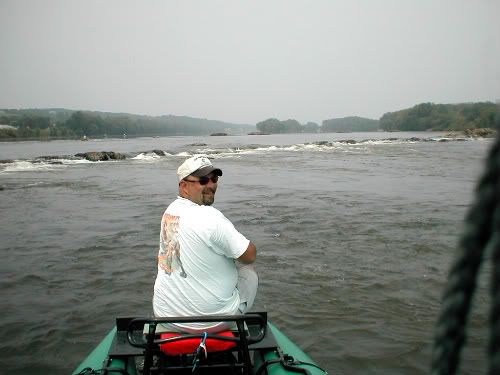 Pete with partner at Susquehanna Rodeo back on May 22, 2004. "Get off the Cell Phone, Petey!"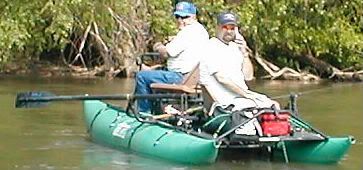 Ron Evans, June 28, 2004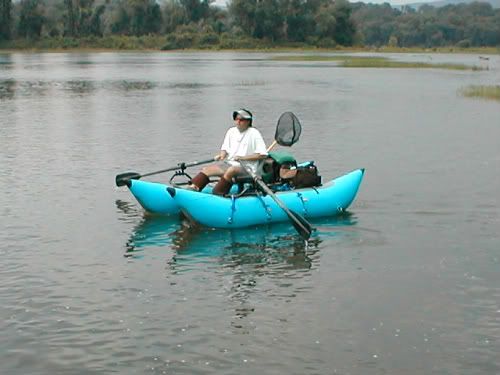 Bill Beeber shooting a Juniata River rapid during a September 4, 2004, group float.
Dad showing off a 17" Shenandoah River smallie on Tim Freese's raft. Tim is an outstanding guide and smallmouth angler. He taught me plenty while on float trips with him on the 'Doah and New Rivers. I was an OB jet boat angler that used to trolling motors, OB jets, and the Susquehanna River. Tim was well versed on the smaller Southern river systems, as was Ron Evans, and in instructing angling techniques from their rafts. I enjoyed each and every trip with them.
Bo Crowder, Ron Evans, and Dad on a hot summer float in Ron's raft during a Shenandoah River Rodeo.
In my next blog entry, I will describe some of our larger outings and overnight camp outs along the Susquehanna River Trail.
I hope that you are enjoying some of these pictures from my archives. I had a ton of fun being on these floats and gained a tremendous amount knowledge regarding smallmouth behavior up close and personal. My smallmouth bass learning curve took off during these floats because I was able to get extremely close to their habitat. An experience I would highly recommend for all new and "seasoned" smallmouth anglers.
Take care and look for my next blog installment real soon!
Dad