Hello Folks,
I haven't been home much since the Eastern Sports and Outdoors Show (ESOS) in Harrisburg, Pa. started. I've been helping my buddy, JC Nuss, and his wife, Barb, at the Lakeside Marine booth.
The ESOS has been really busy with great attendance this year. I would like to thank all those who have stopped by and browsed through the G3 boats on display at Lakeside Marine.
I've got to say hello to Professional Bass Angler, Jason Quinn (a.k.a. Hardware), yesterday at the Bass Pro Shop Hawg Trough.
Okay... Let's continue with the Kayak portion of "Kayak and Raft Fishing Dad".
I have had numerous friends kayak fishing with me over the years. Some, I am still in touch with and others have gone their way.
Here's a picture of George Thurston (Hookup) with a nice healthy smallmouth. George lives in Virginia and often travels to Pennsylvania to fish the Susquehanna River.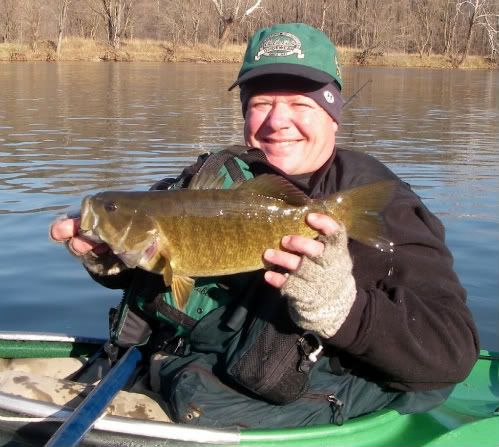 Although we are separated by many years, Josh Kreider (smallieman) remains one of my dearest friends and fishing companions. Check out some of these kayak fish that Josh has caught over the years. A few years back, he was helping Jeff Little with photography that was used in Jeff's book, "The Pursuit of Trophy Smallmouth: My Life In A Kayak By Jeff Little".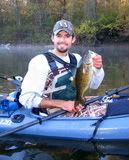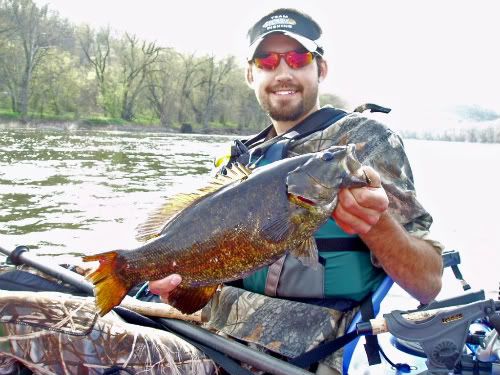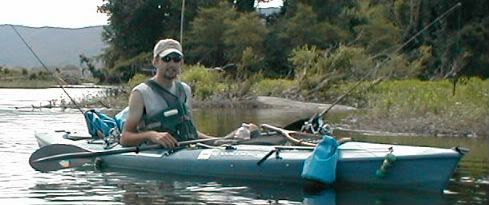 Speaking of Jeff Little, I took a kayak safety course with Jeff in 2003. The following photos were taken by Jeff as he was instructing me through a set of rapids.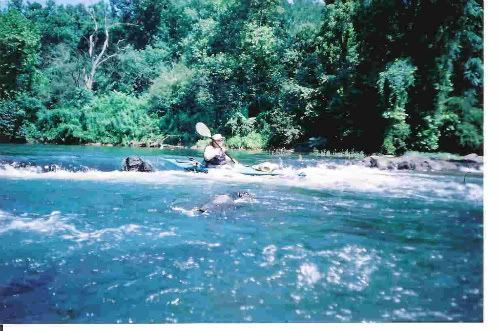 I really liked this pic...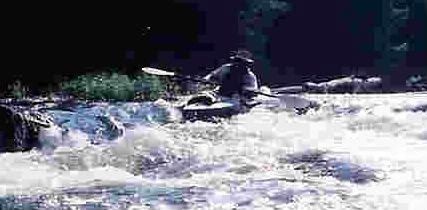 Many times, we would find ourselves in very shallow water as we were floating the river during the hot summer months. Here is a favorite of mine. It shows Scotty Halfond inching and scratching along the Susquehanna River bottom as he uses his paddle to push himself along. This photo was taken in July of 2004.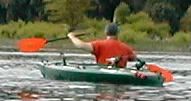 One of my favorite 2004 lures in these shallow water conditions was a Case Magic Stick rigged wacky style and weightless. The smallies really liked the watermelon/gold flake color.
Now I promised you in Part 1 that a Walt Disney character would make an appearance on one of our floats. Well...
Here is a past friend of our floating group, Dan (Small Hands) Shauble. Dan loved fishing, but married life and kids came along and Dan became "Dan The Family Man". I always enjoyed his company on floats and at Rodeos. He has a pleasant disposition and enjoyed the company of fellow anglers and a good guitar rift.
Are you ready for this?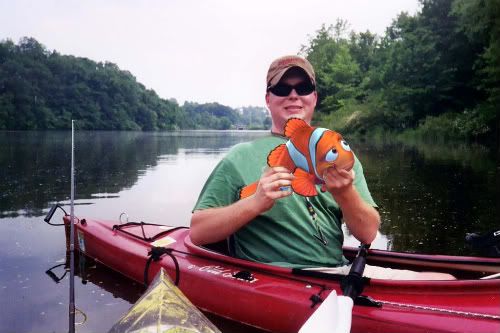 "Finding Nemo"
Now how did he get into the Susquehanna River?... With the help of graphic artist and photographer, Scotty Halfond!
Well, folks, that is the end of the yak fishing portion of this series. I hope that you thoroughly enjoyed the pics from my years of kayak fishing.
Our next segment of "Kayak and Raft Fishing Dad" will cover the rafting trips that I've taken over the years with some really great angling friends.
I plan on being at the ESOS at least two more days this week. I will be there tomorrow (02/09/11) and Saturday (02/12//11. If you are planning on attending the ESOS, please stop by and say hello!
Take care,
Dad