Hello Folks,
I hope you enjoyed my introductory entry for "Kayak and Raft Fishing Dad".
Today, We'll continue with Part 2 of kayak fishing and some pics from my cherished picture collection from over the years...
Smallie Chaser on the Susquehanna River... We made a float the first day of the 2004 RiverSmallies.com (The now defunct "Mothership" of all smallmouth fishing websites) Rodeo.

Greg Smith, who now guides on the North Branch of the Susquehanna River, is holding a beautiful 18" smallmouth bass. I swear he was constantly looking for the throttle to his kayak. This may have been the last time he ever sat in a kayak to fish... LOL!
Jason Venesky (Pittsburgh, Pa.) on the "Doah River in Virginia during a 2003 Rodeo. We had a tough fishing morning. But there were three of us who were fishing together and we finally developed a steady fish catching pattern. The smallmouth were feeding directly in front of the ledges in the "push water". Cool!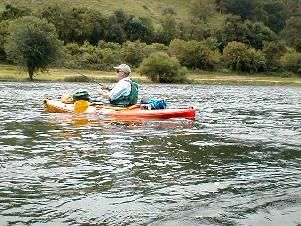 Portaging Big Fall (Va.)on the New River in 2003...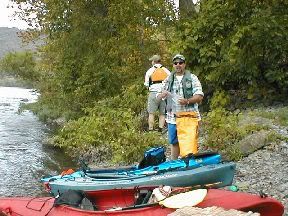 DaggerDave (Ohio)...
Spud (Va) on the Rapidan with Phil (Oppiey) in 2004...
Here's Phil (Oppiey) and his son Joey in 2004...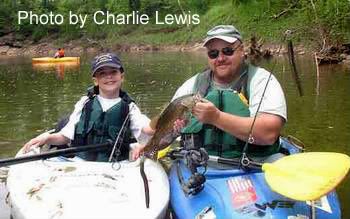 Dad on the Juniata and Susquehanna Rivers float with Sean Beaver and his father. This was a fantastic day for spinnerbait bites. I hit an area right above Sherman's Creek (Duncannon, Pa.) on the Susquehanna River that produced a dozen smallies on a 3/8th oz. white/chartreuse spinnerbait. What a treat!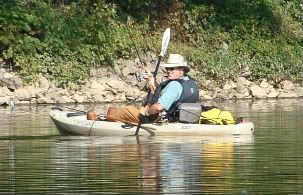 October 7, 2003 on the Swatara Creek with Eric Lohr (Tuberman). We only caught a few smallies that float while actively seeking Musky.
I used to like taking day floats on the Susquehanna River with groups of fishing buddies. Here is Daryl Richer (Susqyman)taking a short break and giving me a photo opp.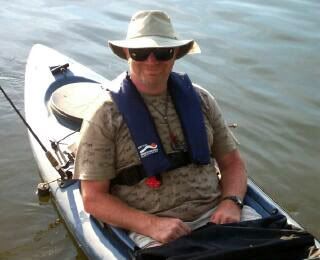 MTO Sammies from Sheetz make for excellent "float" lunches...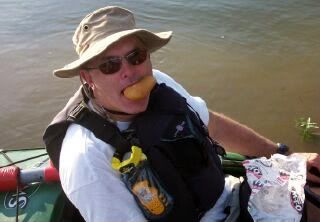 There's much more to come as I continue down memory lane with "Kayak and Raft Fishing Dad". It's hard to believe that I took so many trips over the years with such great fishing buddies.
I always get asked how I learned so much about smallmouth and largemouth fishing over the years. Well, folks, you are now seeing that I was extremely fortunate to be out fishing with some of the greatest smallmouth anglers over the years. No, we aren't professionals, but we definitely are serious about our bass angling.
I hope you enjoyed today's pictures and short stories. Be sure to check back real soon for a new entry in the adventures of "Kayak and Raft Fishing Dad".
Dad