Hello Folks,
What a great day to be on the water! Yesterday started out a bit chilly at 37 degrees, but rose into the low 50's as the clouds and showers moved into Lancaster (Pa) County.
Jeff had launched from York Furnace and ran across the river to the Pequea Boat Launch to pick me up at 8:00 a.m. The creek was a bit murky, but the river was relatively clear.
After loading my tackle and gear onto his boat, we ran north to see what the Conestoga Channel looked like. The river has been on a draw down due to work on flash boards at the Holtwood Dam. Top level is normally 169.7', but since the work began, they have been holding the lake from 163' to 167'. Yesterday, the lake was at 165' and rising.
The recent rain that passed through this week has the river on the rise and it will peak at 5.9' in Harrisburg, Pa. by tomorrow. That is a 21.6" rise from the rain water entering the river... Pretty good, huh!?
The river topography was breath taking. It's been a long, long time since I've been on the this section of river at such low water levels. I definitely took some snap shots to add to my personal archives of certain areas for future reference. ;)
We maneuvered his jet rig towards the Safe Harbor Dam and spent a few minutes observing the boulders that were now exposed due to the lower water level. Afterward, we headed back south and found a promising spot to start fishing.
The area was in and around some significant size boulders that had water depths of up to 10'. I tossed a jerkbait close to the boulders and Jeff cast a tube he had found successful on Lake Aldred this past weekend.
After surveying the area and gathering depth information, I changed over to a Fat Free Shad that went to depths of 8-10'. The second cast with the crankbait brought the first fish of the day to the boat... a nice healthy 15.5' smallmouth.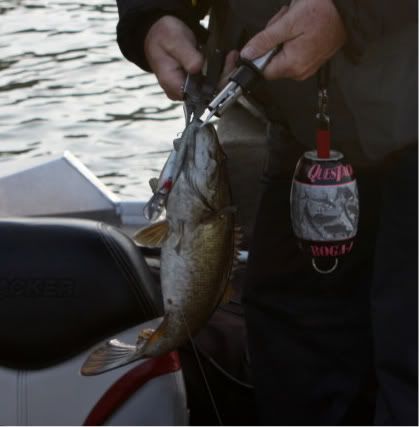 We moved around these same boulders hoping for a second strike which didn't come. So, we moved on to nearby similar spots.
The Safer Harbor Dam had three gates opened and were pumping an extreme amount of water down through the rock garden. Personally, I like a good flow, but maybe not as heavy as we experienced yesterday.
I expected some walleye action with the heavy current and me tossing a crankbait, but we didn't catch a single walleye all day! This is very unusual for this area of Lake Aldred.
Our second bass came on the Fat Free Shad just below a rock ledge that created a nice pool.
As we moved towards the middle and away from the heavier current, Jeff kicked the skunk out of his side of the boat with a feisty smallie on his tube. Now, we were having fun.
I put down the crankbait and picked up the "DRY1 Special"... a Lockett Minnow! Yes, folks, Jeff had purchased some of these lures after reading about Bill's success from the Selinsgrove, Pa. area. Penny, Jeff's wife, has success tossing these and in fact, I witnessed her pop a 19" smallie with a Lockett Minnow while I was fishing with Daveinpa a couple of weeks ago.
I used a 1/4 oz. ball head jig and threaded the Lockett Minnow very carefully onto the hook. I am not that blessed with nimble fingers and it sure is a chore for me to do this correctly... LOL!
Now, how do I work this lure? Jeff gave me a quick lesson and I was ready to give it a go. Within a few casts, a 15" smallie grabbed and ran with the plastic offering. Yes! I have now experienced for the very first time a smallmouth bass attack this famous Lockett Lure.
The Lockett Minnow gave us two bass for the day and we were pleased as punch! Another lure for my already too big of an arsenal of lures and techniques. But, we are never too old to learn new fishing techniques and today definitely proved it.
Jeff tried to get me to use another famous lure, but I refused by saying it was way too big for my gear... The Helicopter Lure! ;) *wink, wink*
Jeff was having success with his 3.75" tube. Watching him take a two fish lead over me encouraged me to get down to business and go to one of my favorite late fall and winter lures... the 2.5" tube on a ball head jig.
Let the games begin!
Last weekend, Jeff and Penny had located a spot on the river that yield a good number of bass (20+) and we were heading right for it.
We ended the day with 18 bass and a ton of fun. We also got to talk with a past bass club buddy of mine, Tim Martin. We were just about ready to wrap it up for the day when Tim came up river with his Skeeter jet rig. As he approached us, I nailed a 15" smallie. He slowed to a crawl and called over to us, "Is that Tom?" LOL! "Yep! It sure is" and we invited him to join us along the bank we were fishing. So, he jumped above our float to partake in the excitement at hand.
Good to see you again, Tim!
Here is a little slideshow I put together from yesterday's fishing trip with Jeff. I hope you enjoy it as much as I did having to put it together...
Take Care,
dadTB