Hello Folks,
Lake Clarke was yesterday's fishing destination and only my second solo trip since my elbow surgery back in August. I was contemplating heading a bit further north, but when I woke up to wet roads, fog, and drizzle yesterday morning, it made my decision easier.
I've been in touch with my buddy, Jeff (CHRGD1), over the past few days. He and his wife were able to launch from York Furnace at the Otter Creek Access over the weekend. They sent me some great pictures of our local eagles from Lake Aldred and some outstanding videos of locations that we often fish. What made these videos special was that there is currently a draw down due to work on the Holtwood Dam. A big "thank you" goes out to Jeff and Penny for taking these videos and sharing them with me. So much structure that is usually hidden from view was revealed.
Jeff and I were talking yesterday morning and our discussion encouraged me to stop by the Pequea Boat Launch before heading to Lake Clarke. What I found was that the water in the Pequea Creek was just below the concrete ramp and lining the stones on the creek bed. I may have been able to launch there, but if the Safe Harbor and Holtwood Dams would have dropped the lake any further, I would never have been able to get my jet rig back onto the trailer. I decided not to take the risk and headed north to Columbia, Pa.
I got on the water around 10:30 a.m. and headed south to a few favorite spots that Jeff and I discussed in our conversation.
There were only a few other anglers on the water yesterday which made fishing the western shoreline a pleasure. Only once did I have a jet rig pull in below my drift, but far enough away that it didn't effect what I was doing.
The mush mouth smallies were biting. There were no vicious attacks on my lures and no familiar ticks that would cue me that a bass had taken my offering. Instead, I would work my lure slowly across the bottom and wait for a weight difference. Once I felt that, I would set the hook. Often, I set the hook on a branch or log which riddle this area. The reward for using this technique was a baker's dozen of smallies to hand.
Woo Daves, a well-known bass pro and soft plastic specialist, mentions that an angler must know the "feel" of the lure he is using. When you first cast a lure, take note to the weight and feel you get when it's moving through the water and across the bottom. If you feel anything different, SET THE HOOK!
Hook sets are free! I would rather say, "I hooked into a piece of wood" rather than, "I missed a fish."
I caught three smaller bass in the 10"-14" range, but most were in and around 15".
Cookie Cutter Size
This nice 16" took a 2.5" tube with a 1/8th oz. ball head jig insert.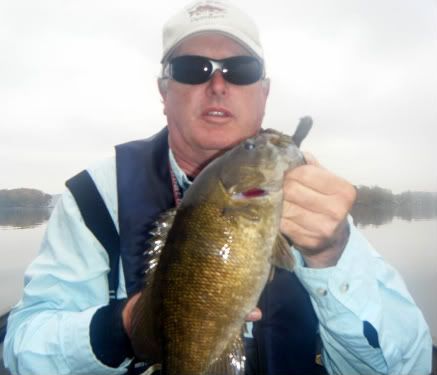 A second 16" smallie came to hand using the same tube jig.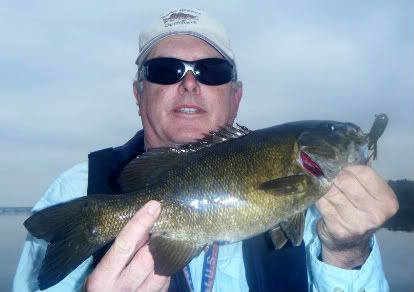 The weather was overcast throughout the entire trip. There was a slight breeze from the south that was ushering in today's rainy weather. The air temp was 51 degrees and didn't change.
The water was clear. In fact, I had a good view of the bottom at 7'. Once the water dropped deeper than 7', I lost sight of the bottom. The water temp is influenced by Brunner's Island and was holding around 48. 2 degrees on the Lowrance. My surface reading read in the low 50's!
I have been carrying four rods with me and began the day with jerk baits on my two baitcasters and a 4" tube and a Winco Chillee Willee on my two spinning rods. I changed to a 2.5" tube after giving the other lures ample time to produce. Once I got a couple of hits on the smaller tube, I stuck with it the remainder of the trip.
The fish seemed more willing to take the tube when I soaked it with "Bang!". So, after every catch and intermittently, I would generously spray the tube. Confidence is a wonderful thing!
After 4.5 hours on the water, I decided to call it a day and headed back to the launch.
All in all, I was pleased with the results of my trip. I didn't set my goal too high and was able to achieve it plus some.
I am still taking it a bit easy with my repaired right elbow and found that winching the boat onto the trailer can be a big challenge for me. Once I had the boat secure on the trailer, I pulled it out of the water and drove it up the ramp. This launch area is rather flat, so I turned the rig around and faced it down the ramp. This downward angle helped me crank the boat to the point I desired for towing. It certainly does make light work of a tough task when trying to do it on a level surface. The force of gravity is a wonderful thing in times like these.
Up until today, we have only had one day of rain in November. Accuweather is predicting .75" of rain with the front that is passing through. In fact, it is suppose to actually warm up and possibly thunderstorm before the cooler air moves through. Afterward, the weather looks pretty good for the weekend.
If you are heading out of the water, please be careful, wear your PFD, and remain safe.
Take care,
Dad