Hello Folks,
I was able to get two fishing trips in on the Susquehanna River over the past few days. The first trip was out of Montgomery Ferry and the second trip was below Harrisburg, Pa.
Pete Hanford and I met at the Montgomery Ferry launch at 7:30 a.m. and fished until 2:30 p.m. That was seven hours of fishing for only three bass. A lot of miles were put in between bass on this trip!
We ran as far south as Sherman's Creek and north to Liverpool!
Although I have always enjoyed my time on the water with Petey, yesterday was a bit trying to say the least. It was actually my first skunk this season in an area that should have been productive. The bite was definitely off for the two of us. I know that we were in the ballpark when we got the few smallies to bite, but the rest of the smallie
team
failed to show up and play.
The water was a bit murky, but not too awful bad. I could see about 1.5' to 2' down into the water. It had that light green look to it that comes several days after a good rain.
We tossed tubes, CWSD, jerkbaits, and crankbaits. The only lure that the fish seemed to want was the tube.
Here is Petey's first fish of the day. I thought that we better take a picture of it considering how long it took us to catch her. LOL!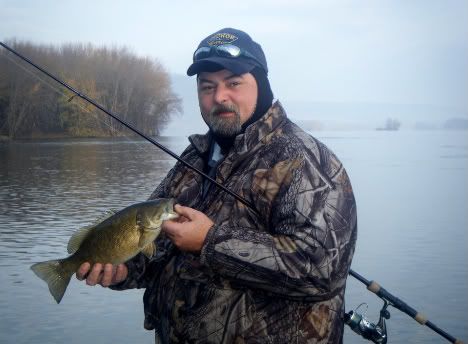 Petey's second fish was awful looking. Here is a shot of it's good side. Take a look at it's lip and you can see a lesion.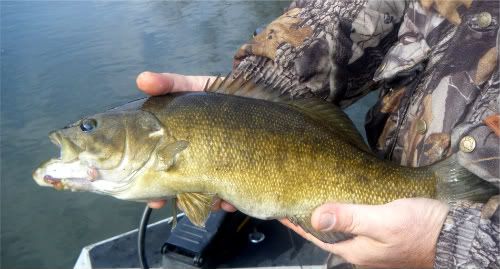 Okay, now that you have seen this fish's good side, let me show you why Petey wasn't sticking his fingers in this bass' mouth.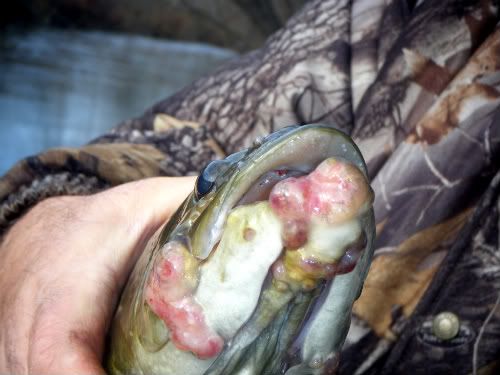 Ewwwwwwww!
Our day ended uneventfully. We caught another bass in the Liverpool area and that was it.
Now, let's turn our attention to today's fishing trip. As much as yesterday's trip sucked, today's trip was much, much better. However, it didn't start out that way.
It was drizzling a bit when I launched my boat at 8:45 a.m. I ran in a misty fog to my first location. The air temp was about hanging around 45 degrees and much warmer than it was on Sunday. In fact, by the time I got off the water, the air temperature was 63 degrees. I'll take than anytime in November.
The last two nights have had a very bright full moon present. A front was passing through this morning and the skies were overcast only giving way to sunshine by noon.
The water temperature was 43.7 degrees upon my arrival and rose to 44 degrees by 1:30 p.m. The river had that really muddled green look to it and nothing like I saw last Thursday with CHRGD1.
Not a single bite came for the first two hours. "Don't tell me it's going to be another skunking!"
Well, the river started to drop and a good current developed by the dam... Oh, yea!
It had been a long time coming since I felt any weight other than a tree branch or rock on the other end of my line. When the sunshine started to peek through the cloud cover, I switched from a 3.5" tube to a Lockett Minnow on a quarter ounce ball head jig.
The boat drifted towards a rocky bank and I tossed the Lockett Minnow. Approximately half the distance back to the boat, there was weight on my line. Could it be!? Yes, it was a beautiful 19.5" smallie on this plastic minnow.
I drifted down river a bit and then decided to return to the site of my first fish. Within a few minutes, a 20" C-class smallie took my 2.5" tube. Wow!
Feast or Famine is an understatement.
I worked my way upriver along the same bank and caught a few stragglers. None of the fish measured below 16".
As I returned to the "hot spot", another cast was made to the bank and a 20.25" smallie sucked in the tube. All I felt was the "heaviness" of the fish... no tick, no smack, no attack what's so ever.
I couldn't believe what was happening after two hours of not one single bite. It's been two seasons since I caught more than one 20" bass on the same trip. This was utterly fantastic!
My only problem today was that I had to leave way too early in order to get to basketball tryouts by 2:45 p.m. So, I packed up around 1:30 p.m. and headed back to the ramp.
All I keep thinking to myself was that patience and perseverance paid off once again. The results were phenomenal for this area of the river. Eight fish were caught today and not a single one was smaller than 16". The Susquehanna River was outstanding today!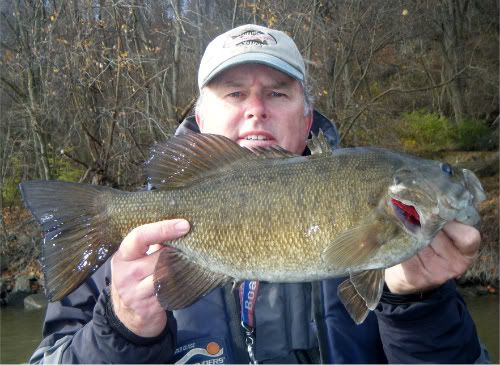 Take Care and Be Safe!
Dad