Hello Folks,
This was such a beautiful fall day. It was 40 degrees when I arrived at Dell's home for our morning of fishing. Dell had to be at a basketball game this afternoon and we only had a few hours to fish.
We arrived at the boat ramp around 7:10 a.m. and launched by 7:30 a.m. The water temperature was 57 degrees and the water level was at 171' or two feet over top level. The clarity was poor and the river was running dirty with, as Dell called them, alligators (floating debris like logs, etc).
We ran up river and into the islands to find refuge behind islands and in eddies. The water was raging up at the dam as they were running about five gates wide open. We heard the warning siren several times throughout the morning... Mo' Water, Mo Money!
Check out the one spot that we were fishing on this video:
I used two styles of lures today... a spinnerbait and a mid-range (6'8' diving)crankbait. Dell was throwing his little Goby colored crank bait and hooked into our first bass within three cast... Alright, Dell.
I caught the next bass on a 1/2 oz. spinnerbait in the second eddy we hit.
I then switched over to a mid-diver Black Bandit or as I told Dell... "I have a Black Magic Lure." (Sung to Santana's
Black Magic Woman
) :)
We cross the section of water in the video to the bottom of an island and I nailed this nice 15" bass on my "Black Magic Lure."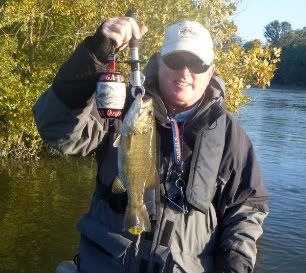 We hit one or two spots where we caught more than one smallmouth. Five were pulled off the seams of the moving water. Three actually came from in the swifter water which was rolling over rocks and boulders.
I caught a bass that look like he was in a battle with Rocky! Check out the snub nose on this 13" guy...
We saw five eagles throughout the morning. Jeff (Tracker_Jet_120) sent me this cool picture of two eagles settling on one of the PPL towers. Sharing the tower were turkey vultures...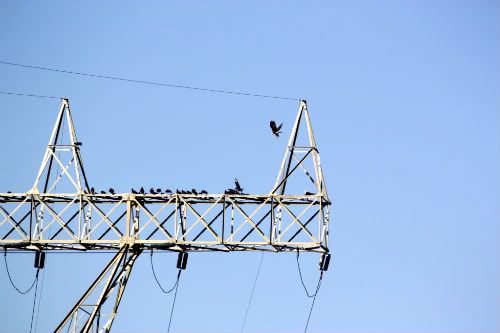 We settles for twelve bass before heading back to the ramp. That wasn't too bad under the conditions we were fishing... High blue bird skies, two feet over top level, swift current, and dirty water!
It was 11:30 and around 62 degrees when we pulled from the access and headed home.
When I got home, I asked my wife if, after lunch, she wanted to take a nice ride in the country. She, of course, liked this idea on such a gorgeous fall day.
So, after lunch we took a drive to our the cemetery where our daughter, my parents, great-grand-parents, and several uncles and aunts are buried. Afterward, we headed over to the Susquehannock Park to take pictures from the overlook.
Conowingo Pond - Peach Bottom Power Plant is over on the right (York County) shoreline.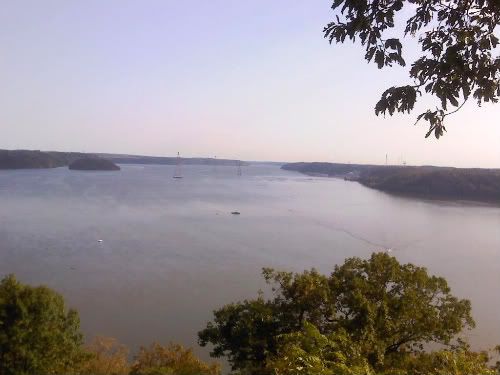 This photo is facing north and looking at the Norman Wood Bridge that crosses just downriver from the Holtwood Dam. If you look closely, you can see some spillage (white line across the top of the overflow dam) on the York County side. Spillage was happening because Lake Aldred is running above top level.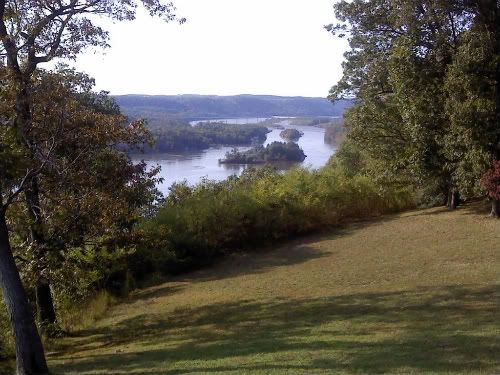 The Susquehanna River Hills are so beautiful, especially in the fall when the leaves are changing. You can see why I love calling this "My Home." Our first ancestors from Ireland, Samuel Boyd, settle in the early 1700's just across the river from the Peach Bottom Power Plant in what is called Peach Bottom, Lancaster County (See pic above).
Our family ancestors were all farmers up until my generation. We had two family run farms. One by my great-grandparents (McClune) and one owned by my grandparents (Boyd).
Take care and stay safe. Remember that the water is cooling and hypothermia sets in rather quickly in 57 degree water. Wear you PFD at all times in the colder water months.
Dad