Hello Folks,
We've had a heck of a lot of rain over the past week. In fact, we had over 8 inches of rain around the Willow Street area alone. The same Tropical Storm Nicole dropped over 20 inches of rain on my relatives in New Burn, N.C. Wow!
Mini-Beef:
I find it funny that we have a television station right here in Lancaster, Pa., WGAL Channel 8. WGAL, although located in Lancaster County, covers the entire South-central Pennsylvania region. Folks, that is one heck of a coverage area!
Even though there are television stations in Harrisburg, Lebanon, and York, Pa., WGAL Channel 8 feels that they need to cover those cities, too... Can we say "Overkill"?
What happens is that folks right here in good ole' Lancaster County are slighted. Traffax covers Harrisburg from WGAL... LOL! We are lucky to see a weather report, Traffax report, news report, or sports report about Lancaster, Pa.
The reason why I mention this is because when we had well over 8 inches of rain here in Southern Lancaster County, WGAL Channel 8 only reported 3.34 inches of rain... Say What!?
Oh, that's right. Their official rain gauge is at the Harrisburg International Airport in Middletown, Pa. roflmao!! The storm dumped a lot more water east of the Susquehanna River than it did on the edge... HIA's location.
We have sixteen public school districts in Lancaster County and several private school systems that have sports program. It takes almost 15 minutes to do the Football Friday reports from the ENTIRE South-central PA. region. We're lucky to even see our own hometown teams show on the report!
Don't get me started about school snow delays and cancellations... It's a nightmare waiting to see if your home school shows up... Argghhhh! Thank goodness the reports are also on the internet. :)
Beef Done!
Okay, this past Wednesday, my wife was shopping at the local mall and saw this brilliant rainbow appear. There was actually a second rainbow close by when she snapped this pic on her cell phone camera... Cool!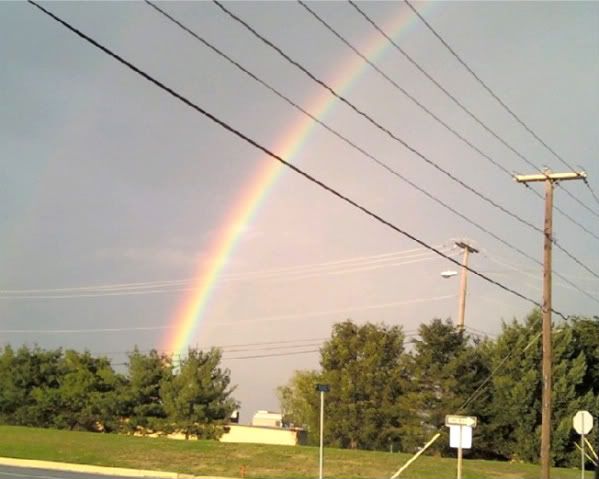 I expect to be going fishing on Sunday morning with my good friend, Dell. We'll be taking his 40 hp jet out on the river and I wanted to see what conditions we would be facing. The river had been dropping, but is once again on the rise and will peak tomorrow at 6.2 feet in Harrisburg, Pa. sometime tomorrow.
Because we will launch from the Pequea, Pa. PPL ramp, I headed down there for a view of the river and the conditions. Here is what I found...
The water was a bit dirty and high, as you can see from the video. The Lake Aldred level was around 171 feet which is about 2 feet above top level. I think we can fish on Sunday, but we may have some difficult conditions, for sure.
Take care and be safe out there. We are heading into cooler water seasons and you may want to keep your PFD on while on the boat. Falling into upper 60 degree water may be a bit shocking to a body that is 98.6 degrees!
Dad