Autumn arrived last night at 11:09 p.m. It's been a long dry summer and I, for one, am glad to see that we had a series of thunderstorms pass through during the early evening hours. There is a lot of moisture predicted from Sunday through the early part of next week. It will be a welcomed relief.
Yesterday was the beginning of about three days of hot and humid weather. I had a reading of 93 degrees on my truck thermometer as I was driving to meet Josh for a night on the river.
As we were heading up Rt. 283 around 3:45 p.m., we noticed that the sky was darkening up north... thunderstorms were approaching.
When we got to the ramp, we could hear the thunder in the near distance. So, instead of launching right away, we decided to wait it out to see how the storm was moving. We got out of his truck and explored the shoreline to make a plan on how we were going to navigate. The river level gauge in Harrisburg was reading 3.0' and only a 3.8 kcfs... very slow for a river that is a mile wide.
It was very skinny water where we had to launch and run, but Josh's G3 CCJ 90/65 Yamaha runs very shallow. We had some reservations, but decided to go for it as soon as the weather seemed to be less threatening.
We returned to his truck and sat through a brief shower. The storm moved through quickly and we finally launched his G3 around 4:00 p.m.
As we ran from the ramp, we hit a submerged ledge, but that was the only mishap we had throughout the entire trip... Great!
This was my first time back on the river away from my home waters since my surgery. I haven't been fishing water where the level was only 2-3' deep. I had a plan, though... Winco Wacky Worms rigged on a Size 2 Gamakatsu Octopus Circle hook.
Josh started out by fishing a 3/8th oz. War Eagle spinnerbait.
We found a series of ledges and never had to leave them the two hours we fished before being chased off the river by yet another heavier series of thunderstorms.
As soon as we moved up onto the ledges, I started to catch fish. Josh switched from the spinnerbait to a Cabin Creek (single dipped) Green Pumpkin tube.
The fish seemed to be into the plastics and b/w the two of us, we put ten smallies in the boat in less than two hours... It was a fantastic evening.
There was a ton of baitfish and the bass were gorging themselves! Check out this 17.5" smallie that Josh caught. It weighed 3.5 lbs! It was our largest bass of the evening.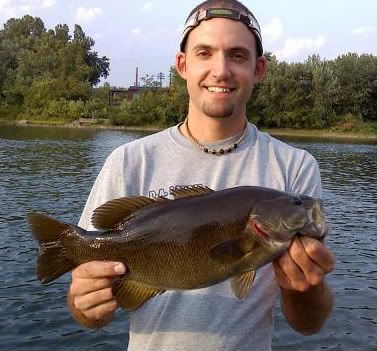 Here is a 17.25" that weighed 2 lbs 12 oz.
As we were running back to the ramp, we came across several children walking in the river... Yepper... There were no parents around and they were in the middle! As we passed by the children, we took noticed that they were only in ankle deep water. That is how shallow Josh's boat can run. Major Pucker Factor!
I have a trip planned for tomorrow afternoon with my good buddy, Dell. He only has a half day of teaching and we should be on the water by 3:00 p.m. Hopefully, the local smallies will be just as cooperating as those in the Harrisburg area.
Take care,
Dad