Hello Folks,
Wardell Jackson gave me a call this past week and told me that he only had a half day of teaching on Friday. They had a Parents Night at his school on Thursday evening and got the hours off the next day... Nice!
It was hot, hot, hot! The temperature was 91 degrees when I reached Dell's home at 2:00 p.m. We spent some time preparing his jet rig and topping off the battery charge.
We arrived at the ramp around 3:30 p.m. and launched his boat. The water level was down and there was a muddy bank angling the courtesy dock downward. I was parking the tow vehicle and Dell was pulling the boat up to the dock... Snap!
He forgot that he had laid his three rods across the back deck and two of them snapped. What a way to start the trip! They weren't expensive rods, but rods none the less. Luckily, he had a spare rod in the rod locker to use.
There were fallen leaves in the water and Dell must have sucked a few up as we launched. As we entered the river, we couldn't get up on plane. I laid on the back deck and removed the leaves that I could get to, but the boat still was struggling.
I had Dell go back the next time since I have my wrist in a brace.
He had been on the North Branch two weeks ago and sucked a NB rock into the grate. Great! We headed over to the shore so that he could get out a remove it... Thank goodness he had his swimming trunks on from closing his pool yesterday... LOL.
Okay... broken rods, leaves in the intake, and rocks stuck in the grate. All before we even even started fishing. :)
But it all paid off for Dell as we reached our first spot. He was throwing a Bandit 200 Series Natural Goby and nailed this beautiful 17" smallie.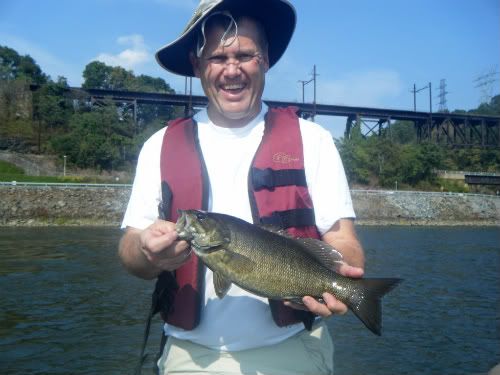 The Safe Harbor Dam was pumping more water than I have seen all summer long. They had three gates open. Two were pushing heavy. Although there was a lot of water entering the pool, it wasn't rising at all. usually that means that the Holtwood Dam was generating electricity and pulling the water through(?).
Dell landed another bass on the same crankbait before he stuck it on the bottom and lost it. "Dang!"
We decided to fish some deeper water (7-10') because we didn't want to drain Dell's batteries in the heavier current. I tied on a favorite Fat Free Shad in the Tennessee Shad color. It took some time until I nailed a beautiful nice 19"bass... We didn't get a good pic of it, but we were very pleased with the results.
We caught a few smaller bass and lost a few before calling it an evening.
There was a stiff S to SW wind blowing our entire trip. It was blowing b/w 5-10 mph. We had mostly sun with a few passing clouds. There was a haze on the water as evening approached.
The water was turbid due to the amount of water they were pushing through the dam gates. The water level was below top pool and a bit more shallower than I've fished in the last two trips during a week's period.
The Lancaster County Hawg Hunters have a youth tournament on Lake Aldred today and their adult club is competing tomorrow. I plan to head back down to the ramp later today and tomorrow to see how they all did.
Today's weather is much more pleasant than the past two. I doubt that we will see the 90 degree mark the remainder of this year. we may be in store for two days of rain at the beginning of the week. The weather forecast calls for showers on Monday and Tuesday. The long term forecast is promising!
Take care,
Dad