Hello Folks,
Before I begin, I would like to mention that today would have been my mother's 85th birthday. My mother passed away five years ago after struggling for years with COPD, heart disease, and diabetes... We love and miss you. Happy Birthday, Mom!
Today was the second trip I took with Mike Burton to help him prepare for his upcoming tournament on September 26th. His bass club will hold a youth tournament on Saturday and then return to Lake Aldred for the Sunday adult club tournament.
We did a bit better today with over 20 smallies. Mike was on fire compared to last Thursday. He alone had about 14 bass from the front of the boat with many coming on a deeper diving crankbait... Good job, Mike!
Our biggest bass measured 16.75" and weighed 2lbs. 4oz. on the Boga Grip.
We explored many areas that we hadn't touched on last Thursday (Sept. 16, 2010)...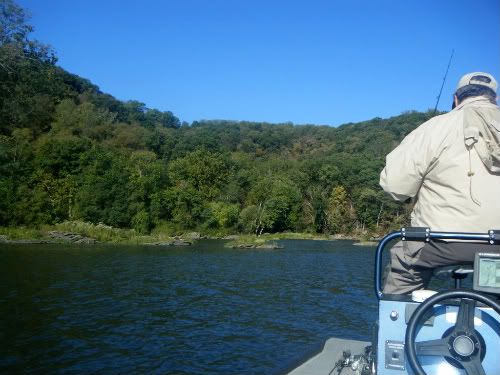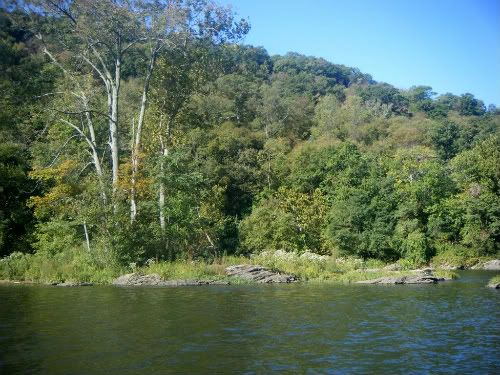 What beautiful scenery and it will just get more and more vibrant as October comes. The hillsides in these photos will be on fire with color... oranges, reds, and browns will fill the landscape.
Mike spotted two mature eagles flying together, as well as, a couple of immatures soaring right above the eagles' nest... Cool Beans! No wonder the American Bald Eagle is our country's national symbol of freedom. What a beautiful, beautiful sight!
We threw an array of successful lures today and caught fish. Many came on tubes, spinnerbaits, lipless crankbaits, and deep diving plugs. We also tried JB's and soft plastic flukes without success.
The skies were clear - a bluebird day. The water temp was still holding at 70 degrees which is what it was last Thursday. The water clarity was murky is most spots which is rather typical for Lake Aldred.
Mike and I wore coats this morning because it was rather chilly. In fact, it was only 44 degrees here in Lancaster County. There was absolutely no cloud cover last evening and it cooled way down quite rapidly.
Over the next few days, however, a weak cold front will move on through with a possibility of a thunderstorm tomorrow evening. Then on Thursday and Friday, we will see much warmer temperatures. In fact, the local weatherman is calling for the temperature to reach 90 degrees once again on Friday!!
Those warmer temperature will be ushering in the Fall of 2010. This weekend it will only be in the low 70's on both Saturday and Sunday... Showers will arrive on Sunday. Good because we really need the rain!
Mike and I moved about quite a bit again today seeking out fish and patterns for him to fish on Sunday. I believe that he will be able to put together a rather good 6 fish limit if the fish cooperate for him on Sunday as they have on our last two outings.
He should especially do well if he uses this new-fangled rigging with a soft plastic bait... Check this out!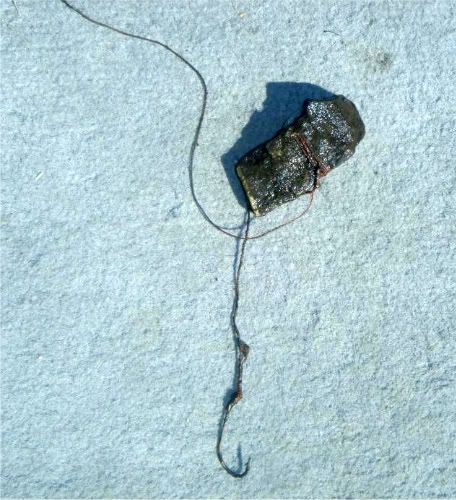 It's exactly what it looks like - Fishing line, a hook, and a... ROCK! I believe I may have seen this rig set up used on the North Branch, but how it made it's way down to South-central Pennsylvania is way beyond me... LOL! :)
Take care,
Dad