Hello Folks,
Well here we are just two days away from Christmas and I was in touch yesterday with my good friend and fishing partner, Josh Kreider. Josh was driving through Virginia in the rain and heading south. He will be home in time for Christmas Day... Yeah!
Josh sent me a couple of updated pictures of his Rock Proof Jet Rig that is currently being built. Check out how far along the manufacturing has come...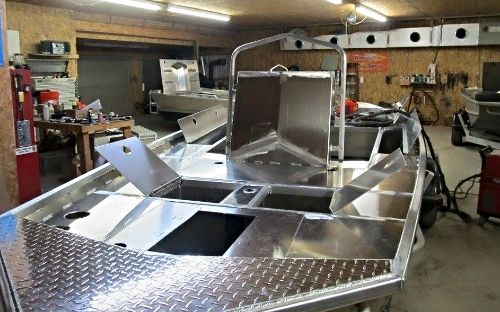 I can really appreciate the poly sides that Josh is having placed on his new rig. He is also adding the Minn Kota Talons for an anchoring system. The only dent I have on the sides of my G3 jet rig could have been prevented by the poly sides... The dent happened when Pete Hanford and I were passing slowly through a rock chute and we "bumped" into a small boulder... In fact, we didn't even take notice of the dent until we trailered the boat and wondered where it had come from... Thinking back from our day on the water, that slight bump was the only place that the dent could have possibly come from... Poly would have prevented that dent, for sure.
In order to fix a dent like that, the aluminum worker would have to get inside the hull and place pressure outward as it is being repaired. We tried to fill it in with aluminum welding but it only absorbed the aluminum and barely fixed it... In fact, it is still somewhat visible.
Josh told me that his rig is just about ready to go into the paint shop. He plans to have the hull painted black. The rig will be ready for the motor mounting sometime in mid-January. This is a good time for the motor work to be done because it is right before the outdoor shows and the major sales push. Lakeside Marine in Harrisburg, Pa. will be doing the motor mounting and running all the wiring.
As December 2014 comes to an end, I will have passed a year in time since my last surgical procedure... That's right, folks! It's been over a year since I had my spinal fusion... Of course, I had to go through several months of Physical Therapy afterward and into the 2014 year.
I am so happy that my health has been holding up. I exercise every night for a few minutes on the recumbent bicycle building strength and flexibility. My plan is to be ready for this coming Spring 2015 to be able to ride my new Sun bicycle... I even bought a Thule bike rack to haul my bicycle to the new Safe Harbor Riding Trail. An alumni basketball player told me that his father was involved in it's development and that the trail is only 1% grade! That is almost entirely flat... Good for someone in my shape... LOL!
Take Care and Be Safe!
Dad