Hello Folks...
Back in 1972, while working at my first job as a bus boy for Howard Johnson's, I had saved up enough money to buy myself a brand new 10-Speed bicycle. My brother's friend, Daryl Cluck, took me to a bike dealer in Ephrata, Pa. and I bought myself a brand new 10-Speed CCM, baby blue paint job road cycle.
I rode that bike everywhere. It came with me when I moved out of my home in 1974 and I used it to drive on nice days from Manor House Apartments to Millersville University and my classes. I even rode it to Ocean City, N.J from Lancaster, Pa... 131.4 miles! Thank goodness we had a friend there who gave us a lift back home. There's a big difference between driving into New Jersey and to driving back into Pennsylvania. New Jersey has a lot more flat terrain compared to Pennsylvania.
I owned that CCM 10-Speed cycle until I moved into my home here in Willow Street back in 1988. Some time in the early '90s, I sold that charming 10-Speed cycle of mine and I've never owned a bicycle since! Not until TODAY... It's been close to twenty-five years.
This is my special 60th birthday gift from my family. I decided to go to Tom Pod at the "Cycle Circle" in Lancaster, Pa. Tom has been in the bicycle business for close to thirty years and even trained as a custom bicycle builder... Cool Beans. I chose Tom because of all the fantastic reviews I read about him by locals who rated his abilities and shop as tops. I don't think a single article I read regarding Tom Pod had a negative overtone to it... Not a single one.
It turned out that Tom knew Daryl, the fellow who helped me select my very first 10-Speed Street Cycle. Tom was close friends with Daryl's younger brother, Denny. But since that day back in 1972, I now have major difference due to the many surgeries I have had (hips, left knee, and fused back)... I have very limited flexion and extension in my left knee. Tom suggested an easier "step-thru" bicycle made by "Sun"... I tested a 7-Speed and a 21-Speed. I decided on the 21-Speed due to the many hills (small and big) down here in Willow Street, Pa.
Check out the pictures I took this evening when I got home...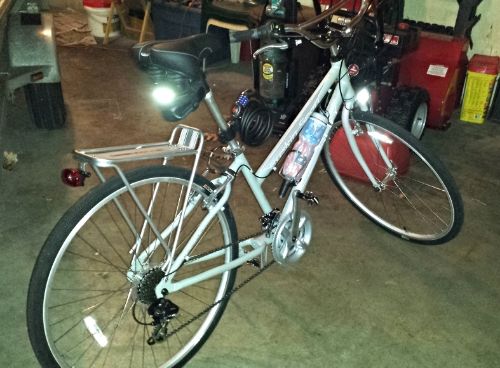 Overview
SUN... 21 Speeds Model
Helmet
Rear Mirror (Attaches to my sunglasses or regular glasses)
Front and Rear LED Lights
Carry Bag plus tire patch kit
Tire Pump
Combination Lock
Water Bottle
Back Carry Support
Base Price: $390 for 21 Speed, $370 for a 7 Speed
Total Cost with Tax, including accessories: $593.60
Great Price for an entire set up!
85 psi 700/3/8th tires
Switched out an Extra-Long Seat Pole to helps me pedal.
Bought the Sun 21-Speed from the "Cycle Circle"... Owner: Tom Pod @ 131 N. Plum Street, Lancaster, Pa. 17602
Take Care and Be Safe
Dad