Hello Folks,
Jeff (CHRGD) and Penny sent me several great smallie pictures and two videos of their past weekend fishing trip on wind swept Lake Aldred (Susquehanna River).
The wind was blowing upriver at about 30 mph. creating white caps on the lake during their ride to and from their fishing holes.
This was a smallie Jeff landed that was pushing 18" with some pre-spawn weight.
Penny caught several nice fish this weekend. We got to get her to start throwing some metal!
It's funny that smallmouth bass love a chartreuse green fishing lure. Whether it be a crankbait, spinnerbait, or plastic, they seem to be attracted to it. Check out these beauties that took a chartreuse bladed spinnerbait that Jeff was tossing over the weekend...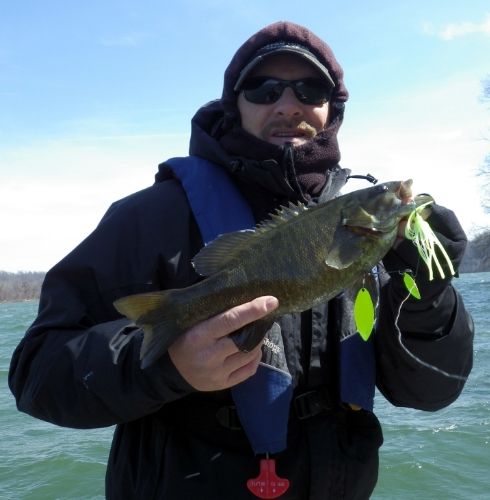 Videos...
Coming out of the boat launch, Jeff speared a couple of white caps. Just listen to the wind howling on these two videos from this past weekend on the Susquehanna River...
Heading Back To The Ramp...
Jeff (CHRGD) and I plan on meeting tomorrow after my morning PT session and putting a few hours in fishing on the Susquehanna River. This will be my very first smallmouth bass fishing adventure since I had my left knee revision surgery back on February 11, 2013. The weather is suppose to be nice and warm with a chance of a shower or two. We'll be riding this warm weather wave for a few more days. This coming weekend's forecast is calling for the air temperature to drop drastically into the mid-50s once again.We'll have to see what effect the temperature drop has on the big mammas that have been moving up over the past warm spell.
"Here's hoping for a good day on the water tomorrow with some nice pics to share here on 'Fishing With Dad'!"
Take Care and Be Safe!
Dad