Hello Folks,
I hope everyone had a fantastic Easter weekend. Julie and I had my middle brother, Jim, and Chris, Kristi, and our two beautiful granddaughters over to our home for an indoor Easter egg hunt (raining outside) and lunch. It was a fun time watching our two granddaughters searching in the living room for treats left behind by the Easter Bunny. :)
The weather hasn't been cooperating much since Spring arrived. We've had very blustery days this week and the temperature this morning was actually 24 degrees! It feels more like late winter than early Spring.
I am still attending PT during the week and have yet to venture out fishing for pre-spawn smallmouth. There have been some gorgeous Sprng smallies showing up on Facebook and fishing websites. The big mammas have moved out of their wintering holes and are staging outside of spawning grounds.
Jeff and Penny sent me some pictures of their weekend adventures on the Susquehanna River. They are finally catching decent numbers along with good size fish.
Check out this 16" smallmouth that Penny caught! It was 3 lb. 12 oz and a "chunk" of a fish.
Look at the belly on that 16" momma...
Jeff was tossing artificial lures when he nailed this beauty...
Some more healthy Susquehanna River smallmouth bass...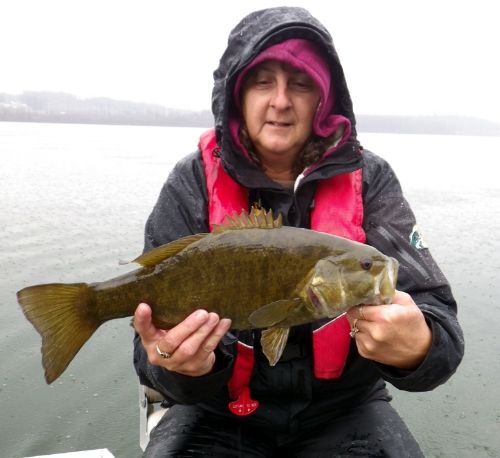 My "Photobucket" website is working so slow tonight. I will publish some more photos when I can get it to work faster... Look for some more smallie pics soon.
My wife and I ate at "Carlos and Charlie's" tonight.Thursday nights are their "2 for 1" fajita special night. Plus, it was half-price margarita night, which my wife just loves. We usually order the chicken fajitas with Spanish rice and refried beans... Yummmmm!
There were some folks who arrived near the end of our meal that had made reservations for four people, but the older daughter made a mistake. Her mom asked her to make reservations "for (Not Four) seven" people. Her daughter thought she said "four to seven" people... LOL! The place was packed and there was no room for the seven folks to seat together. So, Julie and I offered to move to the bar so they could have our table which was right across from the booth they were given... Problem solved!
Just some words of wisdom from Dad... "If someone gives up their table and seats so that your entire party can sit together, please at least say 'Thank You' to them". And that's all I have to say about that... :)
We know the owner, Kim, very well and she was appreciative of what we did and offered me a free soda when we went to the bar so that my wife could finish her margarita.
While at the bar, we met a couple who had just bought a 14' G3 jon boat from JC Nuss at Lakeside Marine, Harrisburg, Pa. We had a nice conversation about boating while we sat there together. What's funny is that we would never had met this nice couple had we not moved. Things do work out, don't they?
Take Care and Be Safe!
Dad