Hello Folks,
I was able to receive three fishing reports from very reliable friends this weekend. What seems to be happening on the Susquehanna River is that the smallmouth populations are still hanging in their comfortable wintering holes and those anglers who located them had some tremendous fishing opportunities as seen by these reports.
My good friends, Jeff and Penny, were out fishing on both Saturday (03/09/13) and Sunday (03/10/13) on the Lower Susquehanna River. Jeff was using artificial lures and Penny was tossing live minnows.
Jeff caught this beautiful 20" smallie that weighed in at 4 lbs. 14 oz.
Look at the girth on that "momma"! Nice catch. Jeff.
Penny landed an 18.25" at 4 lb even...
Jeff mentioned that the rest of the smallies they caught were in the "cookie cutter" mode, but I think they caught some pretty decent size late winter bass...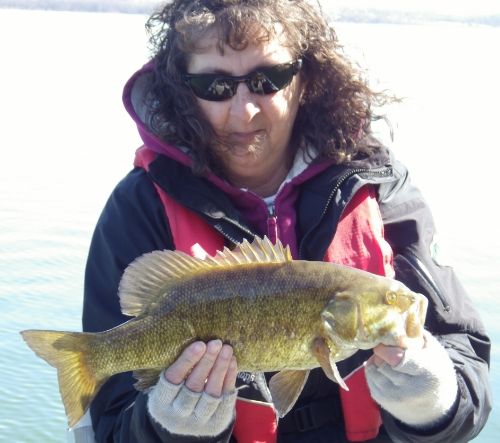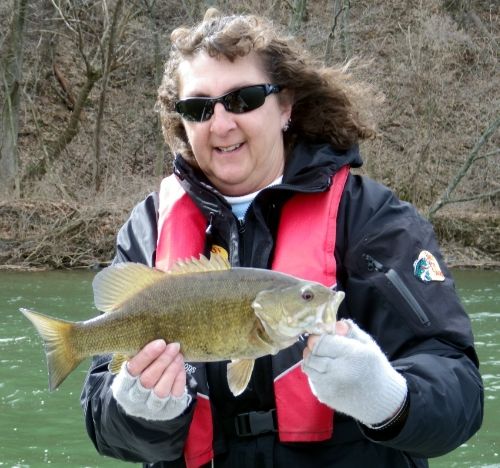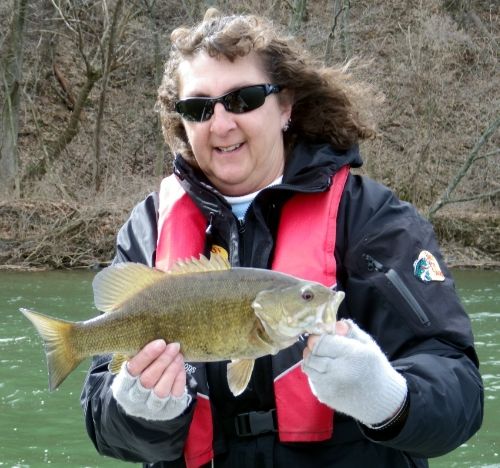 Check out this "hump back" smallie that Jeff is holding. It's not unusual to see a few deformed smallies when one fishes as much as he does.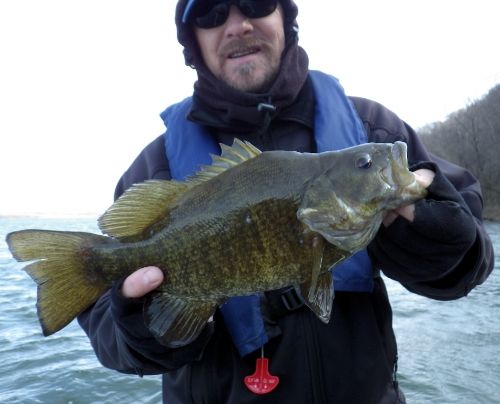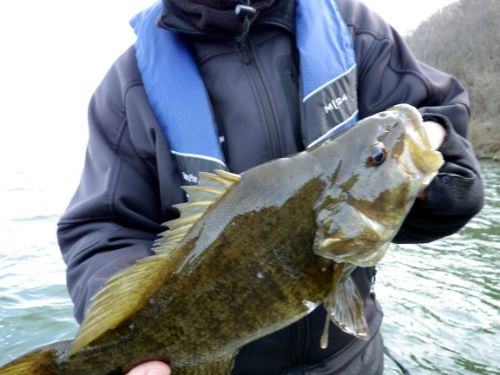 The NASS Bass Club launched from Montgomery Ferry on the Susquehanna River this past weekend for their first seasonal paper tournament. Another fishing buddy of mine, Steve H., was a rider in Jeff G.'s jet rig. They found a few fish in the Juniata River but not the size that they were hoping for. However, several of the club members were able to locate some nice wintering holes that held up to 30+ smallmouth in and in various sizes.
Steve H. told me that there were some great weights brought in and most were from those who found those bass actively feeding in their wintering holes.
The third report was posted on Facebook by fishing guide and friend, Chris Gorsuch, along with another buddy of Dad's, BGorm. They were able to catch a good number of fish that over the 19" mark. Pictures were posted on Chris' FB status of these beautiful fish... Great job!
I also saw a nice smallmouth photo caught by Jeff Little on a soft plastic jerkbait. Jeff re-enforced that the smallies remained held up in wintering holes over this past weekend.
And one last photo that I saw was that by Rooster (Joe R.) on FB. His pic showed the claws of a crayfish hanging onto a hard body jerkbait. That, my friends, is a very good sign that the crayfish have emerged from their wintering mud homes and are now on the prowl. This food source will become the #1 prey that smallies will seek out until next fall. The big mommas will be gorging on these until spawn.
We got a good warm soaking rain today and the river will be rising from 4.4' at the Harrisburg river gauge to 7.7' by late Thursday evening. The air temperature held at 54 degrees throughout the day as it rained. This will be a great help in warming the river and moving the smallies out of those safe and secure wintering holes. Their migration will move them towards shallower areas as they prepare for the upcoming spawn.
Update On My Surgery...
Take a look at how far along my knee has come along...
Okay, I never said I had legs of a dancer, but I always had pretty strong legs from all the sports I played, especially basketball and Judo.
The Steri-Strips are all gone and so are the ugly scabs that had formed over the incision. I am currently taking Physical Therapy three times a week and it has been pretty rough on me! I usually find it hard to sleep on the nights after PT. We are trying our best to have the knee extend as straight as possible since the last surgery only allowed me to extend the knee at -20 degrees (Not Good).
My therapist, Diane, has been giving me extra home exercises to do and I am faithful in getting them done each day. I am walking longer distances with my walker and using my cane mostly around the home.
If you can find it in your hearts, please say a prayer or two for two of my very good fishing buddies, Dell Jackson and Tim Hanford. You have seen Dell's pictures quite often here on "Fishing With Dad". Dell had his hip replaced this past Monday and is "feeling it" today (Ouch!). This was the first day that the PTs got a hold of him. He was up and out of bed for the first time and probably taking a few steps with the walker and safety strap wrapped around his waist. I feel for him since I have had both my hips replaced several years ago. Dell will progress each and every day and most likely will be home on Thursday. He'll miss work for about five to six weeks... "Get well, Dell!"
Tim Hanford is heading into the hospital late tomorrow morning for his fifth spinal surgery! He is having a fusion done around 1:00 p.m. and he is in my thoughts and prayers. I know that Tim has been patiently awaiting this procedure because it was suppose to have been done during his last procedure, but they ran into some difficulty. Because of this, the total surgery was delayed and will finally be completed tomorrow.
Best of luck to my two old and dear friends!
Take Care and Be Safe!
Dad