Hello Folks,
It's been quite some time since Josh Kreider (smallieman) and I have had our weekly "Wednesday Outings". Josh had gone through a job change last year that had put him over-the-road. He then returned to his milk hauling job with the Mt. Joy Co-op. However, he had lost his original Wednesdays off position upon his return and our fishing trips together lessened.
Things have changed over the winter and he is once again off on Wednesdays. Last week, he fished with Steve (Steveinpa) because I had a doctor's appointment.... They seem to be so frequent lately. Yesterday, we were able to get out for our first "Wednesday Outing" for 2012!
Boy, what a great day we had, too. Although we didn't catch a ton of fish, we did catch hawgs. I believe we ended up with 17 smallies in the boat and about 6 misses. Of the 17 we landed, six were over 18" in length. Several of the 18" bass weighed in at 4.5 lbs... Porkers!
The river was holding at 6' according to the Harrisburg, Pa. gauge. The water was clear with a nice tint of algae green to it. The wind was blowing between 10-15 mph and the sun was off and on hidden by passing clouds.
Although the air temperature was suppose to rise to 60+ degrees on land, it was rather nippy in the boat. The water temperature was holding between 39 and 40 degrees. So, with the wind blowing over that cool water, it was like sitting in on an ice cube with a fan blowing over us... LOL!
We fished from 8:30 am until 1:00 pm. (4.5 hrs) and only saw one other boat with two anglers pass by.
Let's take a look at some of those smallies we pulled in...
Josh's first 18" fish on a tube.
Dad connects with another 18" smallie!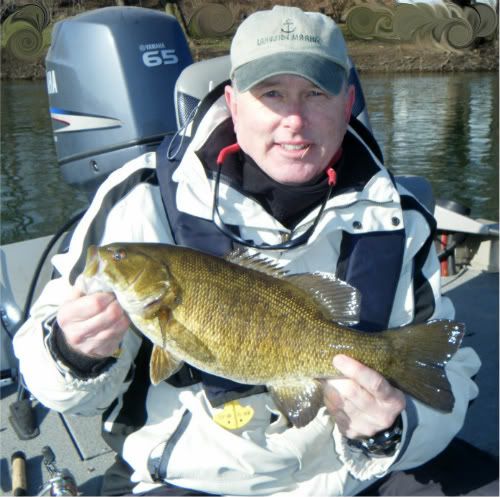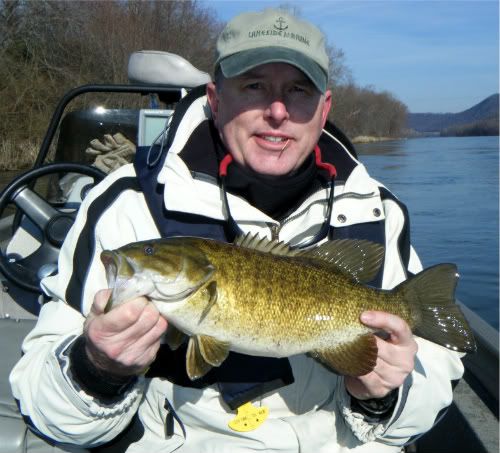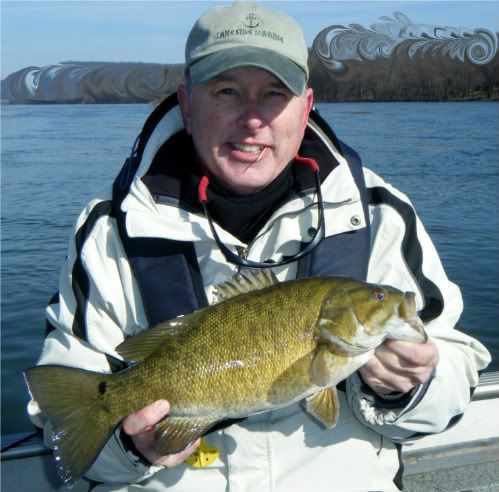 Dad's Red Drum-Smallie with the tail marking... LOL!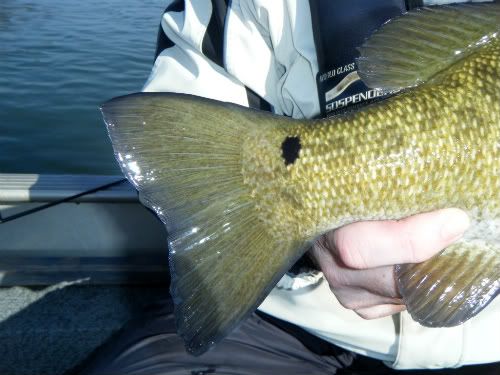 Dad's 19" 4.5lb Smallie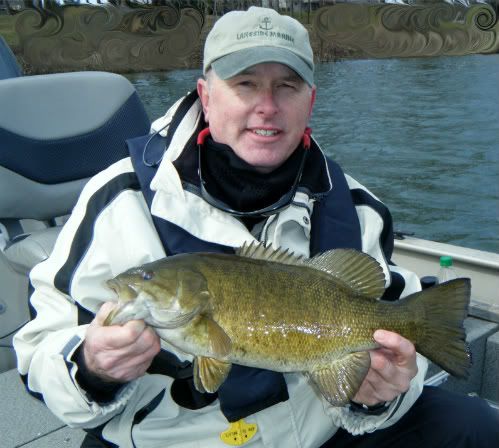 Same Fish, Different Angle
Saved The Best For Last... Josh's 20", Pushing 5 lb on The Boga Grip!
Great job, buddy. What a way to start out our "Wednesday Outings"!
Prior to Josh's excellent catch, I was watching two mink playing and swimming along the shoreline. Josh was down on one knee on the front of the boat re-tying his tube. We were free drifting with the current. I was trying to get him to stop what he was doing and enjoy the "wildlife". He didn't want any parts of it and now I know why. He was destined to catch that 20" smallie on the very first cast after his re-tye... Fate! :)
I am looking forward to getting out with Josh for the pre-spawn. Pa. has once again returned to a "Closed Spawn" on the Susquehanna River from May 1 through June 15, 2012. This closure covers a stretch of 98 miles on the Susquehanna River and some of it's tributaries (Sunbury, Pa. Dam to the Holtwood Dam). The purpose is to protect the smallmouth bass population during a crucial period of their life cycle... The Spawn. After the 2005 columnaris outbreak, the PFBC had done very little to protect the surviving population. Although it's been 7 years later,
"It's Better Late Than Never!"
If we chose to fish for smallmouth or largemouth during that time frame, we will need to go above the Sunbury Dam (North) or to the Conowingo Pond (South).
Josh and I are planning a fishing trip to the North Branch of The Susquehanna River from April 8 through April 11, 2012. Keep an eye open for those reports in the very near future.
Take Care and Be Safe!
Dad