Hello Folks,
Penn Manor School District's junior high basketball season has ended for another year. We had our last games yesterday evening and all three teams at the junior high level (7th, 8th, and 9th grades) won!
Our 9th grade team, which I help volunteer coach, only won four games this season. I had predicted that we they would win only three games before the season began. So, winning that one extra game made me feel really good. Plus, it's always good to end a basketball season on a winning note.
Our J.V. and Varsity teams lost their games last evening. They still have two remaining games until their seasons end. The varsity will most likely not make it into the District playoffs this season. This will be the first season under Coach Charlie Detz that the Varsity failed to make the playoffs.
Today, I would like to start a blog series on rod care. I took the time to clean the cork on the six rods I use the most during the year. I generally utilize three baitcasting and three spinning rods. All six rods have cork handles that can get very dirty throughout the summer. Not only do they get dirty from my hands, but also from the road grit during traveling and dust/dirt from just sitting in the garage.
I took a "before picture" of all my rod handles so that you can get a good look at just how dirty they were before I started to clean them.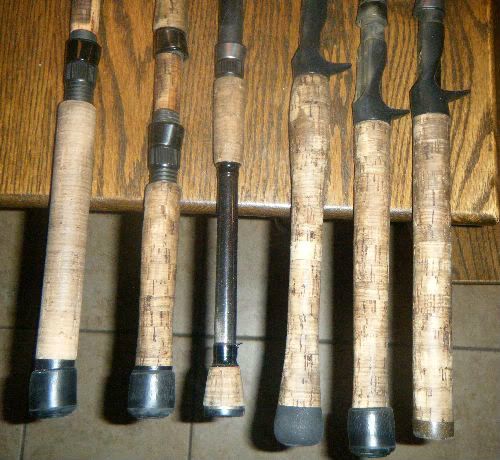 Here are the cleaning materials I used this year... Toothpaste and Toothbrush, Small Scrubbing Brush, and mild Dish Detergent.
Tip:
I do not like using abrasive materials, such as steel wool. If you decide to use a steel wool, go one step better and get brass wool. "Why?", you may ask. Well, steel wool can often break tiny pieces that can get lodged in the cork without you knowing it. As you use the rod, water will eventually come in contact with the steel wool and start to rust. This will leave discolor your cork. Brass will not rust like this.
Tip:
I also stay away from bleaches and hard liquids. The reason is simple. Cork is wood and if these liquid materials are not completely washed off the cork, it may dry and break.
Using toothpaste and toothbrush on a rod's cork handle.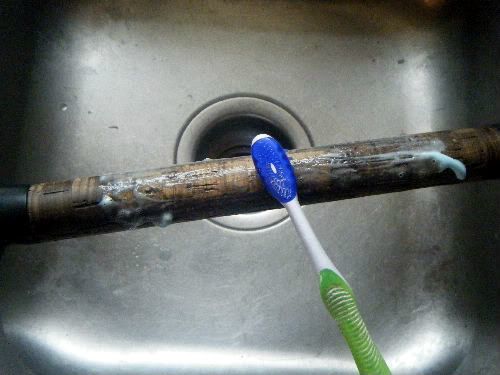 The top picture shows a cork handle that is in the progress of being cleaned. The bottom rod still has it's dirty cork handle.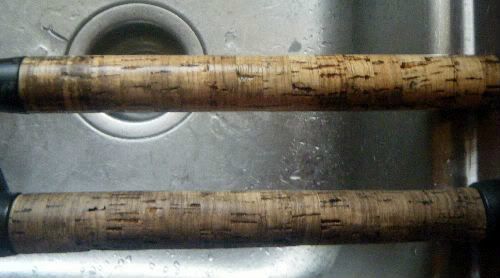 The baitcaster rods are all cleaned. Now to tackle the spinning rods...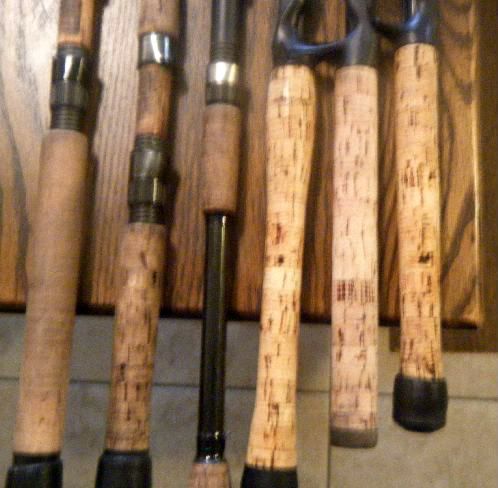 Using a small brush with mild liquid detergent after a good "minty" toothpaste cleaning...
A complete set of clean corks...
Comparing the clean to the unclean... See any difference?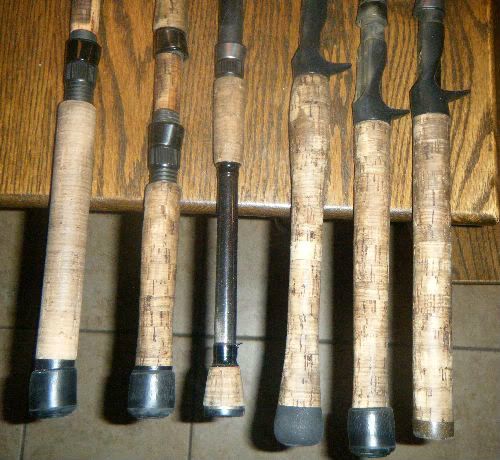 Next blog entry will be on cleaning the rod blanks and guides.
I will be at the Eastern Sports and Outdoors Show this coming week. I hope you stop by and say "Hi!". Remember... Fishing Hall, Booth 648 - Lakeside Marine. I'll be there with my good friends JC and Barb Nuss.
Keep in mind, Hank Parker will be at the ESOS February 6 - 8 and Jimmy Houston will be there on February 10 - 11, 2012! Come see and listen to these two icons of fishing.
Take Care and Be Safe!
Dad