Hello Folks,
The Susquehanna RIver is finally returning to more "fishable" levels, but the water is still rather muddy. The ramps on Lake Aldred had been closed most likely due to debris that passed through the flood gates since Hurricane Lee and that cold front met up a couple of weeks ago.
Jeff and Penny had visited York Furnace and could not get into the parking lot due to the gate being closed. However, they did get out a bit further north this weekend.
Jeff and Penny were fishing structure without success. The water temperature was 63 degrees with approximately one foot of visibility. They fished from shoreline to approximately half way across the river without a single bite... Throwing spinnerbaits, rattletraps, crankbaits, jerkbaits, and grubs. They were going to throw a hammer and kitchen sink, but decided against it.
After making their way to the middle of the river and back, they decided to stick to the western shoreline and hit all the clearing creeks and streams... still no luck!
Finally, after a couple of hours of fishing, Jeff nailed a nice smallie with a black skirted spinnerbait: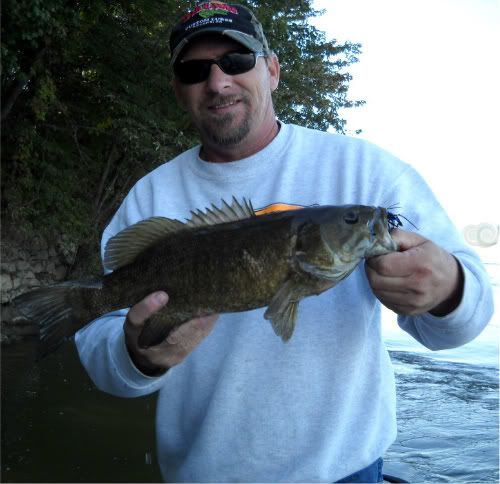 Although Jeff and Penny failed to measure this beauty, we were guessing it was in the 17-18" range.
That one fish saved them from having one of the "suckiest" (Jeff Quote) days this year on the river... LOL!
It was one of those days that when the sun came out, the sweatshirt came off. When the sun went in behind the clouds, the sweatshirt came back on... dead calm, and then the wind would blow.
Ahhhh, Fall is soon here!
Thanks to Jeff and Penny for supplying us with yet another one of their fishing adventures. I know that Jeff has been "Jonsing" for a good day back on the water since the flooding. It seems that those days are still ahead of us.
I spoke to another buddy, Pete, yesterday. He had an excellent day fishing above Harrisburg, Pa. He caught 19 smallmouth with the biggest being 19.5".
He had one hole that yielded 9 of the bass. There was a Pa. guide nearby with two clients who saw him catching fish and attempted to move/push into or as he said, "Share", the hole.
He actually requested to share the hole with Pete because, get this, "I have two paying clients here." Excuse me! This is what gives reputable guides bad names. Go find your own hole and if this one hole is all you got, don't be collecting honest folks money for guiding.
Petey said that he had paid for his fishing today, too... gas, boat, tow truck, Pa. license, insurance, etc. I told Petey that he should have offered to share the "hole" if the guide would have offered to share his guide fee for allowing him to find the hole for hos clients... LOL!
Granted, maybe the guide knew of the hole, but I guess he'll have to wait his turn with the two paying clients just like all other anglers.
Question: What is your take on what that guide did?
Personally, I think if the guide would have stopped by and asked Petey w/o trying to "push" himself and his clients onto Petey's hole, that would have been a totally different situation. I believe that would have been much better "fishing etiquette". But just because one asks doesn't mean the person being asked will allow it. He can always say, "No."
Take Care and Be Safe,
Dad