Hello Folks,
Today was my first PT outside the home. I don't negotiate our stairs too often since my wife heads off to work at 6:00 am and I'm still in bed resting after my restless nights. Plus, there's not really anywhere in my living room for me to put my legs up for elevation.
Our couch sits way too low for me to get into and out without straining my good leg and my nice leather lounge chair is now old and broken. It's what happens to furniture when you have three young men and "ploppers" when they sit living in the home... LOL! Chairs are not made to withstand that abuse over the years.
My therapist, Jessica, did the initial evaluation and recorded my flexion and extension degrees. I was a bit tight today and only got 10 degrees extension (needs to be zero) and about 55 degrees in flexion. I had 75 degrees last Friday!
Jessica told me that it's all too common that we lose flexion over the weekends.
My wife made future PT meetings out to September 28th. There will be three sessions per week. That will give 15 more visits until I see the surgeon again on September 21, 2011 and a total of 18 overall (into the following week).
It will be at that time that the surgeon will decide whether or not I will need to have my left knee manipulated to break any adhesions (scar tissue) that may have taken hold during post-op. Just the sound of the word "manipulation" sounds painful. :O
During the month of July, my good friend and fellow angler, Chris Gorsuch (Backwoods Angler TV) and his wife Dorene took a trip to Lake Champlain. Chris sent me a few picks of some very nice bass that Dorene caught during their stay...
This LM has some weight to it!
Two healthy pig beasts. Way to go, Dorene!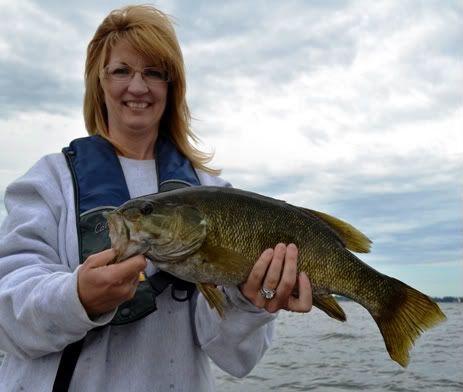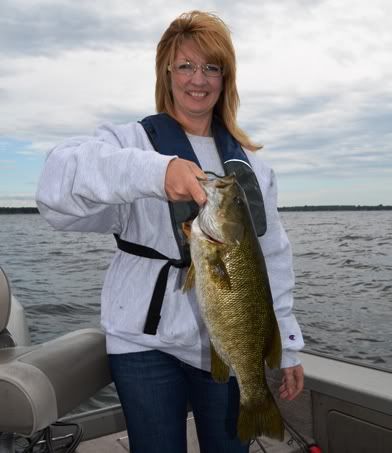 Lake Champlain is a premier bass fishery and these pics are testimony to how healthy it truly is.
Thanks to Chris and Dorene for sharing these pics with me during my recovery.
Take Care and Be Safe!
Dad